Improve your diet with more "Real Food".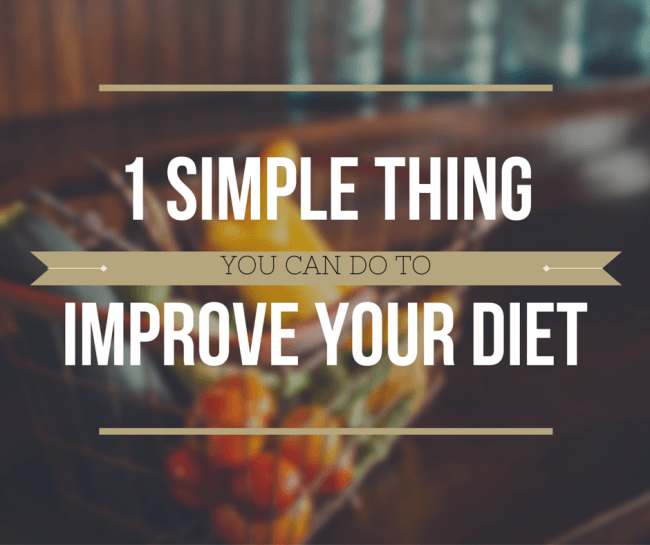 This week, we are talking about how to improve your diet. As part of the Real Food Experience, we are here to encourage you to make small changes, that over time, will have a huge impact on your health and on your life. Over the next 8 weeks, we challenge you to eat better and get more active to improve your overall health.
I'm a fan of small changes. They are, generally, less expensive to implement and are easier to stick to. So instead of overhauling the way we eat overnight, let's take a systematic approach. It may take a little more time, but you'll be more likely to stick with it. This week, the challenge focuses on cleaning out the "junk" from your kitchen and add more real food to improve your diet.
Improve Your Diet by "Cleaning Up" Your Kitchen
Remember the saying, "The kitchen is the heart of your home". It holds true with your diet and the way you eat too! The kitchen is the heart of a healthy diet. You are what you eat. So if you want to eat healthier, you are going to have to start in the kitchen and clean it up.
Junk Out, Real Food In
A cleaner, healthier kitchen WILL improve your diet. When I say "cleaner", I'm not talking about cleaning your kitchen from top to bottom with elbow grease and cleansers, although that's not a bad idea and we'll do a little of that before we're done. But, what I'm talking about is "cleaning" up the ingredients and foods that are IN your kitchen. You WILL improve your diet when you get rid of the over processed, junk food and add in more real food. That means more fruits and vegetables, whole grains, leaner proteins, etc.
Lay your cards food on the table and see what you've been eating.
Before moving forward, take a look at where you are and what you've been eating. Open your cabinets, refrigerator, freezer, etc., and take EVERYTHING out. Take a look at what's in there. When you get down in there, it's amazing what you find. What do you see?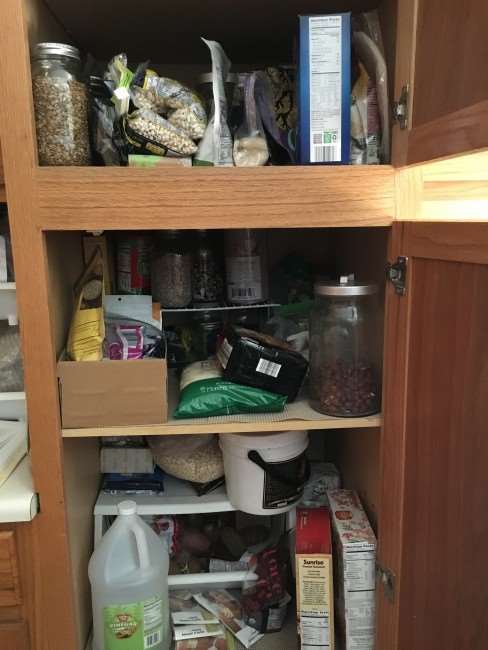 This is what I see. What a mess! I'll be honest that I'm finding it really hard to find things in here at the moment. There are more times than I care to admit that I have looked in here and thought there isn't anything to eat. So I know that I'm WELL overdue for a food organization overhaul.
Get Organized
When you pull everything out, you can see what you have and where you can make improvements. Right away you can:
Discard anything past its expiration dates
Throw out items that are stale or have gone bad
Get rid of anything that has been a snack or home for anything not human (bugs, mice, etc).
Set up a kitchen organization system to make it easier for you to plan meals and cook. Stock shelves in a way that you can easily see what you have. You can store foods:
By cuisine
By type
Most often used
Alphabetical
By making everything easy to see/find, meal preparation is streamlined and less time consuming. If you haven't planned ahead, you can quickly look at what you have and cook a healthy, nutritious meal with what you already have. I've created full meal plans (Kitchen Sink Meal Plan) based on this idea. It's pretty easy to do and you can come up with some really creative meal ideas, if needed.
By having an organization system in place, you know when you are out of ingredients/foods and can add them to your grocery shopping list. The next time you are at the store, you can pick up only what you need and you aren't left wondering what else you need while at the store. Having a good shopping list helps prevent impulse buys and wasted money.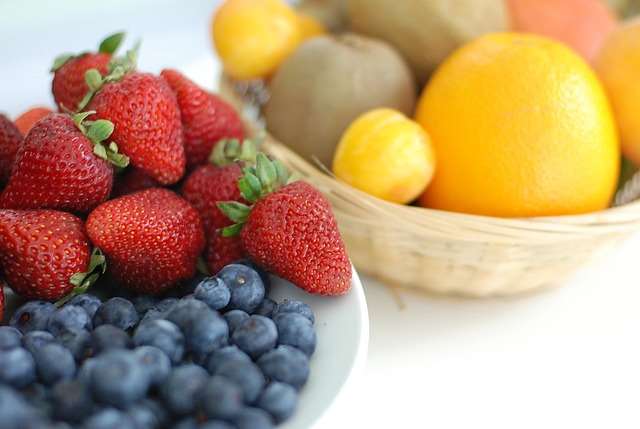 As you buy new food and restock your kitchen, look for and purchase healthier foods. Make it a habit to look at the ingredient labels and choice only those products with real food ingredients. Here a few simple changes when adding more real food to your diet:
Whole grains instead of refined, enriched versions
Fresh or frozen fruit and vegetables instead of canned
Leaner proteins
Whole milk dairy products
Avoiding artificial anything (colors, flavors, preservatives, etc.)
If you need help stocking a healthier kitchen, take a look at this guide. This is what I stock in my kitchen.

Say Hello to Real Food
You will improve your diet as you improve the quality of the ingredients you use. Transitioning to a diet with more real food can be easy when you know what to look for.
Real food ingredients are:
Those foods found in nature; on a tree, in a field, on a bush, in the ocean, etc.
Ingredients you would use if cooking from scratch
What your grandparents cooked with and simply called "food"
When you think of real food in these terms it should make it easier to improve your diet and eat healthier. If you want more help, you should read this is a great article on reading food labels and where to find real foods.
A cleaner kitchen leads to a healthy diet which creates a healthier, happier you! It's the small changes that will help you improve your diet and eat better for years to come.
This Week's Challenge:
On your next shopping trip, add more real food to your cart.
Examples:
Instead of fruit snacks for the kids, add a bag of Red Delicious apples or Navel oranges.
Instead of that bag of potato chips and Ranch dip, add a bag of snap peas and some hummus.
Instead of white sandwich bread, pick up a whole wheat bread or pick up the ingredients to make your own.
Let us know how you embraced the challenge this week in the comments below or share with us on Instagram, Facebook, or Twitter with the hashtag #RealFoodExperience. Join us on Facebook too for more weekly challenges and information to help you improve your diet!