I participated in an Influencer Activation on behalf of Influence Central for Rubbermaid. I received product samples to facilitate my review as well as a promotional item to thank me for my participation.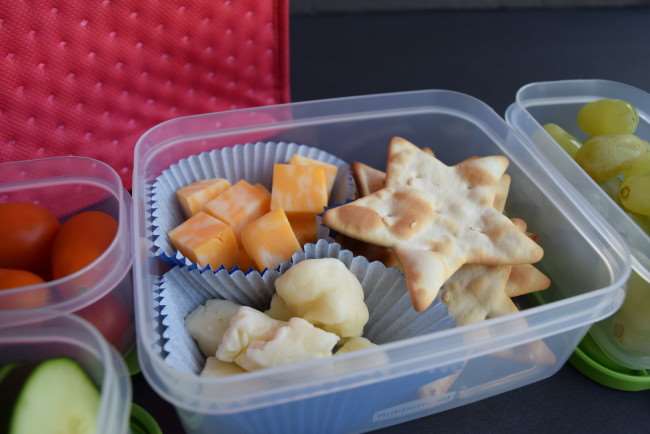 Make lunchtime exciting again!  Forget that plain old sandwich and mix things up for lunch this week. These 10 Quick and Healthy Lunches will add a little variety to your day.
Around here we eat healthy, even when we are on the go. This is our 8th year of homeschooling and this year we seem to be gone a lot more around lunch time. Between orchestra, co-op classes, and field trips, we are finding in necessary to pack quick, healthy lunches to take on the go.
The kids have been really good about helping out in the mornings and packing their own lunches. I have a special snack box in the pantry that they can grab items from for lunches and snacks. The snack box usually contains dried fruit, granola bars, nuts, trail mix, bananas, etc.
One of the lunches the kids like to make often is this Cheese and Fruit Lunch. It is a simpler take on a Ploughman's lunch, an English cold meal with cheeses, pickles, and rustic bread.

This Cheese and Fruit Lunch is simple and filled with things the kids really like; cheese cubes, cheddar curds, grapes, crackers, cherry tomatoes, and sliced cucumbers. The kids know that every lunch has to include plenty of fruits and/or vegetables and luckily they are pretty good about remembering that.
Here are other ideas for quick and healthy lunches that the kids and I enjoy:
French Toast sticks with strawberry preserves for dipping
Mini Pizzas – English muffin halves or slices of pita bread, spaghetti sauce, shredded cheese, and sliced sausage or pepperoni (cooked)
Veggie & Chicken dippers with homemade ranch dressing (sliced fruit and grilled chicken slices)
Peanut butter and banana sushi (tortilla roll ups)
Pasta salad with fresh vegetables
Sushi with cooked fish or fresh vegetables
Tortilla chips with salsa and queso
Quiche muffins
Leftovers

This Rubbermaid LunchBlox Kit makes packing a lunch easy to do. The kit consists of several modular food storage containers which snap together to fit nicely into any lunch box or bag. They are easy to use and the snap-in Blue Ice® tray helps keep food cold.

LunchBlox containers make healthy eating easier. You can perfectly portion foods with the help of measurements found on the sides of each food storage container. The kids like that the kit is easy to use and those measurements help them know when they have enough fruits and veggies to make their lunch "Mom Approved". I like that the containers are 100% BPA free and safe to use in the microwave, dishwasher, and freezer.
Rubbermaid created a smart, simple solution to make prepping lunches easier for me and my family. To learn more about the Rubbermaid LunchBlox Kit visit Rubbermaid's website.