"This post was sponsored by the MetLife TRICARE Dental Program as part of an Ambassador Program for Influence Central."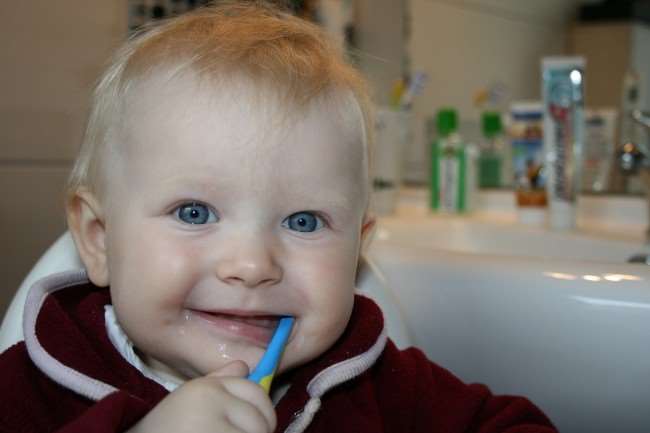 Let's talk about dental health for a few minutes. With all of the Halloween's candy the kids collected, now is the perfect time to talk about taking care of your teeth. Good oral health habits are extremely important for your overall health. Here are 7 oral health care tips for you to review with your family.
I will be the first to admit that I'm not a fan of the dentist. As a child, I dreaded going to the dentist and orthodontist. Now as a parent, I am adamant that my children take better care of their teeth and have a good relationship with their dentist. Brushing at home and seeing a dentist regularly is essential for good oral health. Dentists can detect small problems before they become bigger, more painful problems. Dental insurance provides up with routine dental care and the peace of mind.
7 Essential Oral Health Care Tips
Brush teeth twice a day.
Regular brushing helps prevent gum disease and cavities. It also helps freshen breathe and is essential for healthier teeth. Brush at least twice a day for 2 minutes at a time.
Pick the right toothbrush.
Pick a toothbrush whose size and brush shape will allow you to reach all areas of your mouth. It's best to use a soft toothbrush.
Use the right toothpaste.
A toothpaste with fluoride is recommended. For children 3-6, a pea sized amount of toothpaste is all you need. For older children, the amount is only slightly larger. Remind children to never swallow toothpaste. They should spit it out and rinse well after brushing.
Floss daily.
Flossing keeps your gums healthy and helps remove plaque, a film that forms on teeth that can lead to cavities. Floss between your teeth to help remove food particles and plague.
Take care of your toothbrush.
After brushing, rinse your toothbrush with water to get rid of remaining toothpaste and debris. Store it in an upright position and allow it to air-dry. It's best not to cover your toothbrush or store it in a closed container. Reminder to replace toothbrushes every 3-4 months, sooner if the bristles are worn out or if your children have been sick.
Get regular dentist check-ups.
You should have two dental cleanings and exams each year. Seeing a dentist regularly is important because they can detect small problems before they become bigger, more painful problems. Regular teeth cleanings help remove tartar and stains that regular brushing don't remove. Regular cleaning can also help prevent gum disease. Plus regular visits are a great opportunity for children to help a good relationship with their dentist and learn the best way to take care of their teeth.
Review your dental insurance.
The need for dental care (cavities, root canals, sealants, wisdom teeth removal, etc.) often arises when you least expect it and often comes when it's financially inconvenient. If you already have dental coverage, review it to ensure that it meets your family's needs.
If don't have dental insurance, enrolling your family in an affordable and reliable dental plan now ensures that you have coverage when you need it. The MetLife TRICARE Dental program provides complete dental coverage to military families at low premiums. It provides two cleanings and two dental exams each year, within a consecutive 12-month period, at no cost to you, when a network dentist is seen. Enrollment is quick and easy: Visit www.tricare.mil/bwe to enroll or www.metlife.com/tricare for additional information, or call 1-855-638-8371 Sunday 6:00 p.m. – Friday 10:00 p.m. (EST) except holidays. You can learn more about MetLife TRICARE Dental Program on the MetLife TDP website, by following them on Facebook and Twitter.