This week we started the New Food of the Week Challenge. Each week, I'm challenging you to try something you may never of had before. This week, kale was the new food to try. Over 80 kale recipes have been shared on our Facebook and Google Plus pages for the challenge. Now all those recipes are brought together in one place just for you.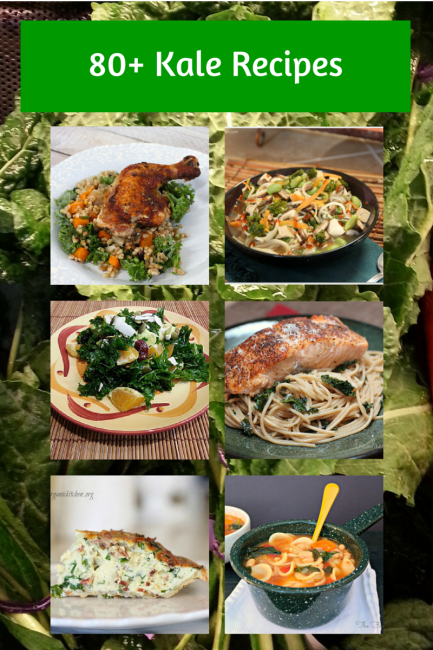 This month, I am contributing to the Real Food Experience 2015. Have you signed up yet? This free program is all about transitioning your diet to include more real foods, you know the ones our grandparents simply called "food". As part of the program, adding more fruits and vegetables was one of the challenges. Kale was a great choice as our first food, because it is so versatile. As you'll see below, it can be used in main entrees, salads, soups, breakfast, snacks, beverages, and more. If you would like to learn more about kale, check out this nutritional information about kale.
I hope you enjoy these 80+ kale recipes. Some come from my kitchen, while most come friends and fellow blogers and home cooks. Try a few and then share with us which you liked best.
Main Entrees
Mushroom, Tomato, and Kale Strata from Little Family Adventure
Acorn Squash with Sesame Greens from Rachel Cotterill
Seared Salmon over Whole Wheat Pasta with Kale, Garlic, and Pine Nuts from Erica's Recipes
Baby Greens and Veggie Stir Fry from Meal Planning Maven
Chunky Bacon and Kale Stir Fry from Oh Snap! Let's Eat!
Kale and Parmesan Chicken Rice Casserole from Make the Best of Everything
Spicy Kale Pizza Dough with Mushrooms and Cheese from Farm Fresh Feasts
Roasted Chicken with Potatoes, Kale, and Lemon from Gutsy By Nature
Soups and Stews
Corn and Kale Chowder from Green Eggs and Goats
Shiitake Mushroom Noodle Soup from Mama Harris' Kitchen
Kale and White Bean Soup from The Foodie Affair
Sausage, Kale and Bean Soup from Kitchen Stewardship
Tuscan Kale Adzuki Soup (raw-vegan) from Jar O Honey
Sweet Potato and Kale Soup from Bowl Me Over
Zuppa Toscana from An Affair From the Heart
Kale, Sausage, and White Bean Soup from Moore or Less Cooking
Kale and Cannellini Bean Soup from LeMoine Family Kitchen
Finnish Summer Soup–with Kale from Farm Fresh Feasts
Turkey, Rice, and Kale Soup from Rais's Recipes
Hearty Lentil Stew from the The Nourishing Home
Breakfast
Verde Hash (Kale and Potato) with Poached Eggs and Hollandaise from Little Family Adventure
Mushroom & Kale Omelet from Mama Harris' Kitchen
Mushroom, Egg & Kale Breakfast Muffins from Mama Harris' Kitchen
Breakfast Burritos from Serena Bakes Simply from Scratch
Red Russian Kale Tomato and Eggs Baked in Ham Cups from Farm Fresh Feasts
Turnip and Kale Greens Quiche from Raia's Recipes
Paleo Egg Scramble from Paleo Gone Sassy
Salads
Anti-Inflammatory Kale Salad from Life Currents
Trader Kale Salad and Orange Champagne Vinaigrette from Little Family Adventure
Kale Strawberry Blueberry Salad With Champagne Vinaigrette from Serena Bakes Simply From Scratch
Fattoush Dip with Kale Hummus from Farm Fresh Feasts
Marinated Kale Veggie Salad with Cashew Dressing from This Organic Life
Avocado, Kiwi & Pomegranate Salad with Blackberry-Lime Dressing from Mama Harris' Kitchen
Chopped Brussel Sprouts and Kale Salad with Orange Vinaigrette from As Easy As Apple Pie
Kale Salad from Attainable Sustainable
Aunty P's Kale Salad (raw-vegan-paleo) from Jar O Honey
Green Healthy Salad with Chia Seed Dressing from As Easy as Apple Pie
Tuscan Kale Salad from One Beet Wellness
Pasta
Fusilli with Kale, Sausage and Cherry Tomatoes from Turing it Home
Zucchini Spaghetti with Lemony Kale Pesto from Erica's Recipes
Mushroom and Kale Canneloni from Rachel Cotterill
Cavatelli with Chicken Sausage and Kale from LeMoine Family Kitchen
Antipasti Pasta Salad with Kale and Radish from Farm Fresh Feasts
Side Dishes
Irish Colcannon with Bacon from Little Family Adventure
Cauliflower and Kale Gratin (gluten free) from Erica's Recipes
Colcannon from Lydia's Flexitarian Kitchen
Fried Rice with Massaged Kale from Farm Fresh Feasts
Creamy Kale from Paleo Gone Sassy
Ultimate Sauteed Kale from One Beet Wellness
Snacks/Bread
Basic Kale Pizza Crust from Farm Fresh Feasts
Kale Chips from Little Sprouts Learning
Kale Chips from Simple Life Mom
Kale Powder from Green Talk
Beverages
Kale Red Beet Smoothie from Feed Your Soul
Kale Mojitos from Moore or Less Cooking
5 Delicious Green Smoothies for Beginners from Little Family Adventure
Spring Cleaner Smoothie from Raia's Recipes
Spring in a Cup from Raia's Recipes