Wild or IN the Wild?
Wild means "out of control" or "unrestrained, especially in the pursuit of pleasure". Along those lines, a "Wild Child" is defined in the dictionary as "a young person who is considered high spirited and fearlessly reckless, likely to behave spontaneously, often doing things they might later regret." Many popular outdoor activities, like skiing/snowboarding, kayaking/canoeing, climbing, trail running and even hiking and camping have an extreme side where pushing limits, sometimes to the point of significant danger, is glorified. As a result, it is forgivable that some people may worry that encouraging a child to spend time outdoors and participate in outdoor activities could cause a parent to end up with a wild child on their hands. Yet, I would argue that with the right guidance, the outdoors provides the perfect environment to nurture a little person who is fun-loving AND sensible, rational, responsible and all that other good stuff– "a child in the wild" NOT a wild child.
I don't want to raise wild children, who go on to become wild adults. Rather, I want to raise my children IN the wild. These are two very different types of wild. The former is raising a child who makes reckless decisions and regrets their actions. In contrast, raising a child in the wild allows a child to connect with nature, and gives parents the perfect environment to teach the child what is and is not in their control, and how to use that knowledge to be safe within their surroundings. I would argue that a wild child can be raised anywhere, including in a mostly indoor environment, if not provided a framework to guide them in their interactions with the world. In my experience, a natural outdoor environment is a wonderful place to develop such a framework in children.
Raising a Child IN the Wild
Having two young girls and watching them grow as we explore the wild, I have found that these outdoor settings provide a perfect atmosphere for teaching core skills and values. After all, the wilderness really refers to an outdoor environment that has not been cultivated or tamed – an ideal unstructured environment for children to learn through play. I have also found that being outside with my children has offered ample opportunity to promote listening skills, cooperation, responsibility, and body awareness.
Learning through play
When children are allowed to explore freely in the outdoor environment they are able to create and play with the natural materials. Gaining knowledge through playing is one of the best ways for young children to learn. Our children have spent countless hours digging in dirt, collecting rocks and sticks and creating while out in the wild. These experiences have also sparked conversations, as they ask questions about their explorations.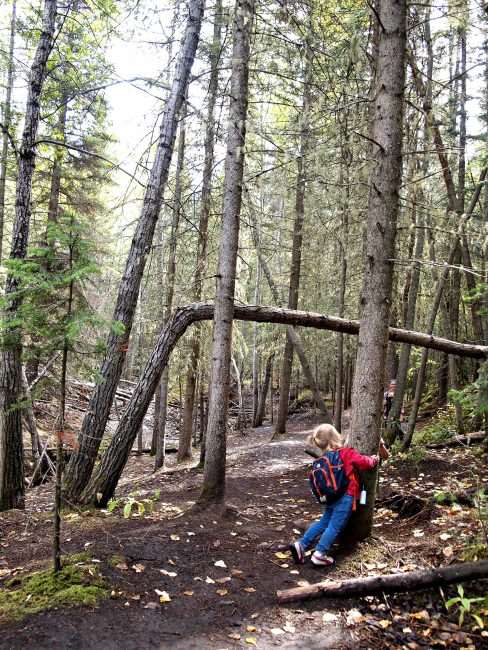 Listening
When allowing kids to explore the wild, listening is something that children need to learn very quickly. At a young age our daughters have had to learn that not all berries can be eaten, some trees have prickly thorns on them, and while hiking we need to be aware of our surroundings. For example if there is a cliff on one side of the trail then it is important to listen closely to mom and dad, or if we are running down the trail we need to watch for big roots and rocks. Children have to learn to listen in the outdoors for safety so that they know where they can run around freely and when they need to be calm and focused aware of their immediate surroundings. With a bit of effort and lots and lots of repeating yourself, little kiddos really CAN learn to listen.
Cooperation
Experiences in the wild promote cooperation. This cooperation happens in situations where kids work together to build a fort out of fallen branches or build a pretend fire together. Other ways to promote cooperation is stepping back and allowing kids to help each other out. For example our 3 year old daughter is constantly helping her 1 year old sister step over tree roots and rocks.
Responsibility
The outdoors is a great place to teach children about responsibility. Teaching responsible outdoor practices like "leave no trace" principles is a great place to start. Other ways our children have learnt responsibility is by carrying their own backpack with a water bottle and snack when exploring in the wild or adventuring on hikes as a family.
Body Awareness
The outdoors is a natural playground and encourages body awareness as a child tries walking on uneven ground, climbing over debris and balancing on fallen trees. These experiences in the outdoor natural playground do not mean that you are raising a child that is a risk-taker. Rather it is about raising a child who can manage risks within their ability levels. Through these outdoor experiences, a child who is raised in the wild becomes more aware of their body and what risks they are able to take and which ones they need to avoid.