Having kids does not need to mean the end of adventures. In fact, I would say that having kids allows you to enjoy adventuring in a whole new way. Adventuring with kids is extremely rewarding and beneficial for the whole family. Our family has chosen to bring our kids with us as we explore. We backpacked Europe with our first daughter, hiked more hikes than I can count with both of our girls and have taken them cross-country skiing and snowboarding. Here are 5 reasons to start adventuring with your kids NOW!
Adventuring with Kids: 5 Reasons to Start NOW!
Build Lasting Memories
Adventuring as a family builds memories that will last a lifetime, ones that your kids will remember too. Everything does not need to go perfect and those hard moments might just make you laugh together a couple months or even years later!
Bond as a Family
Adventures usually take a bit of time to complete which means that you are spending a good chunk of time all together as a family. Some of them leave us full of joy as we encourage our kids to complete a hike or enjoy a surprise ski date while the kids nap in the ski chariot stroller. Other adventures have been challenging with whiny kids but those moments have taught our family how to work together.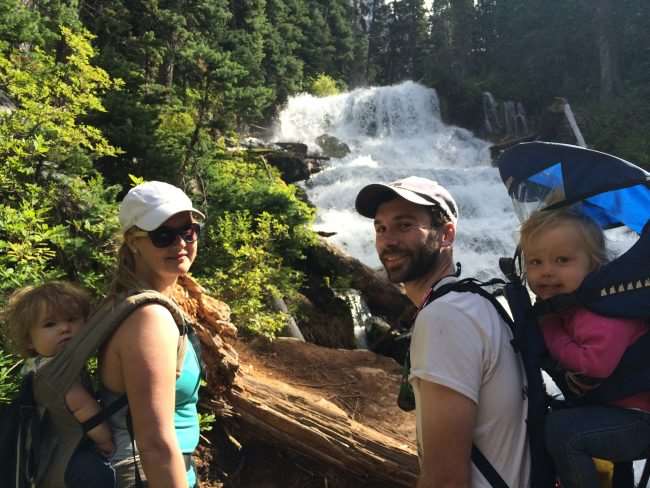 Build Family Communication
Adventuring not only teaches the whole family to talk with each other but also to LISTEN to each other. This means listening to each other and everyone's needs throughout the activity. There are times on our adventures where we tell story after story to push our 3 year old to complete a challenging hike. A hike we know that she is able to complete. There have been other times where we have to listen to her needs that are telling us to turn around before having completed our adventure. This communication has helped us all get to know each other better.
Pushes Comfort Zone
Adventuring with your kids gives you the opportunity to teach them how to face challenges and overcome them. It was not easy the first time my daughter fell hard while snowboarding. I was worried that she might not enjoy going anymore. Instead, I used it as a teaching moment. I was able to remind her that I love her regardless of whether she snowboards AND that snowboarding is not always easy. When she was ready and with a little encouragement she got back on her snowboard ready to shred again.
It also pushes parents' comfort zones. It is hard to take kids out adventuring the first few times. When I wanted to start adventuring solo with my two girls aged 1 and 3, I started slow. I took them out for short walks and outside to simply play in the snow. I have pushed my own personal comfort zone and have now taken my two little girls on hikes by myself and even snowboarding!
Promotes an Active Lifestyle
Getting out and adventuring as a family helps to get everyone active together. Being active together as a family really shows your kids the importance that you put on living an active lifestyle. Instilling those values as a family helps to raise kids that enjoy being active.
Now what are you waiting for?! Start planning your family adventure!!