Whether he's an outdoor enthusiast, world traveler, thrill seeker, or just an all around great guy, he is going to love these adventurous gifts for him. This guide filled with gifts for him does have affiliate links for your convenience. When you purchase through these links, we receive a small commission. Some products mentioned below have been provided for review purposes. All opinions are my own.
Travel Gear & Experiences
Unique Train/Travel Experiences from Nevada Northern Railway
Experience the Old West by riding an authentic 19th century steam locomotive. Nevada Northern Railway is offering three unique, bucket list worth experiences. Ride with the Engineer, in the front and center of a steam engine or drive a steam engine yourself with the railway's Be the Engineer program. For more adventure, Spend the Night in a Caboose.

Score a Hat Trick with Washington Capitals vs. New York Rangers Tickets + Meet NHL Great Rod Langway!
Give him an experience he won't EVER forget. Get him to see the Capitals face off against the New York Rangers. Visit for the pregame, shake hands and meet with former Washington player and Hall of Fame Great, Rod Langway.
Bid on this experience and others Marriott Rewards Moments experiences.

Travel Themed Coffee of the Month Club from Atlas Coffee
What's better than a great cup of coffee? Travel-themed coffee you can't find in stores that's delivered direct to your door that explores the world of coffee. Each month highlights a new country's coffee and culture;Tanzania, Ethiopia, Burundi and beyond!
Subscription service $9 per bag with great gift options. Find it here.
Trayvaxx Summit and Element
Give the gift he'll use every day and is built to be passed down for future generations. Trayvax offers two wallets that he'll love.
Summit Minimalist wallet – Engineered to be lightweight, low profile and carry just what you need. The Summit is made in the USA, designed to withstand at least 65 years of use, comes backed by a lifetime warranty, and is only $19.99.
Trayvax Element The Element is slim enough to slip in your front pocket, tough enough for any outdoor pursuit, but stylish enough for date night or everyday carry. It is packed with features including a built-in bottle opener, integrated money clip, attachment point, and RFID-protection. $79.99-$84.99
X Series by iFLY Luggage
Designed for the traveler who is on the go for both work and play. Functional, stylish luggage with features ranging from USB ports and electronic identity theft protection to integrated garment suiters and multiple zipped interior packing compartments. Available in both hard and soft sides.
Starting at $89.

ORCA Cooler – 26 Quart
An essential for any traveling or outdoor family. These hard-sided coolers are made in the USA and are guaranteed for life.This size is perfect for the trunk of a car and holds up to 24 cans. It will keep items cold up to 10 days. It outperforms any other hard sided cooler on the market.
Retails for $199.99 but on sale at orcacoolers.com for $159.99
Gear & Gadgets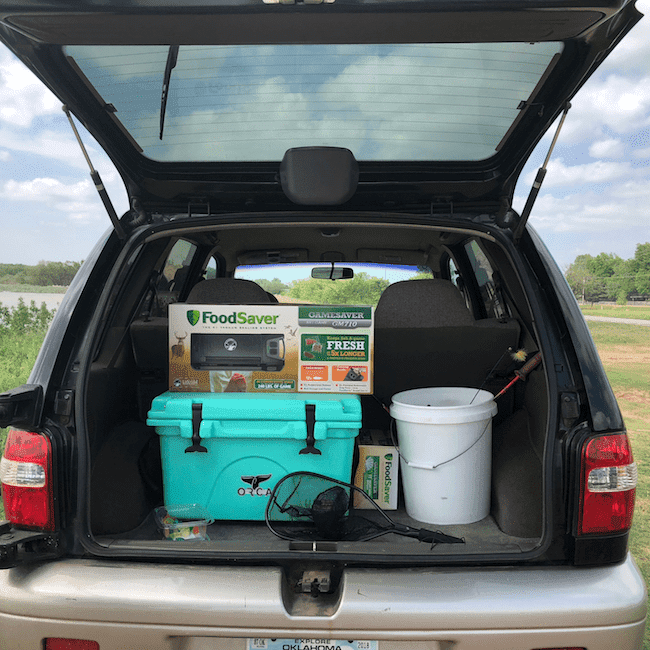 FoodSaver® GameSaver® Big Game™ Vacuum Sealing System
For the fisherman or hunter, this food vacuum system can process and preserve faster with up to 80 consecutive seals or 240 pounds. I recently bought one for my husband and share the story plus a great recipe for Blackened Grilled Catfish. <= Click that link.
The rugged design of this sealer means you can take it in the RV, the car, or on the boat. Find it at Walmart stores for $187.

HoverFly XL from GOTRAX
He'll love riding this heavy-duty off road-capable hoverboard. Dual 350-watt electric motors are capable of taking riders up to 11.4 miles-per-hour for 12 miles on a single charge on 8.5-inch ff-road tires can climb slopes up to 30 degrees. Bluetooth speakers kick out the jams, and an Android and iOS app allows you to monitor stats, control top speed and even unlock a "pro mode."
Get it here for $299
Mystery Tackle Box Subscription Service
For the angler, get him the original lure subscription service that delivers new tackle direct to your door. Try out new gigs, lures, and more. Boxes are curated for a specific type of fish or region.
Boxes starts at $13.75 a month Use code GIVEMTB for 5% off all Gift Subscriptions.
Berlin (or other place) Pint Glass from Uncommon Green
Everyone loves to remember those special places they've traveled to, lived, or had memorable events at (first kiss, weddings, honeymoons . . .) Each glass has a detailed etched map of either the town, mountain, or island, which wraps around the entire glass, making it a unique and thoughtful gift.
Glasses start at $14.00


Outdoor Gear Monthly Subscription Box from Nomadik
If he loves trying new outdoor gear, this is a great way to go at $32.95 a month. Take a look at one our past Nomadik Gear Boxes. Each month has a theme that gear focuses on. It's agreat way to findthe perfect gift for that hard to please Dad.
Save 10% off your next box. Order your next box at TheNomadik.com and use code LILFAMILYADVENTURE to save 10% off and get free shopping. Price: $32.95 per month (or less)


Torch 2.0 Coat Heater
Never be cold again with this battery-operated heater that is designed to fit seamlessly inside any style coat. With the help of Velcro, you can easily move the heater from jacket to jacket or share with a friend. It heats up to a comfortable 130 degrees. Great on cold winter nights, camping, or watching an outdoor winter sporting event.
Get one at TorchCoatHeater.com or amazon.com for $109.95
Stanley Mountain Vacuum Coffee System
For the coffee lover, this is a boiling pot, french press, and vacuum bottle all in one. Brews coffee and keeps it hot for 24 hours. Keeps iced beverages cold for uo to 100 hours.
Stanley Adventure Vacuum Food Jar
Great for the trail or a road trip. This double walled insulated food jar will keep foods hot or cold for 12 hours.

Shooter Ice Molds from Zoku
He'll impress his drinking buddies with this round with shooter ice molds. Create edible, cooling shot glasses from ice, chocolate, or even candy. Bottoms up!
Get it here for $19.99.
Portable Espresso Maker from Wasserstein
Fuel your outdoor adventures with a perfectly brewed espresso anywhere you are. No batteries are required for this portable handheld espresso maker. Just add coffee powder and hot water, then the manual, high pressured pump creates a perfectly brewed espresso every time.
Get it here for $29.99
Hydaway Hydration Bottles
Travel anywhere with this collapsible, pocket-size and eco-friendly hydration bottle. Made from food-grade silicone, it is easy-to-use and features a flip-up straw for quick sips, carabiner-friendly carry handle, and watertight guarantee. When you're finished, an unique hinged design allows it to pack down flat to 1.25" thick and stash it away.
Buy it here for $20
BodyworksBall Portable Self Massage Tool
Picked at Yahoo Health's wellness must have, this is a great gift for a co-worker, client, boss, or self. This portable self massage tool provides for instant relief of neck cricks, shoulder knots, and relief to sore aching hands and feet. Can be used at home, office, gym, while traveling, and more.
Get it here for $34.99

Outdoor Gear Subscription Box from Nomadik
Perfect for the person who has everything or just likes to try new things. Nomadik is the premier subscription box for anyone who loves adventure and outdoors. Each month the box delivers 3 to 6 full sized products for your to use. Products may include gear, tools, snacks or drinkware, camping hacks, inspiration, and more.
Get it here for $32.95 Plus use coupon code LILFAMILYADVENTURE to save 10% off and get free shipping
National Parks Trail Map Collection from National Geographic
For the man who loves visiting the National Parks, he'll enjoy these collector's map box set. This set features 10 National Geographic Trails Illustrated maps for soem of the nation's most beloved and most visited National Parks. Parks include Yosemite, Rocky Mountains, Great Smoky Mountain and others. Each map is waterproof and tear proof so it's perfect for the trail or for planning your next trip. Comes in a great wooden collector's box.
Get this set for $99.99
Chef Knife from FINI Cultery
This perfectly balanced chef knife with the short handle will be a great gift for the anyone who loves to cook. The shorter handle provides for a better grip and more control during use. German forged steel blade is razor sharp and ready to help you in the kitchen.
Available on FiniCutlery.com or amazon.com for $75
Microfiber Towel from Wise Owl
Perfect for travel or camping! This microfiber towel is extra fast drying with a convenient and sturdy snap loop so you can be easily hung up to dry. The built in snap loop also prevents your towel from blowing away. Comes with convenient stuff sack.
Find it at WiseOwlOutfitters.com or on amazon.com for $14.95

Show off the Latest Trip with a Fotobit Photo Collage Frames
Istead of just showing a picture of his favorite trip or that HUGE fish he caught, create wall art with in with these customizable photo collage frames. These 4×4 modular photo frames easily adjust, detach, and customize like a Lego to build wall art. Great for the office, home, library, or man cave.
Get a set of 3 for $12.95
REKS Sunglasses
He's never too cool to wear shades and these lightweight and stylisg frames from REKS are unbreakable. They'll take any adventure he can embark on. Choose from six frame styles with three lens options for a pair for sunglasses that he can enjoy on the trails or in the city.
Shop on Amazon or REKS website. Retail $50 and under.
Double Hammock from Wise Owl Outfitters
Give him the gift that allows him to sleep under the stars or nap almost anywhere outdoors. This hammock is sturdy and holds up to 400 pounds. Throw it in the pack and he can enjoy a relaxing afternoon in the backyard or sleep in the woods with the kids. Includes nylon ropes and carabiners. US made.
Get a single or double on WiseOwlOutfitters.com or on Amazon for $25-$36
Clothing for Him

Gramercy Blazer & Chino by Bluffworks
This new blazer is a dream for the man who travels. High-tech material gives you the look and feel of wool but is quick-drying, wrinkle-free, breathable… and machine-washable (yes, no more dry cleaning!). Features 10 pockets, many of them hidden for stashing passports, money, etc. and packs super light. $295
These Chinos are built for adventure and the man who's on the go. They are super soft, have lots of stretch, wrinkle free, quick dry, and deep pockets for passports, foldable maps, and more. Made in NYC. $98
Visit Bluffworks.com to order
Sherpa Lined Armstrong Jacket From Carhartt
This heavyweight jacket looks traditional but is designed to keep him comfortable no matter what he's doing. Engineered with features like Rugged Flex® stretch, flex elbow, and bi-swing between the shoulders. He'll be comfortable no matter the adventure.
Find it on Amazon
Sheldon Henley and Oliver Jogger from Ecoths
Keep him comfortable in this Sheldon Henley and Oliver Jogger. It will keep him warm during the gambit of activities that will occur during this busy time of year. Both pieces are made with an organic cotton blend he'll wear over and over.
As part of their Feed 3 Program, Ecōths donates three meals to feed one person for one day with the purchase of each garment. Since 2014, they've donated over 260,000 meals to food banks throughout the US and Canada. Get them here for Henley $59 and Jogger $69
Sunset Hoodie by Recover Brands
Ideal for all things active. Whether you're breaking a sweat or out on the water, you'll be amazed at the performance and comfort. This lightweight eco-friendly hoodie is made with 100% recycled bottles and will quickly become a go-to choice.
Get it here for $49.
SaveSaveSaveSave
SaveSave
SaveSave
SaveSave
SaveSave
SaveSave
SaveSave
SaveSave
SaveSave
SaveSaveSaveSaveSaveSave
SaveSave
SaveSave
SaveSave
SaveSave
SaveSave