I am partnering with the Arbor Day Foundation this holiday season because we are all busy looking for perfect gifts ideas. I can't think of a better gift than one that gives back to a great cause. This year, I'd like you to check out two very special gift ideas from the Arbor Day Foundation that help bring our nation's forests back to life!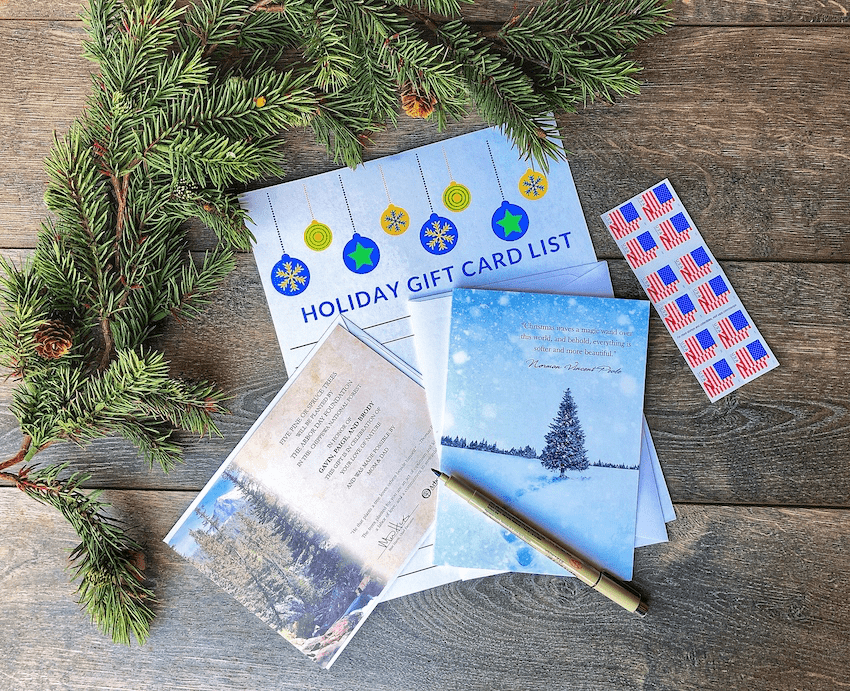 For those who love the outdoors, you can buy gift cards with a purpose that help protect forests for future generations. Friends and family will love knowing their gift helped protect the natural world. Plus you'll have a chance to WIN a 10 pack of Give-A-Tree Cards. More on that in a minute.
Arbor Day Foundation
Every year we are proud to support the Arbor Day Foundation and their efforts to protect forests for our children and for future generations. Their mission is to "inspire people to plant, nurture and celebrate trees." Founded in 1972, the Arbor Day Foundation has now become the largest nonprofit membership organization dedicated to planting trees. Our family is one of the over one million members/supporters.
Here's their new PSA –
This year, Arbor Day Foundation has two very special gift ideas that are PERFECT for anyone on your holiday gift list that loves nature. They are offering unique Holiday Give-A-Tree Cards and personalized Trees in Celebration Certificates.
Holiday Give-A-Tree Cards
Holiday cards are a tradition in our house. They may be in yours too. This year instead of traditional cards, purchase these special Give-A-Tree Cards. For each one you buy, a tree is planted in honor of the gift recipient.
Cards are available for every occasion and can be purchased at arborday.org individually or as a boxed set. You can personalize the cards too with a special message at no additional charge. There is no minimum to order and cards can be mailed to you to sign and deliver or direct to your loved ones with free shipping Check out these cards that start at $5.95 each with over 80 different designs.
Trees in Celebration Certificates
Another way to give a gift preserving our nation's forests is through the Arbor Day Foundation Trees in Celebration certificates. These printed cards help reforestation efforts in Minnesota's Chippewa National Forest and the Klamath National Forest along California and Oregon. For each card, a minimum of five trees are planted in honor of the recipient. The cost is $2 per tree with a $10 minimum.
Just like the Give-A-Tree Cards, you can personalize the cards at no extra charge. This year, I'm giving my children one of these certificates. It will be something they can look back on and say, "we helped give back." I think that's important that they are connected to the land and this does that!
For last minute gifts, these Trees in Celebration are great because they can be printed out at home. Give them for the holidays, birthdays, and other special occasions. BONUS: Buy in November and/or December and receive free shipping.
Buy Gift Cards
This year, give loved ones sustainable gift cards from the Arbor Day Foundation. Order your cards today and take advantage of free shipping when you buy gift cards and/or tree certificates in November and/or December.
Give-A-Tree Giveaway

Enter to win a 10 pack of Arbor Day Give-A-Tree Cards
Value $39.95
Contest runs Nov 12 to Dec 3, 2018 on Instagram