Spring rolls and egg rolls are some of our favorite Chinese take out items. I don't know the difference between the two, but the wrappers I buy at a local Asian market are spring roll wrappers. These wrappers have just a few ingredients and contain no preservatives or MSG. You can find egg roll and spring roll wrappers at most grocery stores. Look in the refrigerated produce section where you find other Asian ingredients such bean sprouts.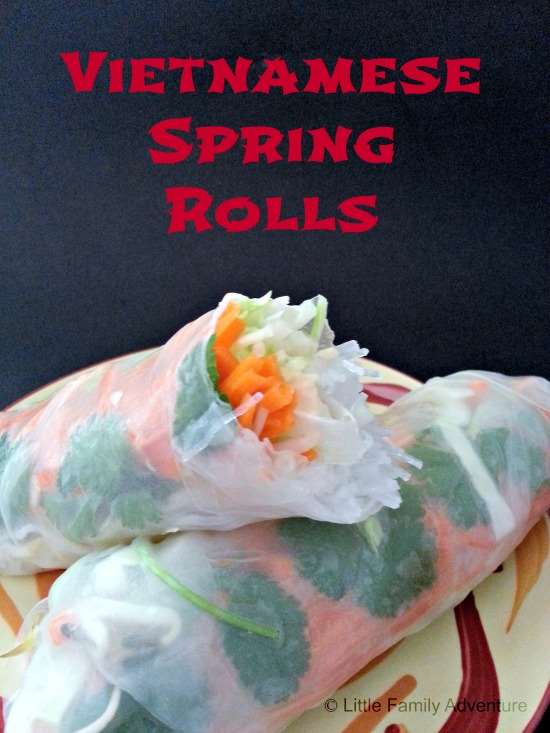 It's fun to get the kids in the kitchen and make the rolls together. We set up a little assembly line to put our spring rolls together. The kids loved it, especially since we had to taste test as we assembled. 🙂 Spring rolls make great appetizers and snacks. They also make great meals when served alongside steamed or fried rice. Serve your rolls with sweet chili sauce, sweet and sour, soy sauce, or spicy mustard.
Baked Pork Spring Rolls
Makes 25 rolls
1 Tablespoon sesame oil
1/2 pound ground pork
3 cloves of garlic, minced
1/2 teaspoon ground fresh ginger
Dash of cayenne pepper
3 Tablespoons Tamari or soy sauce
1/2 medium cabbage, shredded
1/2 pound bean sprouts
2 carrots, grated
1/3 cup diced onions
Spring roll wrappers, 1 package
2 Tablespoons coconut oil, melted
1 1/2 teaspoon sesame oil
Over medium-high heat, add 1 Tablespoon sesame oil to a large skillet or wok. Allow oil to heat up.
Add pork and garlic to pan. Stir fry until pork is browned.
Add ginger through onions to skillet. Stir fry until cabbage is wilted. Taste mixture to make sure it's to your liking. Add additional soy/Tamari or cayenne if desired.
In a small bowl, combine coconut and remaining 2 Tablespoons sesame oil together. Set aside
Preheat oven to 400 degrees.

To assemble the rolls, place the spring roll wrapper on a dry work surface and place 3 to 4 tablespoons of the filling in the center of the wrapper. Roll the wrapper around the mixture, folding the edges inward. Before your final fold, brush with a little coconut/sesame oil.

Brush roll on all sides with the oil. Place

spring rolls in a single layer on a baking sheet. Repeat with all rolls.

Bake for 10 to 12 minutes, rotating after 6 minutes, until they're golden brown and crispy. Remove the spring rolls from the oven and serve them immediately with the sweet chili sauce, spicy mustard, or soy sauce.
If you like this recipe, you may also like:
Thai Sweet Chili Stir Fry