There is just something about cooking with fresh ingredients. A trip to your local farmers market can result in some the freshest and most delicious local finds. The summer growing season is filled with so many colorful fruits and vegetables. Peaches are one of my favorites and they're now in season. Are you a peach lover too?Peaches are great for sweet desserts, but have you tried them teamed with prosciutto and balsamic vinegar? No? Oh, you have to try this Balsamic Peach and Prosciutto Pizza. It's perfect for summer time! How can you refuse these fresh local peaches, arugula, and prosciutto (it's the next best thing to bacon)?
At this week's Farmer's Market, I picked up some local Stratford peaches. They were SOOOO sweet. Oh my goodness! My kids could hardly wait before eating their first, second, or third one. Stratford, Oklahoma is the self-declared "Peach Capital of Oklahoma". Every July, the town hosts its annual Peach Festival. It's full of great family fun and of course, deliciously yummy peaches. I can't wait to go this year. Do you have any food festivals that you love going to?
I picked up Plank Grilling by Dina Guillen from my local library the other day. As I was flipping thru it for new meal ideas, I came across a recipe for a Balsamic Peach and Prosciutto Pizza with Arugula. I knew that I would have to make this pizza. I love to combine fruit (usually melon) and prosciutto because I like that sweet and salty combination. This pizza has that same sweet and salty combo. The mozzarella and goat cheese give it a little something extra too. The original recipe was for plank grilling on an outdoor grill. I modified the recipe and cooked it indoors in my oven.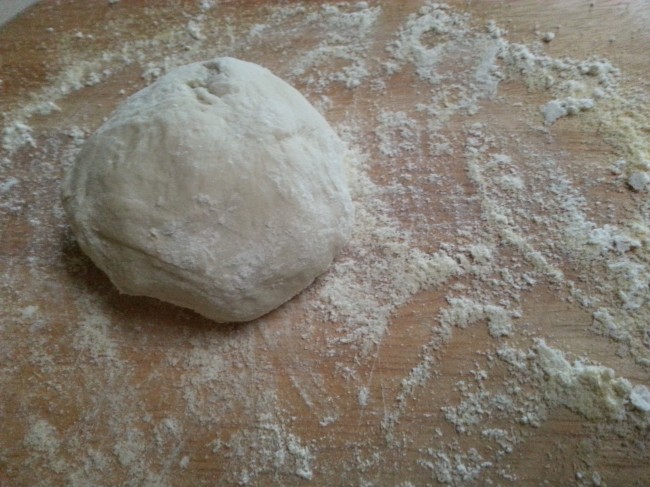 For homemade pizzas, I like to make this Homemade Pizza crust. It's a no knead recipe that can be stored in the refrigerator. That way you make it once, and use it throughout the week as needed. It helps me save time in the kitchen.
This Balsamic Peach and Prosciutto Pizza is a perfect summertime dinner. It's quick and easy to prepare, healthy, and the kids love it. This is what real food is all about; Fresh ingredients that you can feel good about feeding your family. You'll be seeing more of this recipe on upcoming meal plans. Maybe one day, I'll try it out on the grill.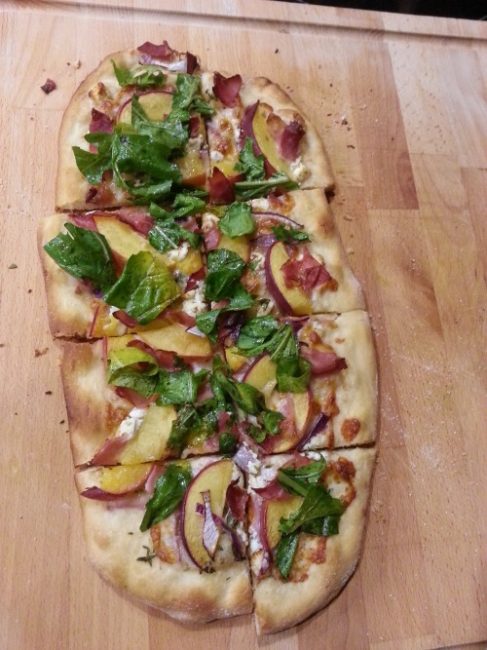 So what kinds of pizza do you like during hot summer months?
Yield: 4 servings
Balsamic Peach and Prosciutto Pizza
Ingredients
1/2 pound homemade pizza dough, divided into 2 crusts
2 Tablespoons + 1 teaspoon olive oil, divided
1/2 teaspoon fresh thyme, chopped
1/4 teaspoon sea salt
1/8 teaspoon ground pepper
1/8 teaspoon garlic
6 ounces mozzarella cheese, shredded
2 large peaches, pitted and thinly sliced
1/4 small red onion, thinly sliced
6 thin slices of prosciutto, cut or torn into pieces
2 ounces herb goat cheese, crumbled
1 teaspoon balsamic vinegar
1 cup loosely packed arugula
Instructions
Place a pizza stone in the oven and preheat to 500 degrees.
Sprinkle flat surface with flour. Roll out the pizza dough into two (2) 18" by 6" rectangles. Dough should be about 1/4 inch thick.
Transfer dough to a cutting board or pizza peel sprinkled with cornmeal.
Mix together 2 Tablespoons of olive oil, chopped thyme, salt, pepper, and garlic. Brush pizzas with oil mixture.
Add mozzarella, peaches, red onions, prosciutto, and goat cheese to each pizza.
Place pizzas on the hot stone and cook for 7-9 minutes, or until the crust is golden brown and the cheese is melted.
Remove from the oven.
In a small bowl, combine balsamic vinegar and remaining 1 teaspoon of olive oil. Add the arugula and toss to combine.
Add the arugula to the top of each pizza. Slice each pizza into 8 slices.
Nutrition Information:
Serving Size:
1
Amount Per Serving:
Calories:

1270
Total Fat:

72g
Saturated Fat:

32g
Cholesterol:

162mg
Sodium:

2933mg
Carbohydrates:

99g
Sugar:

10g
Protein:

73g
Recipe adapted from Plank Grilling by Dina Guillen (affiliate link).
If you like peaches, check out these other recipes.