This Banana Split Smoothie Bowl recipe to brought to you through a partnership with Barlean's. Complimentary products have been provided for my review. All opinions are my own.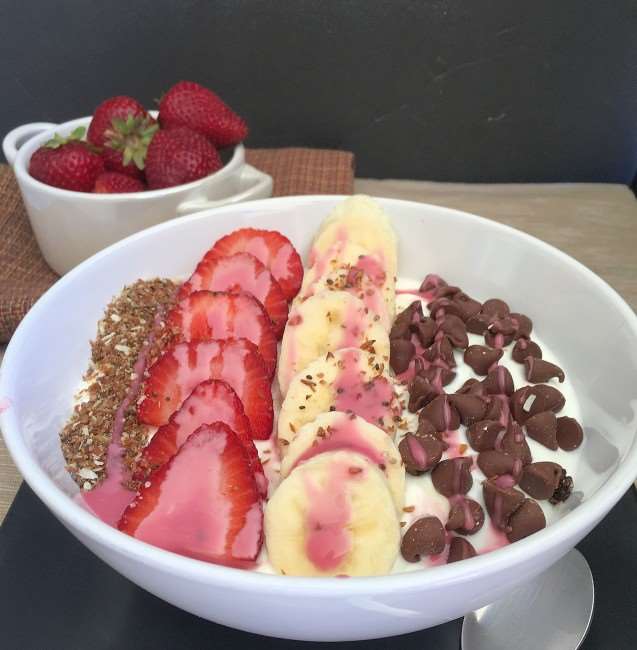 We all want our family to eat healthy. Right? Well some days are not quite as easy as others, until now. Let me fill you in on a secret weapon I use to get my family to eat healthier. It's called a Banana Split Smoothie Bowl.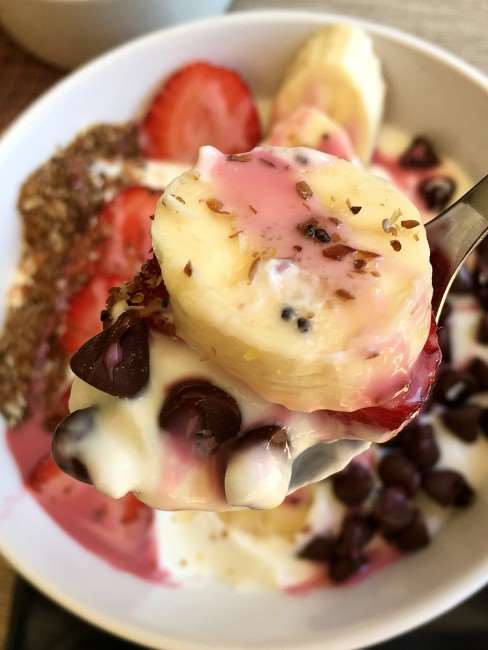 After the family hears "Banana Split", they kind of tune out the rest and start signing your praises. It's the second best thing to chocolate cake for breakfast in our house. I mean, let's face it. Anything Banana Split is bound to be good and this definitely doesn't disappoint! You can treat them and you to a Banana Split for breakfast or anytime.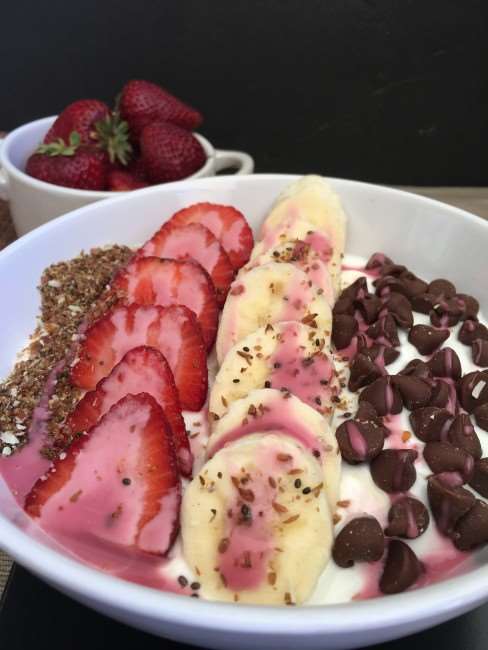 Banana Split Smoothie Bowl
Now this isn't a traditional banana split and my kids are always the first to point that out. You've got the basics of a banana split though:
√ Banana
√ Strawberries
√ Chocolate
√ Yogurt instead of Ice Cream
√ Sprinkles
Start your day the healthy way
Now I mentioned earlier that I use this to get my family to eat better and you're probably wondering how in the world a banana split is healthy. It's all in the ingredients. We're using:
√ Whole Milk Greek yogurt (plain) sweetened with just a touch of honey or maple syrup – This increases the protein and contains the amount of added sugar.
√ Barlean's Omega Swirl in Blueberry Pomegranate for Omega 3, 6, & 9
√ Healthy "Sprinkles" are a blend of Flax seed, Chia, and shredded Coconut for protein, fiber, and more Omega 3s. These superfoods help make this smoothie bowl healthier.
Barlean's Makes Healthy Easy
I was recently sent a variety of Barlean's Omega Swirls and other products to try. I have seen their products in local stores, but had never tried them before. If you haven't heard of Barlean's before, they are a family owned and operated company based in Washington State. They make a variety of products including fish oil supplements, coconut oil, and flax seed. Their Omega Swirls make it easy to take an Omega supplement. If you have ever tried to take one, you know exactly how hard that can sometimes be.

For the Banana Split Smoothie Bowl, I used the Total Omega Vegan Omega Swirl in Blueberry Pomegranate. Barlean's has a super secret process that gives this the taste and texture of a berry smoothie. It's like drizzling fruit syrup over the banana split. It's amazing and the kids go crazy for it! It has never been easier to get them to take their vitamin supplements.
The "healthy sprinkles", as we call them, are a blend of ground flax, chia seeds, and unsweetened shredded coconut. It adds a nice texture to the smoothie bowl and these super foods pack it full of nutrients. If I didn't have this, I would add chopped almonds or walnuts for added protein and crunch.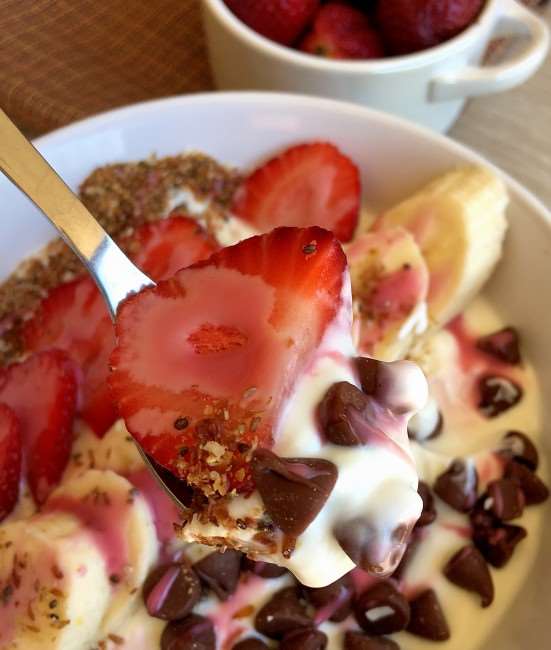 All this talk about Banana Splits has made me hungry. What about you?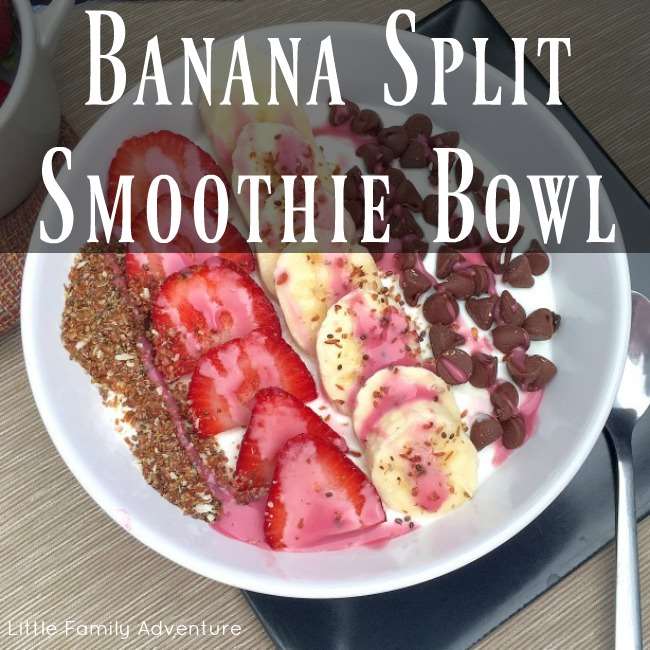 Yield: 1
Banana Split Smoothie Bowl
Your family will sign your praises when you serve them this Banana Split Smoothie Bowl. You don't have to tell them it's actually healthy. They will just love the taste!
Ingredients
8 ounces Whole Milk Greek Yogurt, plain (I like Stonyfield's version)
2 Tablespoons Honey or Maple Syrup
1 Banana, sliced
4-5 Strawberries, destemmed and halved
2 Tablespoons milk chocolate chips
1 Tablespoon Barlean's Flax-Chia-Coconut seed blend
Instructions
Combine yogurt and honey or maple syrup. You can add more if desired for a sweeter yogurt.
Place yogurt into a bowl and top with banana, strawberries, chocolate chips, and flax chia coconut blend.
Drizzle Blueberry Pomegranate Omega Swirl over the top.
Enjoy!
Nutrition Information:
Serving Size:
1
Amount Per Serving:
Calories:

456
Total Fat:

11g
Saturated Fat:

4g
Cholesterol:

5mg
Sodium:

33mg
Carbohydrates:

89g
Sugar:

65g
Protein:

7g
Try is Banana Split Smoothie Bowl recipe for yourself. You and your family may never look at breakfast the same way again.
Learn more about Barlean's on their website or visit them on Facebook or Twitter.