Fall has arrived here in OKC! The Oklahoma summer heat is gone and the weather is perfect to get outdoors. Like you, we're ready to celebrate all things pumpkin and harvest these days. So this list of outdoor activities in OKC this fall takes advantage of these cooler temperatures, fall colors, and everything fall related.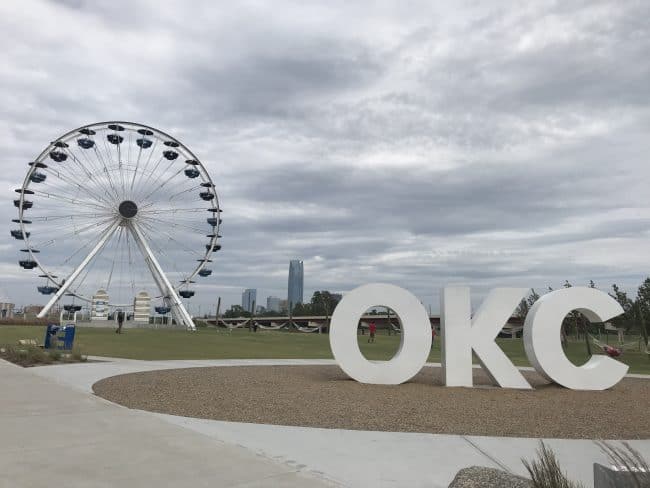 Fun Family Activities in OKC this Fall
OKC is filled with special fall and Halloween events and attractions for your family to explore. This list of outdoor things to do in OKC this fall isn't exhaustive, but it's a few of our favorite places that you really need to see.
Head Downtown and Explore Pumpkinville
For two weeks every October, Myriad Garden's Children Garden is transformed into Pumpkinville. This section of the park is filled with thousands of pumpkins and harvest themed displays. You will enjoy the creative crafts, stories in the park, pop-up shops, pumpkin painting, and special activities. This annual event is in its seventh year and is a local family favorite you don't want to miss.
Ride the OKC Streetcar
Explore the different downtown and Midtown districts via OKC Streetcar. You can sample your way through local restaurants, snack at the ice cream shops, and enjoy all that each area has to offer.
Get Lost in a Corn Maze
Orr Family Farm has been a family favorite for years. From the hay ride and barnyard to the pumpkin patch, it's fun for all ages. It's also one of the few places in the city where you can find a corn maze. Friday and Saturday nights in October, come after dark for a different kind of experience. Roast marshmallows over the fire pit, run the maze by flashlight, watch fireworks, and more.
Zombie Apocalypse Paintball
A part of Orr Family Farm gets overrun by zombies on Friday and Saturday nights in October and November. Loaded with paintball guns, participants ride on Farm 'war wagons' with benched seating to rut out and splatter zombies with glow in the dark paintballs.
Go on an Art Scavenger Hunt
Oklahoma City is filled with beautiful murals and sculpture. If you are looking for free activities in OKC, hunting for murals is a fun activity. Plus many of them are located near some of the best restaurants in the city. Find a list of both OKC Murals and restaurants in this article.
Take a ride on the Wheeler Ferris Wheel, then stay awhile.
The area around Wheeler Ferris Wheel is fun for everyone. The Ferris Ferris Wheel once resided on the Santa Monica pier in California. But now it calls Oklahoma City home. The area features quite a few free activities in OKC. During the day you can hang out in one of the many hammocks, play a game of ping pong or football, or just walk along the Oklahoma River. At night, the food trucks come out and you can enjoy the area in other ways that you'll just have to go down and see for yourself.
Get Back to Nature at Martin Nature Park
In NW Oklahoma City, stroll along the park's 2.5 miles of wooded trails, take a guided hike, or attend one of their educational programs. During the fall months, see the season's changing colors as you stroll along the path. Tuesday through Sunday at 9:30am you can follow a park ranger on a guided hike to learn about the area wildlife, fauna, and other topics.
Grab Your Bike and Hit the Trails
Bluff Creek Park, on the north side of Lake Hefner, is one of city's only single track MTB trails. Riders can ride traverse 3.6 miles of moderate rated trails. Nearby families can also enjoy paved walking trails, covered pavilions, and a children's playground.
Go Kayaking/SUP in Stinchcomb Wildlife Refuge.
On the north end of Lake Overholser, the Stinchcomb Wildlife Refuge area is a favorite among kayakers and SUPers. It's a quiet area lined with reeds and grasses providing a natural wind block. SUP and kayak rentals are available nearby if needed.
Get Outdoors in October at the Boathouse District.
Every weekend in October, the Boathouse District is offering different ways to get outdoors. From the annual Oklahoma Regatta Festival to Urban Camping and Craft Beer Saturday, you will find a fun filled way to spend the day. These special weekend events are in addition to all the fun you can have at the Riversport Adventures.
Shoot the Rapids at Riversport Adventures
Riversport OKC is a world class white water facility with man made whitewater rapids for rafting and tubing. Aside from the water, families enjoy a wide array of activities in OKC including zip lining, slides, ropes courses, and more.