Traditional theme park food has its place, but when you go beyond that, you can get a fantastic dining experience. Within Universal Orlando Resort is Universal CityWalk, an entertainment and dining venue loaded with culinary destinations, shopping, and entertainment options. We recently had the chance to dine at The Cowfish Burger and Sushi Bar in Universal CityWalk.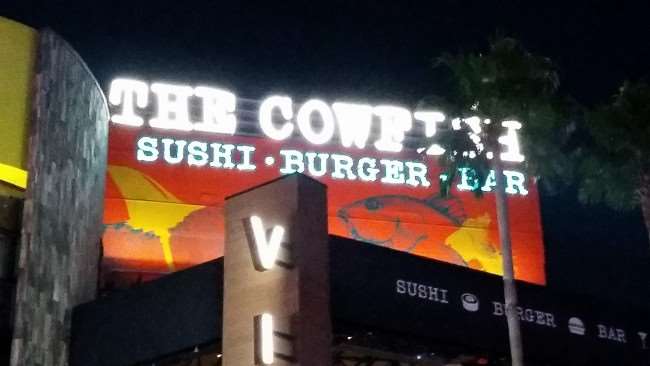 Their blend of burgers and sushi may seem like an odd combination and it is, but the food here is fantastic and well worth a trip. Their funky atmosphere, delicious food, and spectacular service will have you returning and asking for more.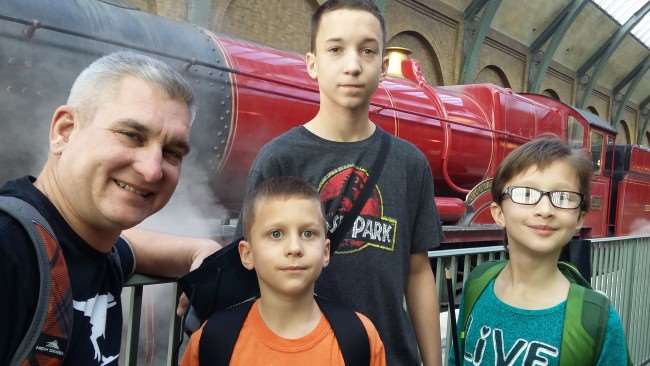 We recently went to Universal Studios Florida and Islands of Adventure to visit the Wizarding World of Harry Potter. After a full day in the theme park, we headed to Cowfish Burger and Sushi Bar for dinner. Located in the heart of CityWalk, you can't miss Cowfish. It is at the intersection to the paths leading to either park (Universal Studios Orlando & Islands of Adventure) from the parking garage.
The large fish sculpture outside also gives it away.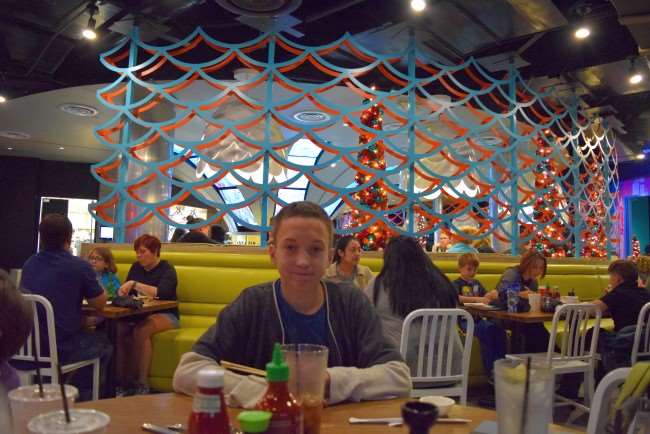 The Cowfish Burger and Sushi Bar is a funky restaurant that serving up great food in a fun atmosphere. You can sit inside or outside on the patio. I read somewhere that you can see the night time show from the patio. It was a little cool for me outside, so we sat inside where it was a little warmer. Just like the name implies, the menu features sushi and burgers. Their signature roll combinations and all natural beef burgers are fantastic. You can get adventurous or go for classic flavors. During our visit, we wanted to try a little of everything. We loved every bite.
Blackened Ahi Tuna Nachos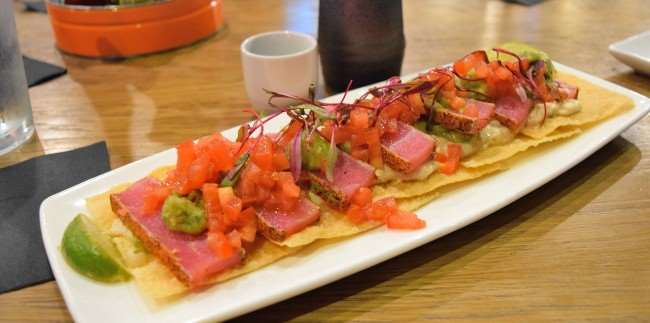 To start we had the Blackened Tuna Nachos as an appetizer. These were recommended by our server, Dasan. This was the best thing I've had in a while. This was Crab Rangoon dip, Avocado Salad, and lightly blackened Ahi tuna on top of fried wonton chips. They were light, fresh tasting, and simply delicious. I joked with the kids that they wouldn't like them, so I could eat theirs. They didn't believe me and enjoyed them just as much as I did.
For our entrees, we ordered:
Boursin Bacon Burger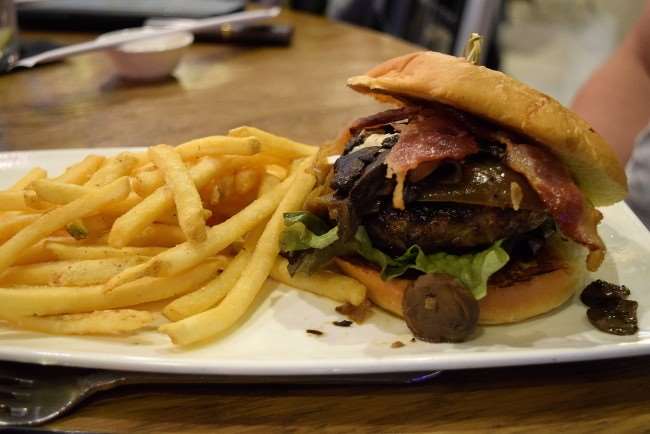 All the burgers at Cowfish are all-natural using hormone and antibiotic free beef. Each burger is a ½ pound of deliciousness. The Boursin Bacon Burger had garlic & herb boursin cheese, applewood bacon, sautéed mushrooms, and grilled onions on it. Served with seasoned fries, this was a great meal.
Firecracker Roll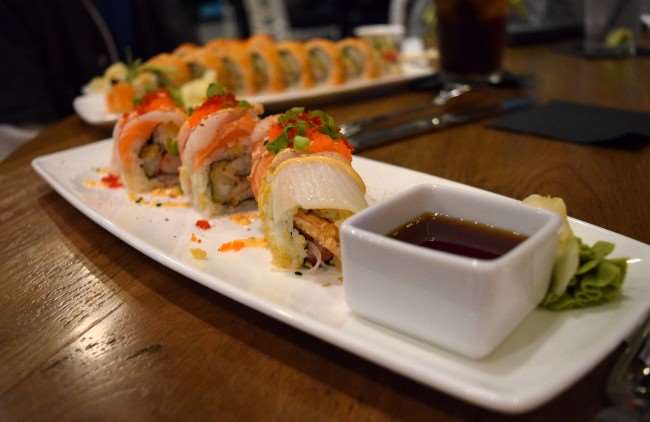 This was one of the specialty rolls our server described as entrée sized. It was a large roll with Tempura Shrimp inside and topped with yellowtail, salmon, spicy mayo, and masago. Both rolls were excellent.
California and Tempura Rolls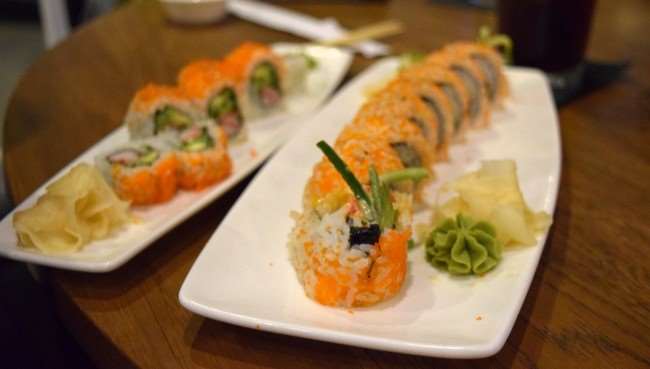 These classic sushi rolls were both very good. They were smaller in size than the specialty Firecracker Roll and would make a great appetizer for the table or entrée is you ordered 2 or 3, like my son did. Like the Firecracker Roll, the sushi were fresh and rolled really well.
Fusion Specialty Bento Box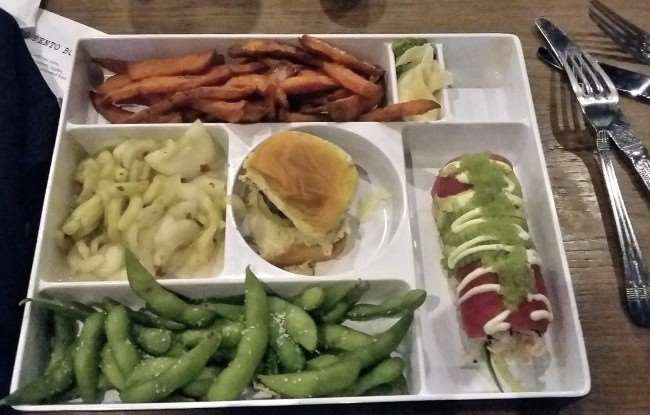 This bento box was a little bit of everything. I ordered mine with the Boss Roll, a beef slider, edamame, sweet potato fries, and Thai cucumbers.
The Boss Roll had Spicy yellowfin tuna and cucumber inside, then was topped with avocado, tuna, and wasabi mayo. It was delicious. The fish was extremely fresh and the combination was really good.
The slider originally came with American cheese, so I asked the server to substitute an all-natural cheese. He checked with the chef and recommended 2 different cheeses. I appreciated that.
The sides were really good too! I could have eaten my weight in the Thai cucumbers. They were simple pickled cucumbers that were really good.
Kid's Bento Box with Tempura Roll, apples, French fries, Dessert Sushi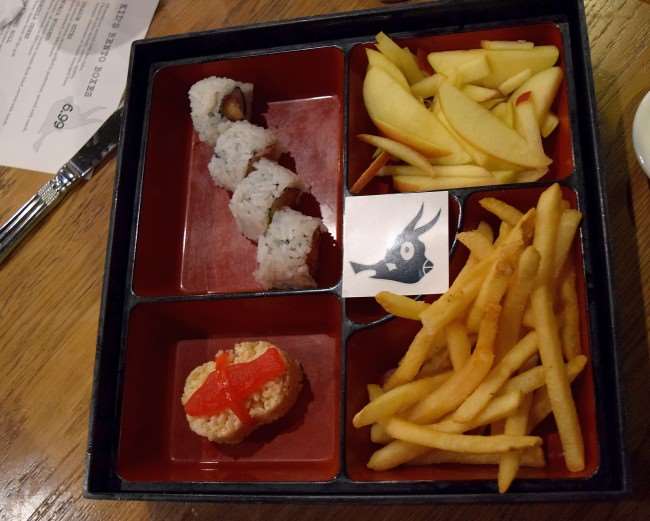 My youngest ordered the kids Bento Box. This was a steal for $6.99. He ordered the Tempura roll, which is a favorite with my kids. The dessert sushi was a fun touch with a gummi fish laid over the sushi.
The Cowfish tattoo was a fun prize for my son because he loves fake tattoos. He had it in his arm before we even left the restaurant.
Cowfish has killer milkshakes too. Somehow I didn't get a picture of the one we ordered. My youngest loves chocolate cookies, so he ordered the Cookies and Cream Milkshake. It was a large shake that arrived in a chilled glass. It was creamy, rich, and really delicious.
After a long day in the theme park, we all had large glasses of water. My husband and I couldn't resist sharing a bottle of Gekkeikan Traditional Sake though. It went really well with the Tuna Nachos and my sushi.
Superior Service
Normally, I don't mention staff by name. But on this occasion, I have to give props to the staff at Cowfish Burger and Sushi Bar. Dasan, our server, is the server who always hope to get when dining out. He knew his menu, was attentive without hovering, and made our dining experience exceptional. Dasan recommended foods, like that Blackened Ahi Tuna Nachos, that were amazing. His upbeat attitude got us excited about enjoying our meal.
It's been a while since I met a manger that was genuinely interested in my dinning experience. Ryan stopped by our table to check on us and we ended up having a great chat. He seconded many of Dasan's recommendations and towards the end of the meal, he recommended a few of the desserts as well.
Speaking of desserts
Last but not least, dessert was phenomenal! After all the walking we did that day, we splurged on three desserts; Cheesecake, Chocolate Obsession, and Coconut Cake. Portions were HUGE and each dessert was fabulous.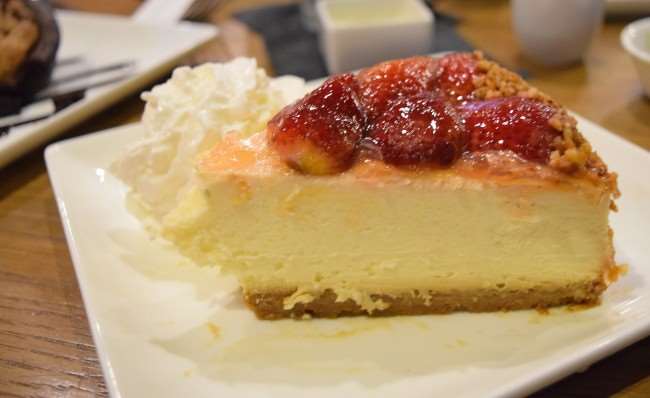 The New York Style cheesecake was topping with strawberries. Every bite was rich and smooth.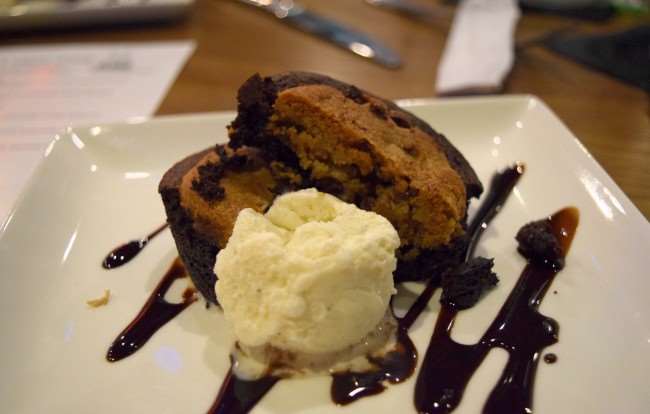 The Chocolate Obsession lived up to its name. It was like a cross between a chocolate chip cookie and brownie drizzled with chocolate and served with ice cream. If you like chocolate, this one is a must.
Last, we have my favorite, the Coconut Cake. The portion was enough for the whole table to share. It's that large! The cake is a dense, moist almond and coconut cake. It was really rich, but the best almond desserts always are. I ended up eating just a few bites and taking the rest home to enjoy for breakfast the next day. I love cake for breakfast!
All in all, The Cowfish Burger and Sushi Bar is a great place for the family. It's fun, upbeat, and the food is fantastic. Whether you are visiting Universal Studios Florida or are just in the area, be sure to check out this restuarant. Every bite will be delicious!
The Cowfish Burger and Sushi Bar provided a complimentary meal for this review. All opinions are my own.