I'm back with another clean eating meal plan using Bountiful Baskets Food Co-Op. Here are 7 dinners planned out using all of the fresh fruits and vegetables received in this week's co-op order. This Bountiful Basket Meal Plan will give you great ideas on how to use your basket. But,never fear, I've included a shopping list if you didn't get a basket this week.
This week, I ordered the Conventional Basket and a Soup Box add on for $23.50. Not bad for all these fruits and veggies! All of the meals this week are easy to prepare, a few being ready on less than 30 minutes. 
The weather is a bit cooler this week. So there are 2 quick and easy soups on the menu for this week. The Loaded Potato Soup with Bacon and Irish Cheddar is one of my families favorites. It's hearty and satisfying when it's cold out. 
Like last week's Bountiful Basket Meal Plan, I've included a list of what I received in my co-op order. I've added a list of additional items needed to complete this meal plan. It also serves as a shopping list for those of you who don't order Bountiful Baskets. 
Ingredients from my conventional box $15
3 artichokes
4 bell peppers
Broccoli ( 2 bunches)
Celery ( 1 bunch)
Head of romaine lettuce
Bunch of spinach
4 cucumbers
4 tomatoes
7 bananas
1 cantaloupe
Sack of clementines
Sack of lemons
Ingredients from my Soup Box $8.50
5 pounds of potatoes
6 carrots
kale (large bunch)
green beans (1 pound)
fresh herbs (thyme, rosemary, bay leaf, etc.)
Garlic bulb
Additional ingredients needed for this week
Mayonnaise
whole wheat pasta
Orzo pasta
1 pound bacon
almonds
Chicken tenders, 2 pounds
Sliced roast beef (1 pound)
1 1/2 cup mozzarella cheese
8 ounces Irish Cheddar cheese
1 package button mushrooms
Capers
Olive oil
Chicken broth
Eggs
Bratwursts (6 links)
Here's the clean eating meal plan for this week:
Roasted Shrimp and Broccoli, steamed brown rice, clementine segments
Artichokes with lemon aioli; Pasta with spinach, diced tomatoes, and fresh herbs; spinach salad with clementine segments, almonds and bacon dressing
Chicken Picatta with lemon and capers, skillet potatoes, steamed green beans
Philly Cheesesteak Bell Peppers, Green salad with bacon dressing, sliced cantaloupe
 Chicken and Orzo Soup with Kale
Grilled Pork Bratwurst, Braised Carrots with Thyme,  Creamy Cucumber Salad
So what is on the menu for you this week?
Check out all my meal plans at the link below.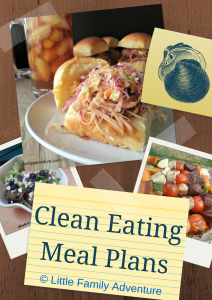 This meal plan was shared at OrgJunkie.