This week we have a Bountiful Baskets Meal Plan. A plan like this helps me save money too  by using want I have on hand and now overspending at the grocery store.
Bountiful Baskets has helped me save money the last few months. Bountiful Baskets is a grass-roots, all volunteer food co-op. They distribute conventional and organic food  all over the country. Since the organization is run on all volunteers, your money goes directly into the food and you get more fresh fruits and vegetables for what you pay.
 This week, I'm bringing you a clean eating meal plan full of dinner ideas featuring the produce I received in my Bountiful Basket haul. This is the organic basket I picked up for $25.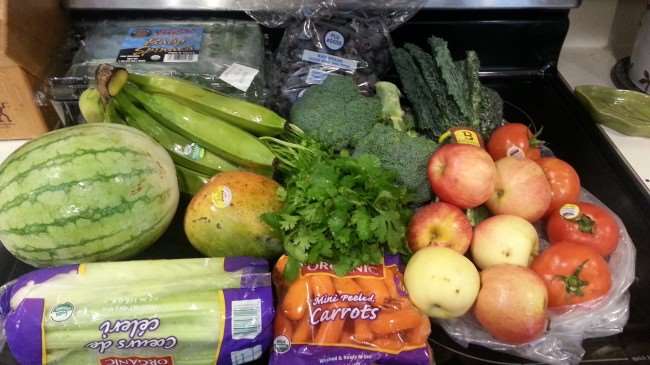 My organic box included:
Spinach (in the clam shell)

Kale

Broccoli

Carrots

Celery

Tomatoes

Cilantro

Bananas

Watermelon

Mango

Apples

Black grapes
Taking everything I received this week, plus a few staples I had on hand (potatoes, onions, etc.) I created this meal plan. It features  7 complete dinners. For lunches, my family will be making sandwiches, salads, and pasta. Simple easy to say the least.
The kids asked for another Breakfast for Dinner night, so there are Dutch Babies with apples on this week's menu. A Dutch Apple is a Fluffy German pancake that rises in the oven and then collapses to accommodate any kind of filling you like. We went to sautéed apples, since we received several in our basket.
Celery, Apple and Walnut salad with Grilled Chicken seasoned with lemon pepper
Sesame Shrimp and Broccoli, brown rice
Asian Red Lentils and Kale Stew
Garden Frittata with Spinach, Fresh Tomato Salsa, grapes
Beef roast with carrots, potatoes, garlic, onion, and celery, spinach salad with cranberries and Creamy Poppy-seed Dressing
Dutch Baby with sautéed Apples or banana slices, bacon strips
Chili and Honey Fruit Salad, Green/veggie salad with grilled chicken and Maple Shallot Vinaigrette
Have you ever tried Bountiful Baskets? How did you like it?