Travel the World with the new monthly subscription service, Kitchen Table Passport.
Traveling around the world can be expensive. But now you can explore the sights, the culture, and flavors of the world without leaving home. Each month, Kitchen Table Passport delivers a different cultural experience right to your door. I recently received a trial box to try out with my family. Let me just say that if you love exploring new foods and flavors, you will want to check this out for yourself!
Plus keep reading to find out how to save 10% off your 1st month.
Kitchen Table Passport: Singapore Box
Each month, you receive a cultural box that whisks you away to a far off place. Each featured location is one that Kitchen Table Passport creators, Murray and Lisa, have personally explored. Each month, they share their personal travels with us through this fun and adventurous box.
As soon as you open your Kitchen Table Passport box, you catch the exotic fragrance of spices. This month we were whisked me away to the island nation of Singapore.
My Monthly Box Contains
Welcome guide for the featured country, Singapore

10 beautiful full-color information cards

Unique herb & spice mix for Singapore Curry Laksa

Recipe for a local dish, Signapore Curry Laksa, serves 4-6 people

Grocery list for ingredients needed to make the featured recipe (Average cost of ingredients is $25)

Local souvenir of Chopsticks with a decorative sleeve and a "Hong Bao" or Red Envelope (6 and 12 month subscription boxes only)
This is the grocery list and spice blend for Singapore Curry Laksa. On the right of the card, you'll notice several options you can use to customize the dish. This dish was full of flavor and not spicy. But if you wanted to add some heat or added flavor, there were ways to do that. You'll notice the picture below of the completed dish with the bottle of Sriracha sauce and Sambal (Spicy Chili Paste). I like my curry to be a little spicy, but the kids don't. I love that I could customize this to each person.
This is Singapore Curry Laksa, the featured recipe for the Singapore box. Laksa is a popular spicy noodle soup dish with coconut milk in the soup stock. This was AMAZING!! The broth was creamy and full of flavor. The kids enjoyed adding their own bean sprouts, lime, and cilantro to their soup. This was a great way to experience the flavors of Singapore. Two of the information cards talked about many local foods and the popularity of food hawkers, food stalls set up like a food court.
This is my husband and daughter sitting down to enjoy their Laksa. Meal time is the perfect time to spend time together. We put away the electronics and spend some quality time together. It was fun learning about the country of Singapore on this night. The information cards provided in the box were filled with information and questions to start off discussions.
These are the information cards we received. Each card is printed in full color on quality card stock.
The back of each card contains information and facts such as:
Holidays
Local flavors
Languages spoken and ethnic group represented
Topography
Transportation
Education
Heath
Since we started the Kitchen Table Passport box, my kids have gone on their own to learn more about Singapore. They have asked for more dishes like Laksa for dinner too. Be on the look out in future meal plans for more curries and noodle soup dishes.
As a homeschool mom, I am always looking for ways to get my family excited about learning. Food is usually one of the things I can get everyone excited about. My children were excited about trying new foods and learn about different cultures. I love that this program is good for all ages; from children to adults. The recipe was easy enough for my son to cook on his own too!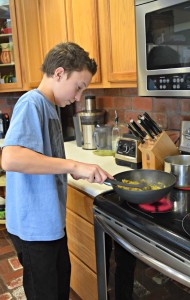 Overall, I love this program and would highly recommend it to anyone wanting to get adventurous. For $19.95 a month, this is an inexpensive way to learn about other cultures, sample exotic flavors, and learn more about the world around us. I look forward to my next monthly box to see where my next destination will be.
You can find out more about Kitchen Table Passport on their website, Facebook, or Twitter.
****Special Savings for Little Family Adventure readers, enter code LFA10BONUS to save 10% off your 1st month!***
Disclaimer: I received a trial box free of charge for the purposes of this review. All opinions expressed are 100% my own. You can find my full disclosure statement here.