Disclosure:I have received complimentary products to try and review for this breakfast ideas for camping and travel article.  This blog contains affiliate links. They help pay for the coffee that keeps us turning out adventures week after week. I'll only recommend and share products that I use and love myself. Thanks!
You can't start any adventure without a healthy breakfast. Whether you are camping, traveling with the kids, or on a road trip, meals need to be easy or you're likely to head to the nearest drive thru or local diner. Now I'm not saying that you can't splurge every now and them. Finding that local spot serving up carrot cake waffles is DEFINITELY a treat, but doing so breaks the budget and your goal of eating healthy all at the same time.
We have been on the road the last few weeks on our #LilFamRoadTrip17. I've found that if breakfast wasn't super easy and portable, it didn't work for us. With a busy schedule and hungry kids, these breakfast ideas worked every time. They can be made at home, over a camping pocket stove or campfire, in a vacation rental, or a hotel room.
Breakfast Ideas for Camping and Family Travel
Homemade Cinnamon Rolls
The store bought rolls are fine but are loaded with extra ingredients. I often will make 2 trays of homemade cinnamon rolls and bake them in disposable pans. I'll cover them up and store in the cooler. They are usually the first choice for our family when we travel. They can be heated up or eaten cold with a mug of hot chocolate or coffee for the adults. If you don't like cinnamon rolls, make these Snickerdoodle Muffins with Streusel Top.
Hot Oatmeal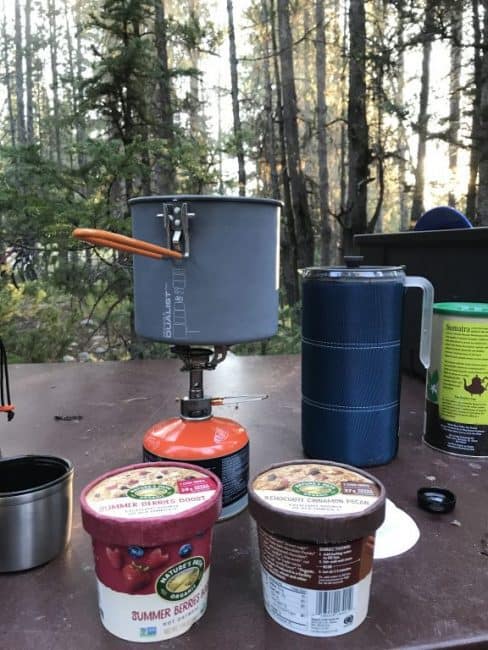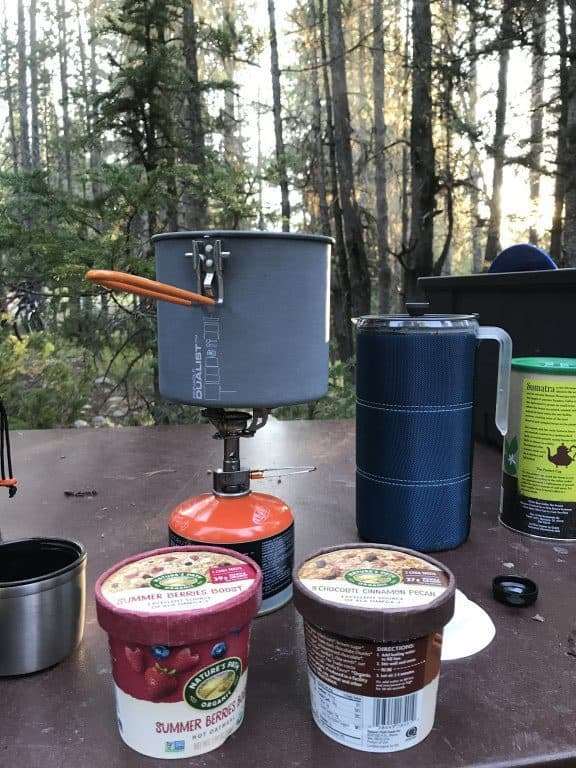 On a hotel continental breakfast and at home, oatmeal is my go-to breakfast. These cups from Nature's Path are great for camping and travel. Just boil hot water and add to the cup. Add the lid and wait a few minutes for a fantastic cup/bowl of oatmeal.
These two flavors are by far our favorites; Summer Berries Boost and Chocolate Cinnamon Pecan. They feature  whole grains and chia seeds. So that added boost of nutrition is a plus for me. The kids just know they taste great.
Note: Coffee is a must for me before I start any adventure. In the picture above, I show my French Press from GSI Outdoors. It makes a great cup every time. If you like coffee, check out this article on Making a Great Cup of Coffee While Camping.

Nature's Path Organic Oatmeal Cup, Maple Pecan, 12 Count

Nature's Path Organic Oatmeal Cup, Coconut Cashew, 12 Count

GSI Outdoors Javapress French Press Coffee, 50 fl. oz.

GSI Outdoors Pinnacle Soloist Outdoor Cook Set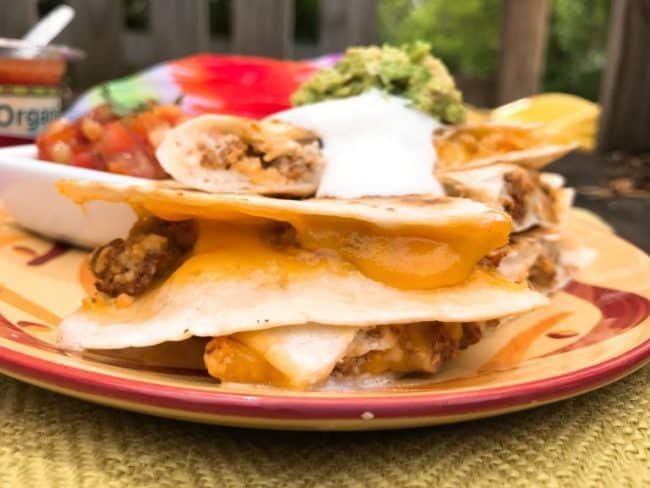 These breakfast quesadillas are filled with with copious amounts of melted cheese, breakfast sausage, and scrambled eggs. It's a delicious twist on the breakfast burrito.
Yogurt and Granola

Great for breakfast or dessert! If you are traveling or camping, an individual cup of yogurt with granola is a perfect meal. It's protein packed, has a little crunch, and if you are lucky a little chocolate too. I regularly pack granola when we go camping.  It's good in yogurt, easy to eat on the trail, and fantastic on roasted bananas cooked over a campfire. Add a little vanilla yogurt and you have a yogurt-split topped with chocolate chips.

Nature's Path Love Crunch Premium Organic Granola, Dark Chocolate and Red Berries, 26.4 Ounce

Love Crunch Premium Organic Granola Chocolate Lovers 3 Flavor Variety Bundle: (1) Dark Chocolate & Red Berries, (1) Dark Chocolate & Peanut Butter, & (1) Dark Chocolate Macaroon, 11.5 Oz Ea (3 Bags)

Nature's Path Love Crunch Organic Granola Aloha Blend -11.5 oz

Love Crunch Organic Dark Chocolate Macaroon Granola, 11.5 Ounce — 6 per case.
Croissants with Honey or Chocolate Spread

This is another favorite quick and easy breakfast idea. Pick up fresh croissants at your local store or at your destination. Provide a variety of toppings like butter, chocolate hazelnut spread, Manuka honey, etc. While at the store, I'll also pick up protein drinks or  freshly squeezed juice too.

Wedderspoon On The Go Raw Premium Manuka Honey KFactor 16+ Pack, 4.0 Ounce

Nutiva Organic Hazelnut Spread with Cocoa, Classic, 13 Ounce

Nutiva Organic Hazelnut Spread with Cocoa, Dark, 13 Ounce

Organic Valley, Organic Fuel, Organic Milk Protein Shake, Vanilla, 11oz, 4 Pack
Pancakes and Fresh Fruit

Pancakes are always a hit. I travel with this all in one pancake and baking mix from flapJacked. You just add water to this mix and it's free of the extra junk some other brands have. Plus it has added protein. I'll make pancakes at least once while we are camping and then Sunday mornings at home or in a vacation rental with a kitchen. I'll serve with chocolate spread or Dutch Stroop (sugar syrup similar to molasses). Add fresh fruit that's in season and you are all set.

Nutiva Organic Hazelnut Spread with Cocoa, Dark, 13 Ounce

Van Gilse Classic De Originele Schenkstroop / Syrup for Pancakes 2 x 21.1oz / 1.3lbs

FlapJacked Protein Pancake and Baking Mix, Variety Pack, 12oz, 4 Count

FlapJacked Protein Pancake and Baking Mix, Buttermilk, 24oz
Snack Bars

For days I really don't want to cook or prepare anything, it's snack bars to the rescue. I have already mentioned Love Crunch Granola earlier. Well they make a snack bar too. So these little things are also with us. I'll throw a few boxes in the camping box, pack, or suitcase when we travel. They are great for emergencies, layovers, and anything you get hunger pains.

Nature's Path Organic Gluten-Free Chewy Granola Bars, Dark Chocolate Chip, 6.2 Ounce Box

Nature's Path Organic – Love Crunch Premium Organic Granola Bars Dark Chocolate & Peanut Butter – 6 Bars

Envirokidz Organic Gluten-Free Whole Grain Granola Bars, Chocolate Chip, 5 Ounce

Envirokidz Organic Gluten-Free Whole Grain Granola Bars, Strawberry, 5 Ounce
When you are camping or traveling with the kids, you want breakfast and other meals that are quick and easy. You are usually limited on where you can cook and what equipment is on hand. These quick breakfast ideas for great for a variety of places, settings, and circumstances. A little planning and you'll be starting off your adventure healthy and fueled for whatever comes.
If you want more breakfast recipes, check out these 26 Breakfast Recipes, Campfire Breakfast Burritos, and Make Ahead Breakfast Sandwiches.