My husband and I recently started juicing. We have a juice once a day and we love it. The only negative is there is so much pulp left over and it's such a shame for it to go to waste. I started looking for ways to use the pulp instead of throwing it on our compost file. One of our favorite juices contains carrots. So naturally, I started looking for recipes that I could substitute carrot pulp for grated carrots. Here's the story of how this version of carrot cake was born.
I found a great recipe in a cookbook titled Eet Smakelijk by the Junior Welfare League of Holland, Michigan. The title is actually a Dutch phrase meaning "Eat Well". It's similar to the French phrase "Bon Appetit". This cookbook is full of Dutch and Dutch American recipes. This is the cooking I grew up with, as my mother is Dutch. With a few modifications, I came up with the recipe I'm sharing with you today.
This cake is a rich, dense cake with just a touch of icing to keep it moist. Sometimes I like nuts in my carrot cake, other times, I like to add coconut and raisins. This recipes works either way with wonderful results. To keep this on the healthier side of an indulgent dessert, this cake uses white whole wheat flour and coconut oil. Sliced thin, you can have your cake and eat it too!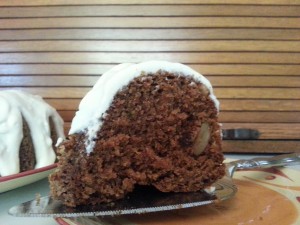 Bunny Pulp Cake
Ingredients
Cake
2 cups white whole wheat flour
2 teaspoon baking powder
2 teaspoon baking soda
2 teaspoon cinnamon
1 1/2 cups cane sugar
1 1/2 cups coconut oil
2 cups grated carrots or carrot pulp from your juicer
4 eggs
1/2 cup chopped almonds or 1/4 cup shredded coconut & 1/4 cup raisins
Frosting:
1/4 cup cream cheese
3 tablespoons milk
2 cups confectioners sugar
dash of salt
1 teaspoon vanilla
Instructions
Preheat oven to 350 degrees. Grease and flour a bundt pan.
Combine flour and next 4 ingredients in a large bowl.
Mix sugar and remaining ingredients in another bowl.
Add dry ingredients into wet ingredients and mix until well combined.
Pour into prepared bundt pan. Bake for 1 hour or until toothpick is clean when removed.
Place on a wire rack for 5 minutes. Invert cake onto wire rack and remove pan. Cool completely.
For frosting:
Beat cream cheese and milk. Add remaining ingredients and beat until smooth. Drizzle and spread on cooled cake.
Nutrition Information:
Serving Size:
1
Amount Per Serving: Calories: 6933Total Fat: 375gSaturated Fat: 285gCholesterol: 63mgSodium: 4196mgCarbohydrates: 811gSugar: 569gProtein: 87g