This article on the EcoSurvivor LED Camping Lantern is sponsored by Jasco. All opinions are my own.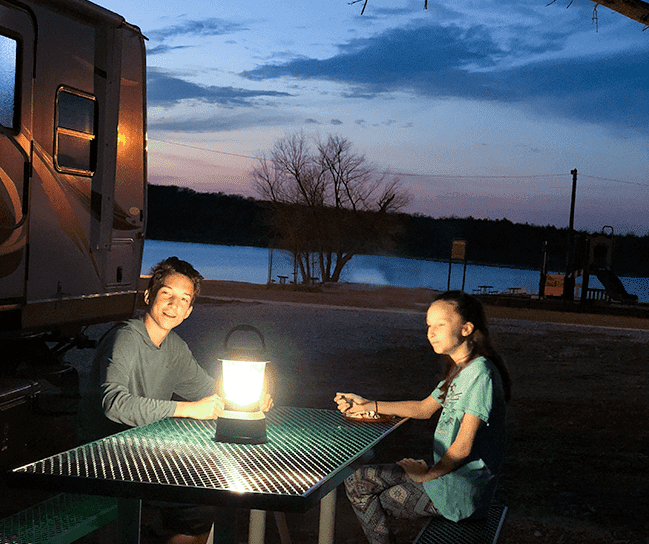 Spring is FINALLY here and that means camping season has begun! As I'm writing this, the family and I are RVing in North Texas. It's spring break here so we are enjoying ourselves at the lake. For the trip, we got some new gear including an LED camping lantern that I'll tell you more about in a minute. But first I want to tell you about the "adventure" that started this trip.
Two of the advantages of having an RV is access to running water and electricity. This trip started with a not so pleasant "adventure" when we learned that our RV water pipes broke over the winter. We didn't discover it until after we turned on the water and saw water streaming all over the floor. A day and half later with three pipes repaired, now all is good. I tell this story, because there is a world water crisis that affects 1 billion people around the world. My problem was minor and very much a fist world issue. But it turns out that the company that made our new LED camping lantern donates to a charity aiming to eliminate this water crisis.
Don't Take Water For Granted
More than 1 billion people are affected by a shortage of clean drinking water. Each day, women and children often walk miles in search of clean water. What they find is dirty and the cause of water related illnesses and diseases that can result in death.
Jasco, maker of EcoSurvivor durable outdoor products, donates 50% of purchases to Water4. With each EcoSurvivor purchase of a LED camping lantern, head light, etc, you help support Water4 and provide help to so many without access to clean water.
Water4, a 501(c)3 charity, aims to eliminate the world water crisis in our lifetime. The organization, whose headquarters are here in Oklahoma City, empowers those people directly affected by this crisis and allows them to help their community.
Water4 teaches men and women to drill water wells that will provide clean drinking water for their friends, family, and community. That in turn provides jobs, less water related illnesses, and better overall health. Their plan is scalable and allows communities to provide actionable solutions to this water crisis.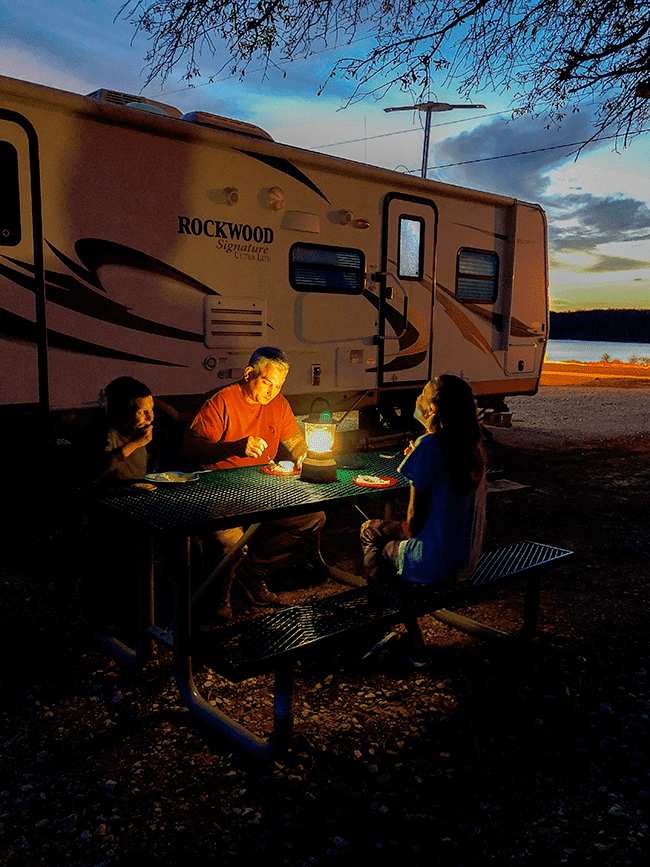 A good LED camping lantern is essential for families.
When we go camping, we are NEVER ready to call it a night when the sun goes down. A lantern lights up our site without too much light pollution and extends our camping experience. When you have kids, a LED lantern is a great choice because there is no open flame and the exterior of the lamp doesn't get hot. We find all kinds of uses for our EcoSurvivor Lantern.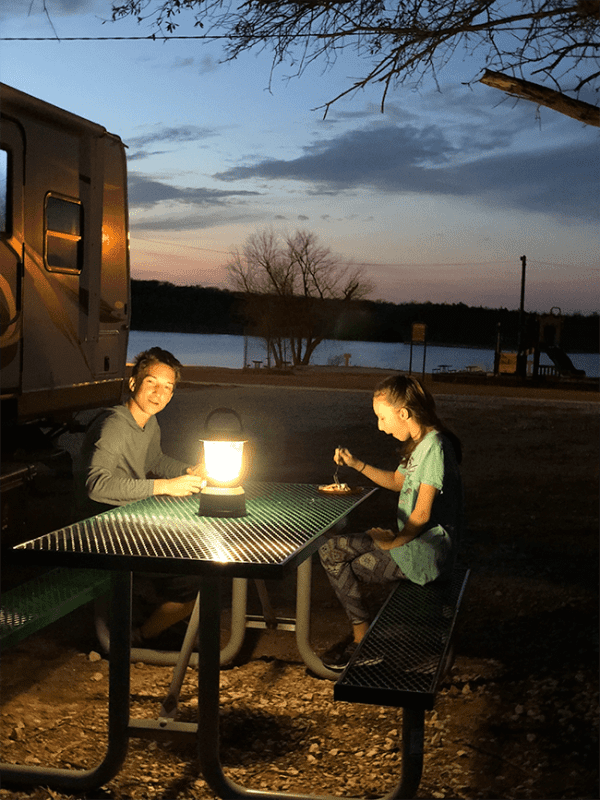 You can often find us using a lantern to:
See my way around a camp kitchen/meal prep area. Dinner is almost never ready when it's supposed to and it's usually after sunset when it is done.

I, I mean the kids, don't like to walk to the camp bath house in the dark.

Family Game Night can be done at the campsite if you have light to play by.

When getting settled in the tent for the night, a lantern let's you see what you're doing.
This spring we have a new lantern to take family camping and RVing. We have this Jasco EcoSurvivor 6D USB Lantern. Jasco is a brand we have talked about before. We have used their outdoor lights to create an outdoor living area at home and a festive illuminated space under the RV awning/canopy. Now with their EcoSurvivor products, there are new products we can take camping or on other adventures. Find all their products at EcoSurvivor.com
Features I really like in this Jasco EcoSurvivor Lantern:
Water resistant – Here in Oklahoma, the weather can change often and suddenly. We often joke that if you don't like the weather, wait five minutes. Sudden thunderstorms and rain showers aren't uncommon especially during prime camping season. So I always recommend a lantern that stands up to the weather. This lantern will withstand a rain shower or water splashing. When you have kids, this feature is a GREAT plus.
LED Bulb with 3 Light settings – You can adjust the light output with a touch of a button. Settings include low, medium, and high with a max output of 800 lumens. So you always have the right amount of light for your outdoor adventure.
Long Runtime – The lantern can run for up to 200 hours on the low setting. With 6 D cell batteries, runtime means you can adventure again and again before you need to replace/recharge your batteries.
Tip: Buy rechargeable batteries. You may pay more upfront, but you will save $$ in the long run.
Impact Resistant – This lantern is rugged. With kids, anything and everything can happen. So a delicate lantern isn't going to do well. This lantern is durable and stands up to my very active ten year old. But don't take my word on it, it's also field testing to be impact resistant.
Hinged Handle for Easy Hanging – When dining outdoors, I like to hang my lantern from a lantern hook or tree branch if possible. It spreads a wider area of light when cooking, eating, cleaning up, etc. This lantern's handle has a carabiner clip built in to make it easy to open/close and hang.
Sand Resistant – Living in Oklahoma, there is a fair amount of sand and dirt in many of the campgrounds we frequent. Sand likes to find it's way into cracks and crevices and cause a lot of damage to gear and electronics. The design prevents sand from getting into the interior parts to cause any kind of damage.
USB Charger – This lantern provides a USB output for us to recharge phones, battery backups, head lamps, miniature fan, etc.
Price – This lantern is retails for $39.99. That is a great price, especially when you consider that 50% of that is going to the Water4 charity organization.
The Jasco EcoSurvivor Lantern is great for a family camping. It's rugged, durable, and can stand up to just about anything your children can throw at it. Get yours today at EcoSurvivor.com and get ready for your next family adventure.