After months of being cooped in your house due to the COVID-19 pandemic, you may be eager to camp with friends and family. We've been seeing campgrounds and national parks reopen, albeit cautiously. Before you set up camp, ensure you know how to keep yourself and everyone around you as safe as possible.
Despite the pandemic, camping can be a good-for-you activity. Being physically active and getting some fresh air is good for both the body and the brain, and it can help keep spirits up. It's still a good idea to practice some safety precautions, however.
First, the Centers for Disease Control recommends visiting parks and recreation areas that are closer to home. Be sure to check parks beforehand to make sure they're open. Depending on the area you're planning to visit, some locations may be partially shuttered. You can check the National Park Service health update page here or just your local park website.
Wear a Mask
Even if you are out in the open air, be sure to practice caution. Masks are important when you can't practice social distancing, or are in more crowded areas. (Ideally, try to avoid those.) Always remember to wear your mask correctly by covering your nose and mouth. Children under the age of 2 or anyone with breathing difficulties should not wear masks. Also, masks aren't recommended in activities where they may get wet, particularly during swimming.
Practice Social Distancing
Distancing isn't necessary for people in the same household, but otherwise keeping at least six feet apart is safest. Crowds are best avoided, and sticking to less-traveled trails and paths or going during off-peak times is advised. That goes for your camping crew, too. Ideally, camp only with people from your own household, and if there are other people you're meeting at the park, practice social distancing, wear masks, and clean those hands often.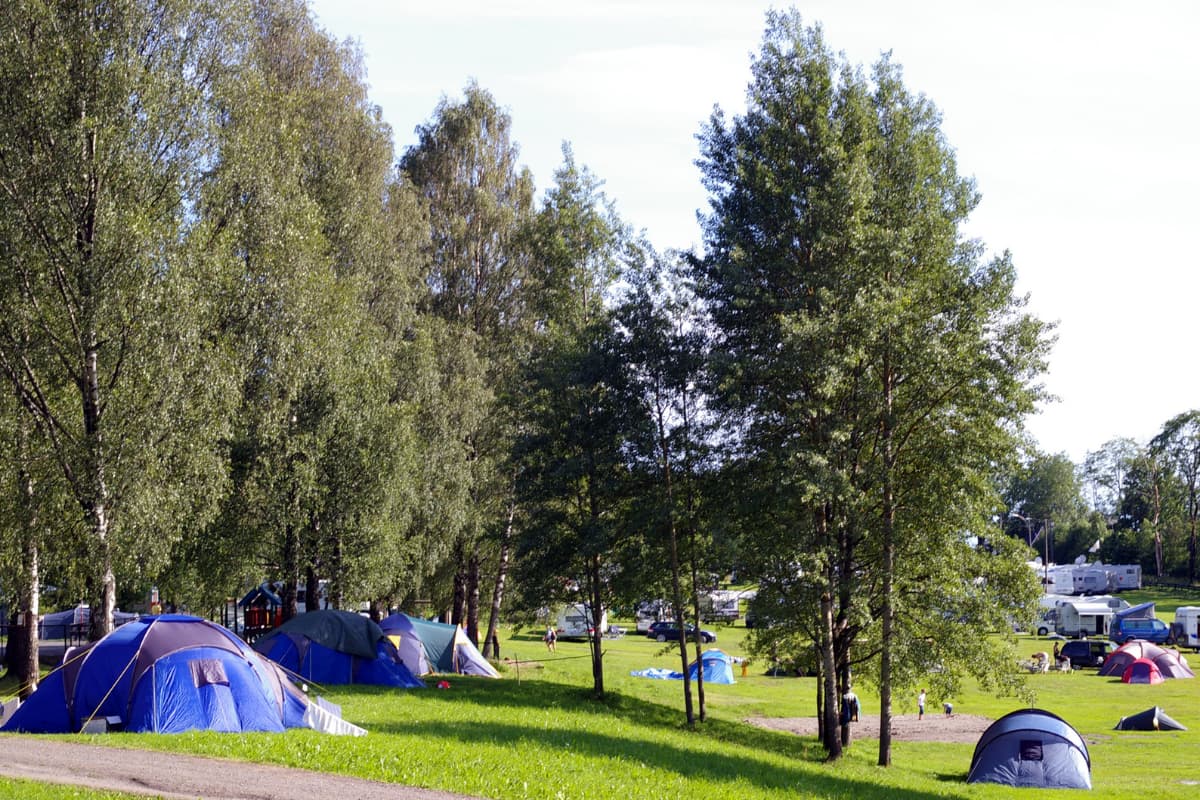 Pack for Hygiene and Emergencies
COVID-19 is a contagious disease, spread primarily through respiratory droplets emitted after coughing or sneezing. According to the World Health Organization, the virus can attach itself to surfaces for more than 24 hours, including:
Plastic: 5 days
Wood: 4 days
Glass: 4 days
Paper: 4-5 days
Surgical gloves: 4-5 days
Stainless steel: 48 hours
For those reasons, people are advised to not share or grab someone's phone, shake hands, or risk other contamination. Be sure to carry hand sanitizer or sanitizing wipes to clean hands and surfaces. If you can wash your hands, be sure to use soap and water for 20 seconds. If you use hand sanitizer, make sure it has at least 60% alcohol.
When camping, small injuries or accidents can occur, so always pack a small first aid kit. Here's what we take in our family's first aid kit.
Pack everything you need
Before you leave on your trip, shop for everything you need, including food, drink, napkins, plates, utensils, bug spray, matches, garbage bags — whatever you need to minimize extra trips once your camp is set. (That includes the aforementioned hand sanitizer and wipes.) You can get our printable camping checklist here.
Be food smart
The Centers for Disease Control reported that there is no evidence that COVID-19 can be spread through food. Still, safety must be practiced. Ensure you keep distance and wear masks during food preparation and cleanup. Avoid dining too close to one another when the masks are off. If you are going to have group meals, the CDC suggests that you appoint one person to serve meals to avoid too many people handing the serving utensils.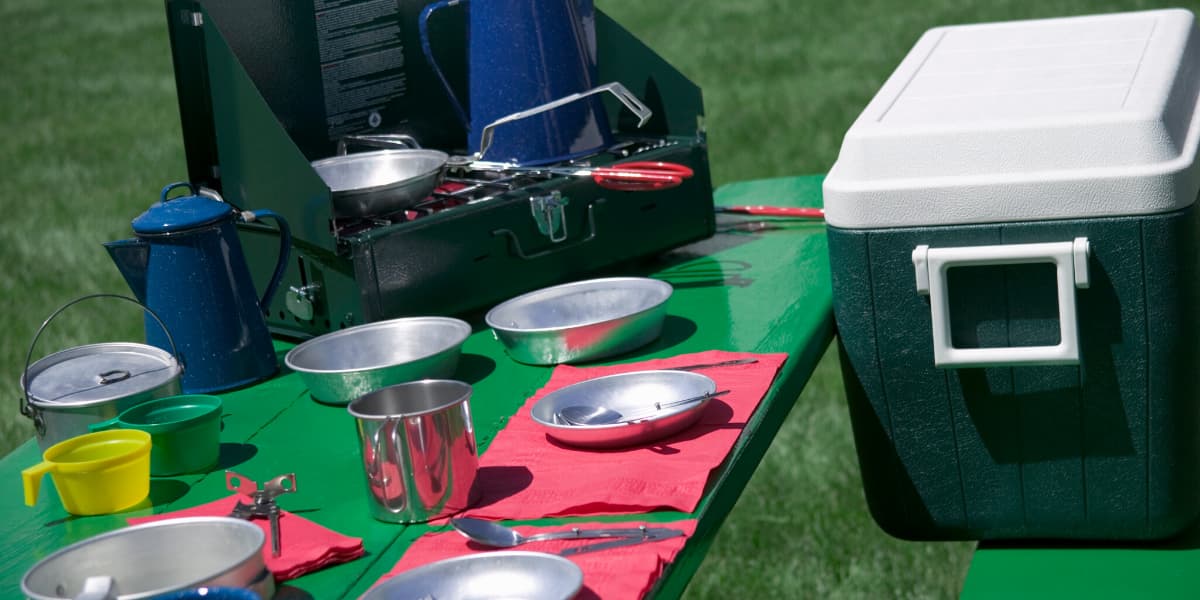 Set up your tent somewhere remote
Tents are better ventilated than an RV or hotel room but still relatively enclosed. It is advisable to minimize the sharing of tents with people outside your household. Note that respiratory droplets can easily circulate in a place since they have nowhere to go. Ensure your tent is at least six feet apart from other tents. When choosing a camping ground, keep distancing in mind. That'll help you better keep away from people you're not in regular contact with.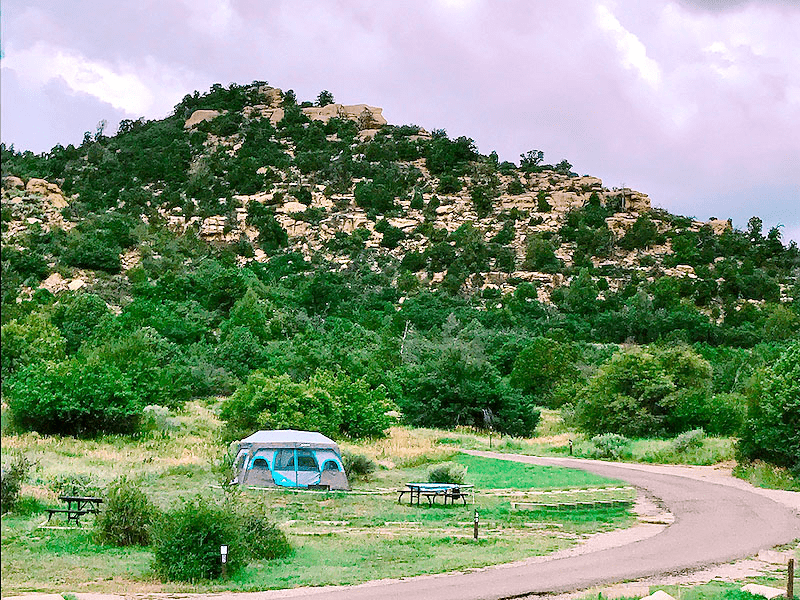 A couple extra cautions …
If your campground has bathrooms and showers, that's one less thing to worry about. Just be careful while using the shared bathroom and bring plenty of sanitizer and wipes if there is no running water.
Another harmful behavior to avoid this period is partying too hard at camp. Too much alcohol (or whatever else may be passed around) can cloud judgment and lead to people dropping their guard.
Camping can be a safe and fun activity even during a pandemic. It gives people a chance to commune with nature, enjoy fresh air, and physical activity. Just be sure to practice social distancing and avoid cross-contamination by wearing masks and practicing hygiene.
For more camping tips, see these:
Author Bio: Patrick Bailey is a professional writer mainly in the fields of mental health, addiction, and living in recovery. He attempts to stay on top of the latest news in the addiction and the mental health world and enjoy writing about these topics to break the stigma associated with them. If you want to find more articles by Patrick, you can find them on his personal blog or in Sunshine Behavioral Health.