This shop has been compensated by Collective Bias, Inc. and its advertiser. All opinions are mine alone. #NaturalGoodness #CollectiveBias.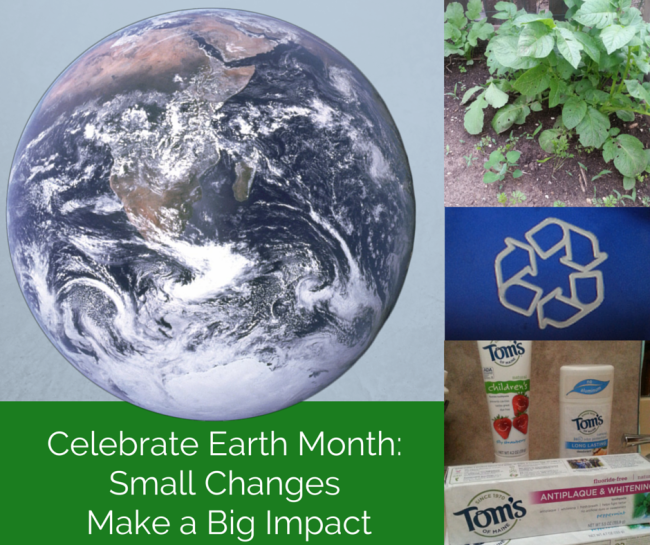 Celebrate Earth Month: Small Changes Make a Big Impact
April is Earth Month. It's time to make changes that can help save our planet in a big way! If we all do just one thing, we can make a huge impact. This year, let's celebrate Earth Month and learn more about what ingredients to avoid in our hygiene products that collectively can make a huge difference on our health and the environment.
What you put on your body is just as important as what goes in it. Many of us already read food labels to avoid artificial ingredients and additives. But do you check what ingredients are in your hygiene products?
This Earth Month let's start reading the labels for the products we use on our body and learn what ingredients you should be avoiding.
Here is a list of 4 types of hygiene product ingredients to avoid:
Parabens

Listed with prefixes Ethyl, Methyl, Butyl or Propyl

Artificial Fragrances
Artificial Dyes
Petroleum Products

Listed as polyethylene glycol, polyoxyethylene, polyethoxyethylene, polyethoxyethylene mineral oil, etc.
My family and I have been eating healthy and living greener for over 4 years. We started living better for health reasons. We have noticed a marked improvement since we started to avoid many of the products I just mentioned, processed foods, and other artificial ingredients. Now, I consider myself to be "Urban Crunchy". My family lives in the city and enjoy all the benefits it has to offer. However, we strive to live healthier and have less of an impact on our environment. We raise chickens for eggs, have a small back yard garden, recycle, cook with organic and whole foods, compost kitchen scraps, and use eco-friendly products.
I have been buying Tom's of Maine products for years. I love that Tom's of Maine products fit naturally into a greener, healthier lifestyle. Their natural personal care and oral care products are made with no artificial colors, flavors, fragrances, or preservatives.
Once you start reading product labels for hygiene products like shampoo, deodorant, toothpaste, etc., you will be surprised at the ingredients in other brands. It's great to know that Tom's of Maine is environmentally conscious and avoids harmful ingredients in their products.
I recently went to Wal-Mart and picked up Tom's of Maine toothpaste and deodorant for my family. Their products are found in the toothpaste and deodorant aisles. The next time you go to Walmart, be sure to use this coupon to get $1.00 off any Tom's of Maine products. It's great to save money on great, all-natural products.
Tom's of Maine believes in "Start Young. Live Green™". The earlier you can start living green, the easier it will be to maintain good habits that positively impact the world around us. Make every day Earth Day, starting at the bathroom sink with Tom's of Maine.
Here are a few other ways you can go green for Earth Month:
April is Earth Month. Small changes can make a big impact. Here are a few ways to make a difference. #naturalgoodness #ad #earthmonth
What does your family do to celebrate Earth Day/Month?