As part of the Barlean's Blogger Team, I received compensation in exchange for sharing this delicious recipe for Chia Cinnamon Sugar Popcorn. Although this post is sponsored, I'll only recommend and share products/brands that I use and love myself. All opinions are my own.
Freshly popped popcorn is a favorite year-around snack in our house. It's easy to make and you can add tasty add-ins whenever a craving hits; chocolate chips, taco seasoning butter, furikake, etc. During the colder winter months, you'll often find us (at least once a week) curled up on the couch with a big bowl of popcorn for family movie night. Even with our crazy schedules, it important to schedule a little fun family time with the kids.
We'll plan a night at home complete with hot chocolate, popcorn, homemade pizza, blankets to curl up with on the couch, and a movie.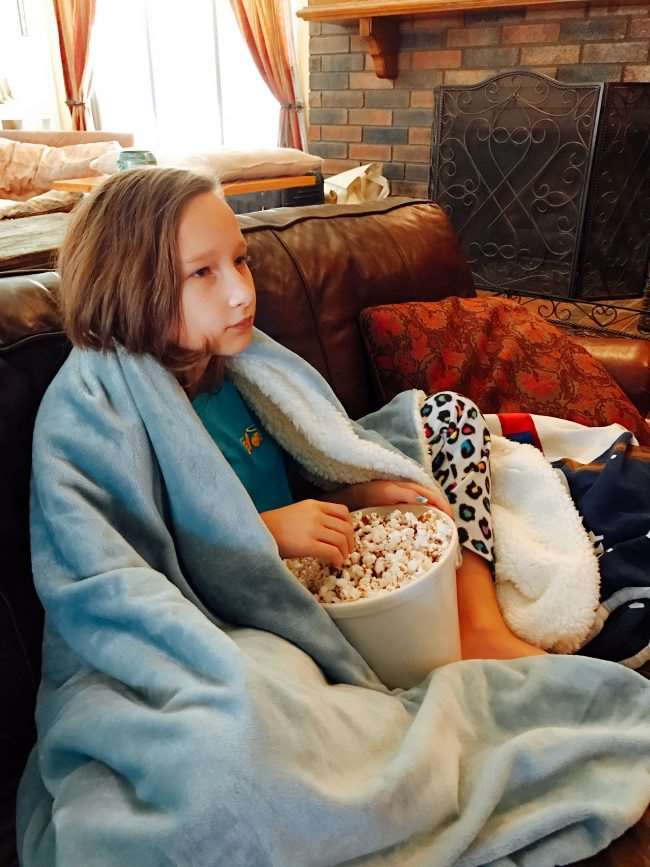 During the holidays, we'll even sit down for Charlie Brown's Christmas and the Seinfield Festivus episode where they celebrate "Festivus for the rest of us".
Regardless of the movie or show, you need snacks!! The recipe I have for you today is for a Chia Cinnamon Sugar Popcorn. It's the perfect thing for a family movie night or an afternoon snack. It's REALLY tasty and the kids eat it up!! The recipe uses Barlean's butter flavored coconut oil, Barlean's Flax, Chia, and Coconut seed blend, air popped popcorn, coconut sugar, and cinnamon. It reminds me of kettle corn with a hint of the flavor you get from cinnamon sugar almonds. Those are two flavors I really enjoy at the holidays!!
I've been using Barlean's products for some time, thanks to Stonyfield Yogurt. A while back, I created a Banana Split Smoothie bowl when I teamed up with Barlean's and Stonyfield yogurt. Have you tried that recipe?
That was the first time I had ever tried the Barlean's Omega Swirls or Flax, Chia, and Coconut seed blend.
The superfoods in that seed blend were a great addition to my smoothie and I've been adding it to other things ever since. I've really liked it in my smoothies and sprinkled over salads. The kids started using it on popcorn when their regular topping ran out.
For this Chia Cinnamon Sugar Popcorn, I used Barlean's Butter Flavored Coconut Oil instead of butter. I don't like regular melted butter on popcorn. I think it makes it a little soggy and not fluffy like popcorn should be. Coconut oil on its own has some great health benefits. You can go to barleans.com to read more about them.
But I like that you can substitution it for butter on a straight 1 to 1 ratio. The butter flavor comes from botanical extracts and is completely natural. With this coconut oil, I get my fluffy popcorn and a great butter taste that I've been missing.
Enjoy this Chia Cinnamon Sugar Popcorn on your next family movie night.
Chia Cinnamon Sugar Popcorn
Ingredients
1/2 cup organic popcorn kernels
1 1/2 Tablespoons Barlean's butter flavored coconut oil
3 Tablespoons organic light brown sugar
3 Tablespoons Barlean's Flax, Chia, and Coconut Seed Blend
1/2 teaspoon ground cinnamon
Instructions
In a small bowl, combine coconut sugar, seed blend, and cinnamon. Set aside.
Pop popcorn kernels in an air popper or other method.
While popcorn is popping, melt the coconut oil.
Drizzle 1/2 of the melted coconut oil.
Sprinkle 1/2 cinnamon sugar mixture over the popped popcorn.
Toss well to combine.
Repeat with remaining oil and sugar mixture.
Toss again and serve.
Nutrition Information:
Amount Per Serving:
Calories:

25
Total Fat:

2g
Carbohydrates:

2g