Have you ever had Indonesian peanut sauce? It's a rich and creamy peanut sauce used in Indonesian, Thai, Vietnamese, African, and other cuisines. It's a popular condiment in our house. We serve it on fried rice, chicken, noodles, french fries, and so much more. Today, I'm using a light peanut sauce for this Chicken and Peanut Noodles.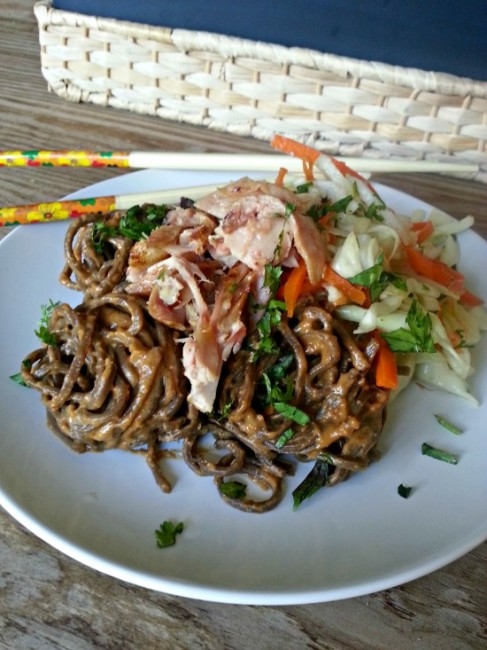 Chicken satay and peanut sauce is one of my favorite Indonesian dishes. This dish is a play on that recipe. I'm using leftover rotisserie chicken for the recipe to make it quick and easy. During summer months, I want to get in and out of the kitchen without a lot of cooking. A rotisserie chicken is a great way to do that and it has so many possibilities. If you don't have leftover chicken, you can easily cook up a few chicken breasts or tenders with a little olive oil, salt and pepper. Then shred or chop the chicken for this recipe.
Soba noodles are thin Japanese buckwheat noodles. They have a great nutty flavor. You can find them in the Asian section at a large grocery store If you can't find them, you can substitute with whole wheat spaghetti noodles.
If you want to go vegetarian with this dish, you can omit the chicken all together or substitute a few strips of firm pan fried tofu. Marinate the tofu in a little soy sauce prior to pan frying to give it a great flavor.
Any way you serve this dish, you'll really enjoy the combination of flavors. I may just become your new favorite summer dish.
Yield: 4
Peanut Chicken and Soba Noodles

Ingredients
1/2 pound cooked chicken, shredded or chopped
1/2 pound soba noodles (can substitute whole wheat spaghetti)
2 limes (1 juiced and 1 cut into wedges)
2 teaspoons coconut oil, liquefied
2 teaspoons sesame oil, divided
1/4 teaspoon salt
1 pound Napa Cabbage, shredded
1/2 cup julienned radishes
2 carrots, julienned
1/2 cup chopped fresh cilantro
1/2 cup creamy peanut butter
1/2 cup coconut milk, unsweetened
1/4 cup Tamari
1 tablespoon rice vinegar
1 tablespoon finely chopped fresh ginger
1 tablespoon Thai Sweet Chili Sauce
1 garlic clove, chopped
2 large scallions, chopped
Instructions
Cook soba noodles according to the package directions until al dente. Drain and set aside in a large bowl. Allow to cool.
Combine juice of 1 lime with coconut oil, 1 1/4 teaspoon sesame oil, and 1/4 teaspoon of salt.
Combine cabbage, radishes, carrots, and cilantro. Add the lime juice dressing to the vegetables. Toss to combine.
In a blender, combine peanut butter, coconut milk, Tamari, rice vinegar, ginger, sweet chili sauce, garlic, and 3/4 teaspoon of sesame oil. Mix until smooth.
Add peanut sauce to soba noodles. Toss to combine.
To plate, arrange noodles on 4 plates or bowls. Top with vegetable mixture, chicken, and scallions. You can squeeze the extra lime wedges is desired. Serve.
Served hot, cold, or at room temperature, these Thai Chicken and Soba Noodles are fantastic. To serve hot, serve the chicken and noodles together with the vegetables as a cold side. If you want to have this as a take along lunch or meal, you can combine the chicken and noodles into one container. Then store the vegetables in a second container and add the lime juice dressing just before serving. That way, you'll keep that crunch that's a nice contrast to the noodles.
If you like peanuts, you may also like these recipes:
If you've had peanut sauce before, what do you like to serve it with.