Chocolate Stout Cupcakes with Peanut Butter Frosting! You can't beat the combination of chocolate and peanut butter.
These decant, moist cupcakes are wonderful. They are hard to resist. So go ahead and help yourself to a few. I've cut done on the sugar so you can indulge.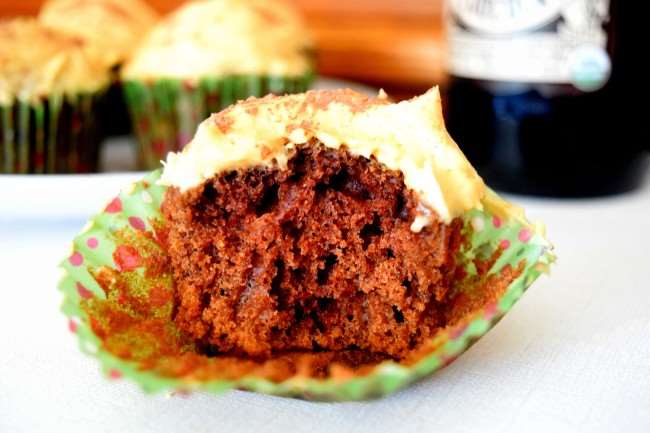 This time of the year is the worst if you are trying to avoid sweets. January resolutions go great until just before Valentine's Day. Then that one day will wreck the strongest of wills. I mean, let's face it. Valentine's Day is a dessert lovers holiday. It isn't just about food, it's about desserts and sweet treats. Just name your poison; candy hearts, chocolate truffles, triple chocolate cake, cherry cheesecake, etc. It's all those decadent and luscious desserts we swore off of January 1st.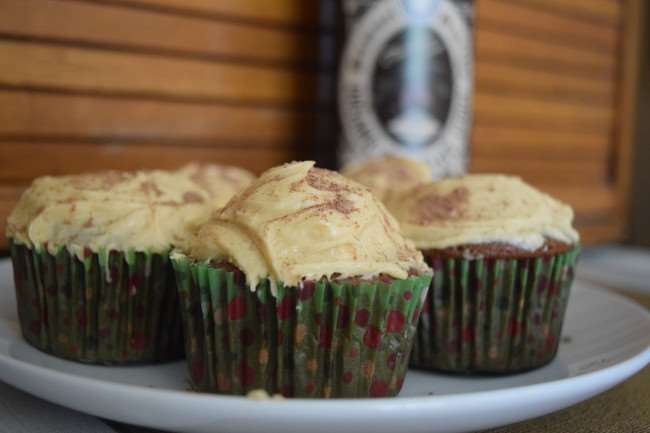 You can indulge with these Chocolate Stout cupcakes because they contain less sugar and no oil. The cupcakes are sweeteners with honey. You can substitute 2/3 cup of honey for 1 cup of granulated sugar in most any baking recipe. When you use honey or maple syrup in a baking recipe, you will need to decrease other liquids by 1/4 cup per 1 cup of liquid sweetener and add an extra 1/4 teaspoon of baking soda to ensure that you get enough volume in the baking goods. When it comes to baking decrease your oven 25 degrees and watch your baking items at the end of the baking time. Products with honey brown faster and you don't want to burn your tasty morsels.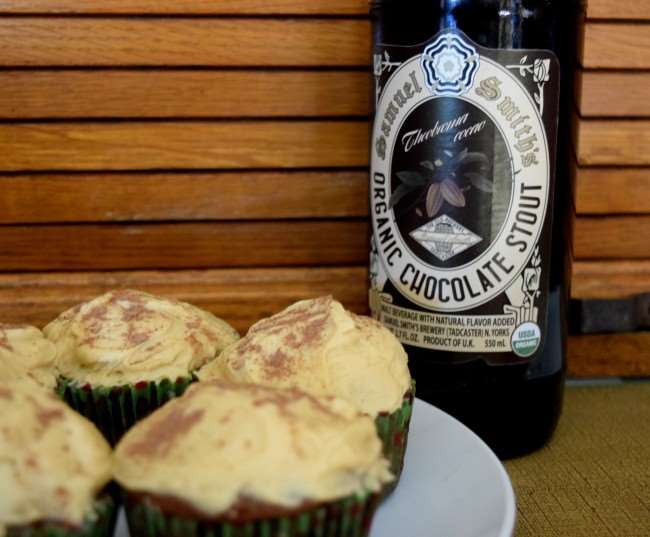 This recipe for Chocolate Stout Cupcakes with Peanut Butter Frosting used chocolate stout. Stout is a dark beer made using roasted malt or roasted barley, hops, water and yeast . I'm not a fan of drinking stout, but I LOVE to cook with it. It lends a rich flavor to can't get any other way. I bought a bottle of this chocolate stout on the recommendation from the lady at my local liquor store. I've had it for a few months with every intention of making a chocolate beer bread. But I never got around to it. The kids were asking me for chocolate cupcakes so I decided there was no better time than the present to open up this bottle and get cooking with it. Since I was making chocolate cupcakes, I had to make peanut butter frosting. They just go hand in hand with one another. Don't you think?
So here's the recipe for Chocolate Stout Cupcakes with Peanut Butter Frosting

Yield: 12
Chocolate Stout Cupcakes with Peanut Butter Frosting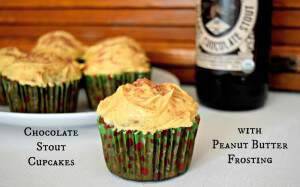 Ingredients
Cupcakes
1 1/4 cup cake flour
1 1/2 teaspoons baking soda
1/2 cup chocolate stout
5 Tablespoons unsalted butter
2/3 cup honey
2 Tablespoons unsweetened cocoa powder, plus extra for decoration
1/4 cup plain yogurt
1 large egg
Peanut Butter Frosting
1/4 cup smooth peanut butter
2 Tablespoons butter, softened
2 cups powdered sugar
1/2 cup heavy whipping cream
Instructions
Cupcakes
Preheat oven to 375 degrees. Line cupcake pan with liners.
Combine the flour and baking soda in a bowl. Set aside.
In a saucepan, combine the chocolate stout, butter, and honey. Heat over low heat until the butter is melted.
Remove saucepan from heat and whisk in the unsweetened cocoa powder.
In a small bowl, combine the egg and yogurt.
Temper the egg mixture by adding 2 tablespoons of chocolate mixture. Stir and repeat three times. Add the egg mixture into the saucepan and mix until well combined.
Whisk the flour mixture into the chocolate mixture until all the flour is mixed it. Mixture will be liquidy.
Fill the cupcake liners about 3/4 full with batter.
Bake for 12-13 minutes or until a toothpick comes out clean. Remove from oven and cool completely.
Frosting
Combine the butter and peanut butter with a mixer until combined. Add the powdered sugar and mix well.
Add the heavy whipped cream and beat on high until mixture has the consistence of thick whipping cream.
Frost cupcakes as you like.
What kind of cupcakes can't you resist?