Meal planning has saved my sanity over the last few weeks. It has eliminated the dreaded "What's for Dinner?" question every night. I'm making fewer trips to the grocery store each week and we're not eating out as much. That's not to saw I've been completely faithful to the plan and followed it completely. But for the most part, I've been really good about following each meal plan.
Last week, I had a great menu full of Mexican and Asian dishes. If you missed it, here it is again. Mid-week, the kids decided that Dad, my husband, needed a surprise birthday party on Sunday. His birthday was Sunday and we were originally just planning a small, family only celebration. The kids said, "NO, Dad NEEDS a party. Let's give him a surprise party!" They got all excited and I hated to say no. My only rule was that it had to stay small. So I started calling a few of his friends and got the guest list squared away. Next was the meal. It my house you will NEVER go hungry. If you do, it's your own fault.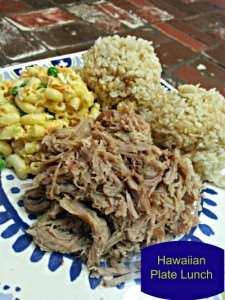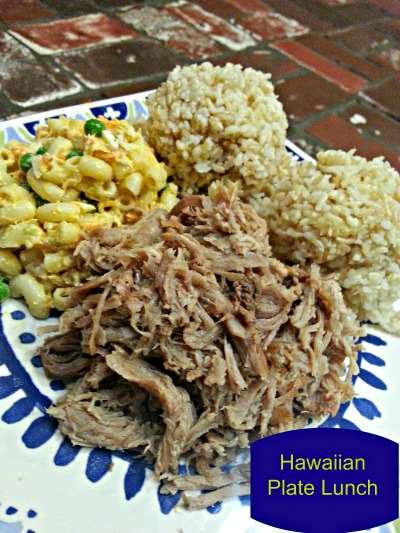 We decided on a Hawaiian Luau; Kalua Pork, Macaroni Salad, Brown Rice, coleslaw, Tropical green salad, and fresh pineapple. Then there was the cake; a white cake with vanilla custard filling with fresh bananas and strawberries and a whipped creme frosting. A local bakery makes this same cake and they call it's called the Raspberries and Creme Dream Cake. Can you see why?
This week's menu is using a lot of party leftovers. I purposefully made extra coleslaw and pork roast because there are so many different dishes you can make with them.
Whenever you sit down to meal plan, look at your calendar and plan your meals around your families activities and events. For example you may want a quick and easy dinner when you have evening activities. There are a couple of family events influencing my meal plan this week. We have one child getting a tooth pulled, a field trip to the zoo, and a 5K race on Saturday.
Monday
Breakfast – pineapple and coconut smoothie with protein powder
Lunch- Ham and cheese melts, coleslaw
Dinner- Ramen noodle bowl with pork broth, shredded pork, radishes, cabbage, shredded carrots, and mushrooms, leftover cake
Tuesday
Breakfast- Scrambled eggs with salsa and jack cheese, juice (beet, kale, pineapple and apple)
Lunch- Peanut butter and jelly pinwheels (tortilla roll ups), carrot sticks, macaroni salad
Dinner – Prosciutto and Pea Pasta, green salad with tropical dressing
Wednesday
Breakfast- Potato, egg, and Jack cheese breakfast tacos, Chocolate Banana Almond smoothie
Lunch- Fruit salad, baked potato with butter, cheese, and broccoli
Dinner- Carolina Pork and Slaw sliders (shredded pork with spicy apple cider vinegar and coleslaw on whole wheat rolls), sweet potato fries, pickles
Thursday
Breakfast- Yogurt with fresh strawberries and almonds, Sunrise juice
Lunch- Cheese quesadillas with corn and black bean salsa
Dinner- BBQ Pork Banh Mi, kale chips, apple slices
Friday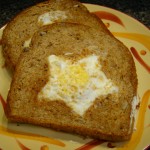 Breakfast- Egg in a Hole sandwich( Egg in a Hole with grilled ham and swiss cheese), juice (beet, orange, pineapple, and carrot)
Lunch- Baguette with brie cheese and pesto, green salad with balsamic vinaigrette
Dinner- Teriyaki Salmon, brown rice, steamed broccoli
Saturday
Breakfast- Carrot Cake Pancakes, Orange Julius smoothie
Lunch- Pub Style Loaded Nachos
Dinner – Race and out to eat
Sunday
Breakfast – Dutch Baby with cinnamon apples, orange juice,
Lunch- Thai Chicken Satay Salad
Dinner- Shrimp and Broccoli with brown rice
Snacks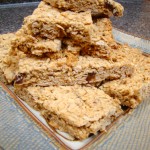 Here's a look at previous week's meal plans
I shared this meal plan at the following: