Summer months naturally lend themselves to clean eating. All the fresh summer produce in the markets makes it easy to create clean eating meal plans. This clean eating meal plan focuses on quick and easy, family-friendly meals. These meals will get you in and out of the kitchen so that you enjoy your summer activities.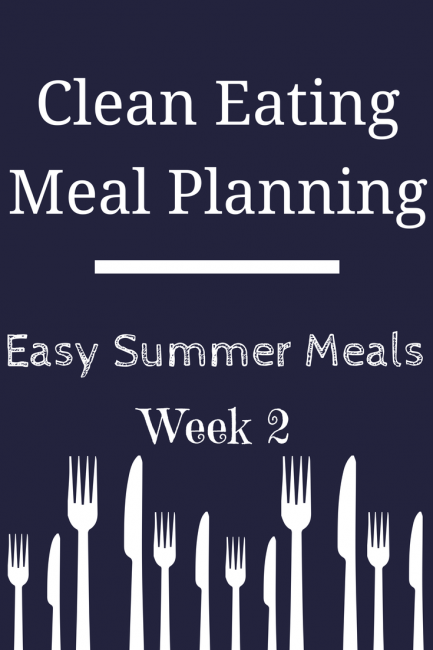 When you sit down to meal plan, take into consideration your weekly activities. How many nights will you be eating dinner at home? Are there any late night activities? Who will be home for dinner, etc? Plan your meals around those questions and the time you want to spend in the kitchen. On hot summer nights, many of us don't want to slave over a hot stove and oven. Instead we all favor lighter, quicker cooking meals. These quick and easy meals will help prevent heating up the house/kitchen, will get your family eating healthy food, and give you more time for the fun things.
This week I've added two meals with marinated vegetables and meats. Marinating adds flavor and helps cut down on both the prep and cooking time. I'll be using the grilled vegetables for sandwiches and quesadillas for lunch. My kids asked that I bring back both Breakfast for Dinner and Mexican Night. For Mexican Night, there's a make ahead Enchilada Casserole. I'll be assembling this the night before and storing in the fridge until I'm ready to make it. Breakfast for Dinner is one my kids' favorites, Strawberry Stuffed French Toast and berry smoothies (plain yogurt, maple syrup or honey, and assorted berries). This French Toast is stuffed with cream cheese and sliced strawberries. Yummy!
What's on your meal plan for this week?

Dinner
Grilled Marinated Vegetables from What a Girl Eats, Assorted meats and cheeses
Grilled Chicken Caprese Sandwiches, carrot and raisin salad, watermelon slices
Danish Smoked Salmon, Caviar, and Egg Sandwiches; Dill Cucumber Salad, Fresh berries
Strawberry Stuffed French Toast, berry yogurt smoothies
Grilled Pork Chop over steamed rice, Pickled Carrots and Cucumbers, spinach and strawberry salad with Poppy Seed Dressing
Enchilada casserole with ground beef, corn, zucchini, black beans, cheese, and avocados
Thai Chicken Satay Skewer Salad from Club Narwhal, sliced pineapple
Lunch
Veggie Crunch Salad
Pear and Honey Goat Cheese Stack
Blueberry & Feta Salad
Sandwiches
Leftover chicken and vegetable quesadillas, guacamole, and salsa
Breakfast
Plain Yogurt with honey or maple, fresh fruit, nuts, or granola
Eggs and Toast
Fresh juice (Sunrise, Green Zinger, Beet and Apple, etc.)
You can find past meal plans here. They are filled with tasty recipes and meal ideas.