Meal Planning
Welcome back everyone to my clean eating meal plan. If you are just joining us at Little Family Adventure, welcome to my site. Every week I publish my meal plan for my family. It is filled with clean eating, healthy recipes and meal ideas.

Many of the recipes I include are my own, but others come from friends and other food sites on the web. This week, I'm making salads and lighter fare during the week. We are in the middle of an early May heat wave. It's been in the 90's all weekend and the forecast is more of the same. I've been doing a light happy dance for this warmer weather. I'm so, so happy to say
good-bye
to the winter of 2013-2014 that just wouldn't end. How do you feel about summer? This week's meal plan is full of fresh veggies and fruit. To help me save time in the kitchen, I've prepped many of my veggies over the weekend. Half of the carrots are sliced into sticks, cucumbers are sliced, broccoli is cut into florets, cabbage is shredded, etc. Here are a few others ways to save time in the kitchen.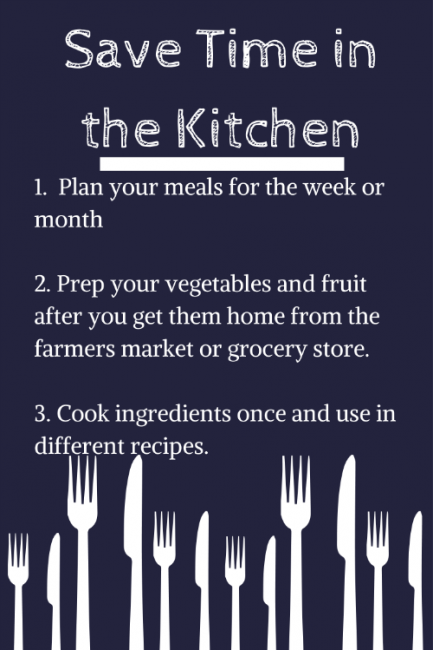 On Sunday, I prepped several cold salads and put them in the fridge. Salads like the Veggie Crunch, Mom's Potato Salad, and Russian Salad are great make ahead dishes. They get better the longer they marinate. This will help me prevent the house from heating up too much during the week.
Summer Cooking
When it's hot outside, I don't do a lot of cooking indoors. The stove and oven can really heat up my kitchen and in the summer months when it's in the 90's and 100's, who really wants that? I like to fire up the grill to cook outside or make cold salads for our meals. It's a great way to eat fresh vegetables and  not give my paycheck to the electric company every month from May thru September.
How do you like to eat during the summer months?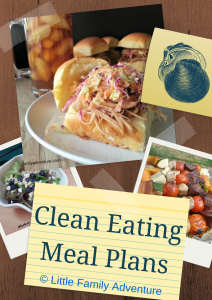 Find all our weekly meal plans here. 
This week, we don't have any big plans. So I'm planning to cook all our meals.  You'll find many quick and easy meals for the weekdays and some family favorites for the weekend. The Roasted Chicken in a clay pot is one of my favorites. It's one of those fix it and forget it type of meals. Just set your timer or meat thermometer so you'll be alerted when it's done. Here's this week's clean eating meal plan. I hope you enjoy it.
Monday
Breakfast: Strawberry and banana smoothies, toast with nutella Lunch: Grilled cheese sandwiches on multi grain bread, Veggie Crunch Salad Dinner: Shrimp stuffed poblano peppers, cilantro lime rice, sliced watermelon
.
Tuesday
Breakfast: Soft boiled eggs, toast points, orange juice Lunch: Turkey and swiss tortilla roll ups with pesto, tomato, and lettuce, carrot and celery sticks with ranch dressing Dinner: Grilled salmon, Veggie Crunch Salad, grilled vegetables (eggplant, mushrooms, zucchini, yellow squash, bell peppers) seasoned with balsamic vinegar, olive oil, and fresh thyme)
.

Wednesday
Breakfast: Greek yogurt with walnuts and honey, kale and pear juice Lunch: Watermelon and feta cheese salad with sliced mint and drizzle of balsamic vinegar, Tortilla wrap with hummus and grilled vegetables from last night Dinner: Russian Salad, Double Double Animal Style Cheeseburgers with tomato and lettuce, pickle spears

Thursday
Breakfast: Watermelon and lime juice smoothie, Greek yogurt with granola Lunch: Leftovers Dinner: Carne Asada, guacamole, grilled corn, black beans, corn tortillas

Friday
Breakfast: Egg and potato  breakfast burritos Lunch: Carne asada burrito on a flour tortilla with guacamole, green onions, and roasted bell peppers (from Tuesday) Dinner: Italian sausage mushroom, and sauteed leek pizza, Russian salad or caesar salad
.

Saturday
Breakfast: Fried egg and bacon sandwich, Sunrise juice Lunch: Ploughman's Lunch Platter (hard boiled eggs, sliced ham, assorted cheeses, pickles, baguette, etc.) any leftover salads Dinner: Chicken Shwarma on pita bread, tatziki sauce, hummus, and tabouli salad, sliced tomatoes
Sunday:
Brunch: Creamy Shrimp Salad, Avocado and asparagus fritatta, sliced pineapple, honeydew melon with prosciutto and ricotto cheese Dinner: Roast Chicken in a clay pot, Mom's potato salad, asparagus wrapped in prosciutto, spinach salad with poppy seed dressing     This week's snacks are simple as always. Here is plenty of fruit in the house. So we will be enjoying Seckel pears, pineapple, watermelon, honeydew, and mangos. Plus with the hummus on Wednesday, their will be hummus and pita, cucumber slices, and carrot sticks. Simple, easy, done!
So what is on your meal plan for the week?
I've shared this at :