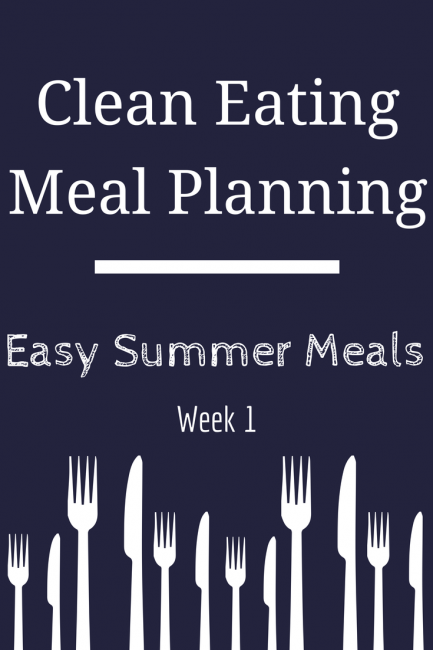 There are so many fresh fruits and vegetables available during the summer months. It's hard to not take advantage of all that fresh goodness from the garden or the farmers markets! Clean eating is easy to do during the summer because it's all about eating and cooking with ingredients, that are as close to natural as possible. These Clean Eating Meal Planning: Easy Summer Meals feature more fresh fruits and vegetables, many of which are enjoyed raw.
Summer time schedules are more relaxed in our house. What about in your family? Other than my husband, no one has to be up at the crack of dawn. The kids and I have a few weekday commitments, but everything else is unscheduled and geared for summertime adventure. So mornings are laid back and very much grab and go. That means, I don't do much cooking for breakfast or lunch, but there is plenty of food and snacks on hand. I will have plenty of yogurt, fresh fruit, vegetables, dips, salads, and sandwich fixings for breakfast and lunch. Dinners will be the only meal planning I'll do.
With summer comes longer days and warmer temperatures. When it's warm outside, I try to avoid heating up the house more by turning on the stove or oven. Grilling is great for those reasons. It gives great flavor and it doesn't heat up my house. All of the meals I'm cooking this week and quick and easy. At the beginning of the week, I'll be making a few salads to be enjoyed throughout the week. Here's what I'm planning on making:
Here's the meal planing for this week's dinners.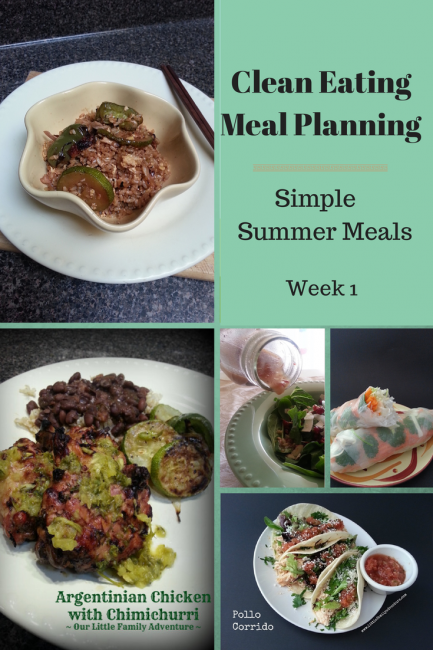 Monday – Bacon, Lettuce, and Tomato sandwiches on 9 Grain Bread, Watermelon and Feta Salad with chopped mint, potato salad
Tuesday – Grilled Argentinian chicken with chimichurri, Asparagus, Whole wheat pasta, sliced tomatoes
Wednesday – Pollo Corrido (Chicken Tacos ready in less than 20 minutes), Guacamole, Salsa, Fresh Jicama (sliced with lemon juice and chile powder)
Thursday – Grilled Shrimp and Pineapple Skewers, Sliced watermelon, Coleslaw
Friday – Grilled Chicken and Vegetable Fried Rice, Shaved Daikon and Carrots with sesame oil and rice wine vinegar
Saturday – Grilled Hamburgers with bacon & blue cheese, Grilled Asparagus, Green salad with Maple Shallot Dressing, Grilled nectarines drizzled with honey
Sunday – Vietnamese Spring Rolls with Shrimp and Thai Peanut Sauce, pineapple spears