Meal planning has been a life saving for our family. It helps us plan meals for the days ahead and prevents us from opting for take out at the last minute because we're too tired to think about dinner. Because we are trying to eat healthy, all of our meal plans are "clean eating" and contain real food ingredients.
We've been sharing real food, clean eating meal plans for awhile, but now we're also sharing a grocery list to make it easier for you to recreate these clean eating meals at home. That way you can print off the clean eating grocery list, pick up what you need, and jump into the kitchen. This grocery list coincides with our October Clean Eating Meal Plan for Week 2 . 
Clean eating may mean different things to different people. But for us, clean eating means eating whole real food ingredients that grow in nature. So that's what you will find here. If I buy packaged foods, they will only contain a few ingredients and be ones that I would normally use to cook from scratch. Sometimes you'll find sugar in a recipe, but it will be organic cane sugar to avoid possible GMOs in conventional granulated sugar made from sugar beets. We are trying to cut out sugar all together, but it is a bad habit to break, but we are getting there.
This week's clean eating grocery list uses a few things we picked up last week. So check your supplies to see if you need these items or not. I tagged them on the list to make them easier to find.
Click above image or the highlighted link for a printable version of the Clean Eating Grocery List -October Week 2
Real Food Meals for Breakfast & Lunch
Our weekly and monthly real food meal plans include meal ideas and recipes for dinner. I don't usually include lunches or breakfasts because we are less organized during those times. But you'll find ideas for both breakfast and lunch below and those items are already included on this grocery list.
As a note- I should mention that I'm shopping, cooking for, and feeding 5 people; 2 adults, a teenage boy, and 2 children. All three kids are going through growth spurts and eating me out of house and home. You can decrease/increase the amounts to your needs. Just remember that leftovers aren't a bad thing.

Breakfast Meal Ideas
Peanut Butter Banana Overnight Oatmeal
Carrot Cake Overnight Oatmeal
Yogurt sweetened with maple and mixed berries
Fresh fruit or smoothie
Egg salad and avocado on toast
Egg and Potato Breakfast Burritos
French Toast

Lunch Meal Ideas
Sandwiches: grilled cheese, peanut butter & banana or jelly (if on hand)
Green Salad with variety of vegetables
Chicken, Black Bean, and Cheese Nachos
Potato and leek soup
Fried rice with veggies and leftover chicken
Leftovers
Baked potatoes with broccoli and cheese
Find other clean eating grocery lists for October here: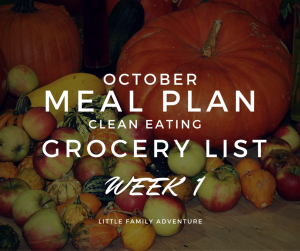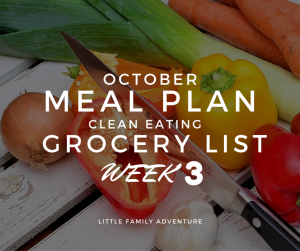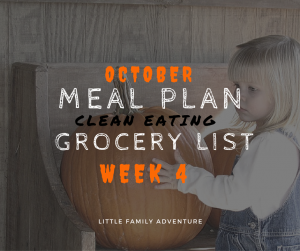 Find all of our real food meal plans at: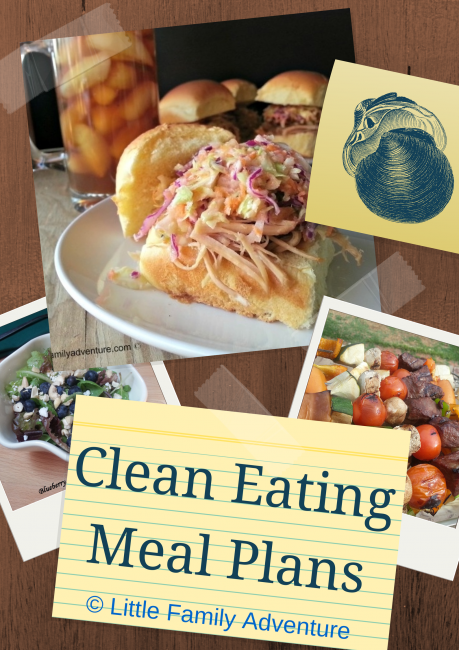 I'd love to hear what you think of the added grocery list to our clean eating meals. Love it? Hate it? Please leave me a comment below or email me.