This recipe for Cranberry Chutney and Pancetta Baked Brie is sponsored by Crunchmaster crackers. We are changing things up with this gluten-free cheesy appetizer. All opinions are ours.
Life is too short to NOT try something new. But contrary to popular believe, new doesn't have to mean something radically foreign to you. So this week, I have a new appetizer recipe that combines a few of my favorite things that are given a fun twist to make them different (at least to us). I've taken crispy pancetta, a version of our sweet'n' savory cranberry chutney, and brie cheese, then baked them together to get an appetizer that is quite tasty. Serve it up with baked, gluten-free Crunchmaster crackers and people can't get enough of this warm gooey cheese appetizer.
Bacon, in our house, is its own food group. But here lately, I'm loving cooking with pancetta, bacon's Italian cousin. Both bacon and pancetta are similar being made with pork belly. The difference is that bacon is brined and smoked, where pancetta is salted and cured instead. Pancetta's saltiness is really good in sweet and/or savory dishes. Combining it with tart cranberries and sweet apples makes for some oh my goodness tastiness. Fast forward to this cranberry chutney and pancetta baked brie recipe and it's a combo that is hard to resist.
This year we have partnered with Crunchmaster crackers to talk about new beginnings and challenge ourselves to do new things. Here at Little Family Adventure, we feel that adventures come in all shapes, sizes, and flavors. They can be found anywhere from the kitchen to around the world. So it was a natural fit that our family's "New Beginning" mixed food, activities, and travel destinations.
We started our New Beginning with "Making Every Day Count". I was notorious for saying "Someday we will __(fill in the blank)____. We stopped putting things off and made "someday" today starting with planning and taking an epic summer road trip. That trip ended up being 30 days and 4,000 miles FILLED with new activities, destinations, and memories. We visited different cities for the first time, made it to several National and state parks we had always talked about, and tried so many new activities.
This was the first time we had ever done anything like this trip as a family. It was quite an adventure! Looking back over the year, my favorite new thing has to be mountain biking we learning how to do correctly in Utah. It was a painful learning experience for me, but it was soooo much fun after I got the hang of it. Where else would I get a view like this?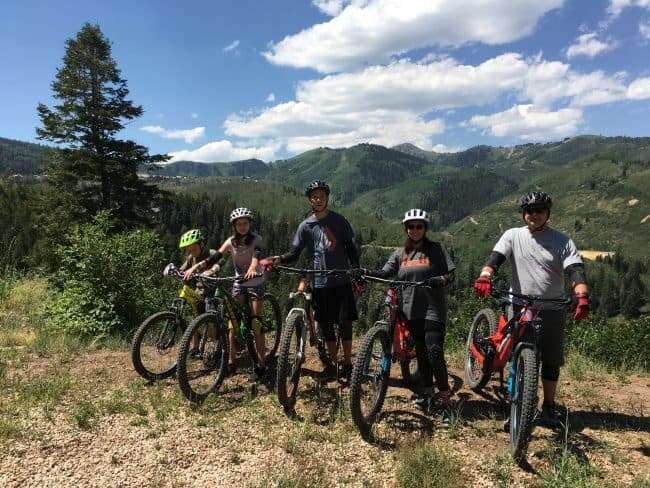 This year's trip is just the start to many more family travel adventures for us. Today is a great day to begin your new beginning. What will your new adventure be?
Not sure? What about this cranberry chutney and pancetta baked brie? Bake it up for a holiday party or serve it for a family appetizer night. It's easy to do and the chutney can be made ahead, if needed. Just cook and store in the refrigerator for a few days. The chutney is also great on turkey, chicken, ham, and pork tenderloin. Enjoy this new recipe and your new beginning!
Baked Brie with Cranberry Chutney and Pancetta
Ingredients
4 ounces of pancetta, cubed
1 wheel of Brie cheese (8 oz)
1 cup diced apple (Honeycrisp or other sweet variety)
1 cup fresh cranberries
3 tablespoons cane sugar or sugar substitute
2 tablespoons apple cider vinegar
3/4 cup water
1 teaspoon minced garlic
1/2 teaspoon ground ginger
1/2 teaspoon ground cinnamon
Instructions
Cranberry and Pancetta Chutney
In a skillet or Dutch oven, cook the pancetta over medium heat until crispy.
Remove crispy pancetta from pan to a plate lined with paper towel. Set aside.
Remove all but 2 tablespoons of the pancetta fat rendering from pan.
Add apple, cranberries, sugar, apple cider vinegar, water, garlic, ginger, and cinnamon to skillet or Dutch oven with the rendered fat.
Bring to a boil, then reduce heat to a low simmer. Cook until mixture thickens and sauce gets to the consistency of a chutney/jam and apples are soft, about 12-15 minutes.
Remove chutney from heat and add pancetta back into the mixture.
Baked Brie
Preheat oven to 400 degrees Fahrenheit.
Line a brie baker or round ceramic baking dish with parchment paper.
Cut the top crust off of the brie round.
Place brie, cut side up, into the lined baker.
Top the cheese with Cranberry and Pancetta Chutney.
Bake for 12-15 minutes or until cheese is gooey soft.
Remove from oven and serve with Crunchmaster crackers.
Nutrition Information:
Yield:
16
Serving Size:
1
Amount Per Serving:
Calories:

62
Total Fat:

4g
Saturated Fat:

2g
Trans Fat:

0g
Unsaturated Fat:

2g
Cholesterol:

7mg
Sodium:

52mg
Carbohydrates:

5g
Fiber:

0g
Sugar:

4g
Protein:

1g
Other recipes you may like: