If you are reading this, then the answer is most assuredly YES!!! We all want to make the most of our vacation time with our family. But the classic, week long, American family road trip is a thing of the past. It is being replaced with shorter weekend getaways. It is a fact that families are taking shorter vacations to destinations closer to home. Hence the rise of the staycation. Being ready for fun and adventure is essential for a summer road trip that makes the most of every minute. Cue the new and improved family road trip.
Road Trip Survival Kit
Note: This article may include affiliate links. We receive a small commission when you purchase through them.

Road Trip Must Haves
So how are summer road trips new and improved? They just have to be! A recent study of working Americans with paid vacation time showed that nearly half of those surveyed don't take all their days each year. Families need the trips they DO take to be fun-filled and take advantage of every minute. A well-stocked summer road trip survival kit is key to doing that for our family. Its contents make the traveling just as fun as the destination and allow us to actually travel MORE. It contains games and activities for the road, snacks, beverages, and travel essentials that are ready when we hop in the car and hit the road.
Many of our road trips are between 3-8 hours. But, this summer we are driving through Kansas, Colorado, Wyoming, Utah, and New Mexico for a 3.5 week road trip. I can't wait!! Regardless of the time we spend in the car, I've found the following items are essential for any family road trip. For spontaneous weekend trips, we just add clothes and go find a new adventure. For longer trips, you add a little more, but this you get the idea.
Road Trip Survival Kit
On any vacation, you want to do more than just survive the trip. You want to enjoy it! Having a well supplied travel bag is essential for that. It helps prevent the "I'm Bored…" "I'm Hungry…" "I'm …(fill in the blank)". It's a little like a camping box with all your essential gear that you throw in the car when you are ready to go, add a few clothes, and you are off for the weekend. It's less stress and more fun!
Road Trip Games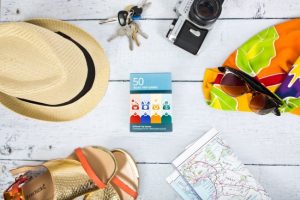 The first thing to add to your survival/enjoyment kit is the fun stuff. Pack a variety of family car games, activities and toys. Have a mix of quiet games and activities like LEGOS or drawing pens and paper, interactive games like I Spy or a deck of cards, and outdoor toys.
Yes, pack outdoor toys like a frisbee, kite, or a ball. When you stop for gas or bathroom breaks, you can stretch your legs and play together before continuing on your way. Stopping every few hours helps break up the travel time and actually makes it more enjoyable too!
Travel First Aid Kit & Toiletries
When you travel with kids, a first aid kit is a must! Let's face it. Anything that can happen with kids usually does and it's best to be prepared. Your kit should contain your basic first aid items for cuts, scrapes, allergies and anything else you use regularly.
Do you know the most common toiletries forgotten while packing for a trip? A toothbrush. Since this is our getaway travel bag, throw in a new toothbrush for everyone, a travel size tube of toothpaste or powder, a hairbrush and a package of wet wipes. That way it's packed and ready to go when you are.
Related: Here are a few tips on how to keep kids healthy on road trips.

Tech on The Go
If you are like most families, the kids, or the adults, don't go anywhere without their electronics. On a road trip, you'll want a way to charge multiple devices at once. Pack a multi USB port, portable power source, or extra USB charging sticks. Also pack extra charging cords and an extra pair or two of headphones.
Stay Hydrated
It's important to stay hydrated when you travel. If you don't already carry a refillable water bottle with you daily, pack a few extra in the road trip travel kit. That way you can stay hydrated while traveling and save money by not having to buy bottled water. You can also add water flavor powder. Many companies sell individual tablets or powder sleeves you can add to a water bottle to mix things up.
Road Trip Snacks
We have added the fun, hygiene items, and tech extras to our kit. Now it's time to talk about my favorite thing, food. Prepacking snacks can help you to eat healthier on the go, but with summer heat you have to select your items carefully.
Pack snacks that travel well, don't melt, and are free of added sugar. Some of the things we like to pack for everyday snacks include mixed nuts, dried fruit, and beef jerky or sticks. When we travel, we also add oatmeal pouches or granola for a quick breakfast.