Disclaimer: This article may contain affiliate links.
This is the time of year where the kids are getting excited about summer and we mom's are racking our brains of how we will keep them occupied! If money was no object of course we could sign them up for every cool camp in town. But let's be real for most of us that's not an option and for others of us we actually enjoy putting on activities at home for our kids. Whichever category you fall into I have a few steps for you on how to create a back yard summer sports camp!
Step 1: Find some literary works with sport topics that are age appropriate for your kids. I believe working reading into any activity is a plus! My book Running Is Totally For Me isn't just about running, but also includes swimming, soccer, karate, gymnastics, and basketball.
Step 2: Set up a few outside activities that correspond with the books from step one or your child's favorite sport. Pinterest is always a good place to look for specific sports related activities. I found some good ones like gross motor soccer drills or balloon tennis. Just search the specific sport you are looking for plus "games for kids".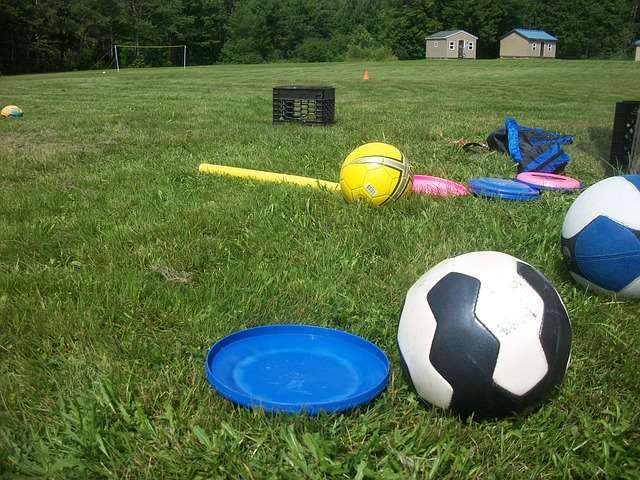 Step 3: Add an educational component your back yard summer sports camp. Often times summer turns into all play, but we can instill learning is fun! Practice nouns and verbs as your kiddo makes moves or measure how far they threw the ball. In the book, Running Is Totally For Me there are three lessons with printables that allow you to incorporate intentional learning with play time.
Step 4: Take a look at the summer calendar to see when you can implement the back yard camp. It may only be three days or maybe one day a week for the whole summer. Make it work for you! Mark it on the calendar and tell the kids. Make it something special by sending them a special invitation or asking them to fill out a survey of what they would like to include in the sports camp.
Optional Steps (If you are feeling adventurous!)
Step 5: Allow your kids to each invite a friend over to attend. Create the same kind of invitation or survey that you did for your kids for the children they invite.
Step 6: Talk with the parents of the children your kids invited. See if they would be up for hosting a backyard summer camp of some sort. Together a group of moms could have sports camp, art camp, swim camp and so much more!
Remember, your kids will often enjoy activities that are simple to create. There is no need to feel this huge pressure to make summer this grand thing. There are many ways to include fun on a budget and without cause yourself stress! Take a little time to find out what sports your kids love the most right now and allow them to invite a few friends. Your backyard sports summer camp could create memories for a lifetime!
This article is provided by guest writer, Cassie Celestian.
Cassie Celestain is a writer, entrepreneur, wife and mom. She is the author of the children's book Running Is Totally For Me and she is the founder of the marriage blog, TrueAgape.com.
Cassie has a background in Early Childhood Education. She lives in Oklahoma with her husband and daughter where running shoes and bike gear can be found in every room of their house. In her spare time she enjoys quality time with her husband, creating activities for her daughter, reading, crafting and trying new recipes.