When you want a great burger in the Dallas area, you head to Twisted Root Burger Co.
We found this place few years ago on Yelp and have been going back ever since. They are serving up a mean burger, a dose of humor, and plenty of fun.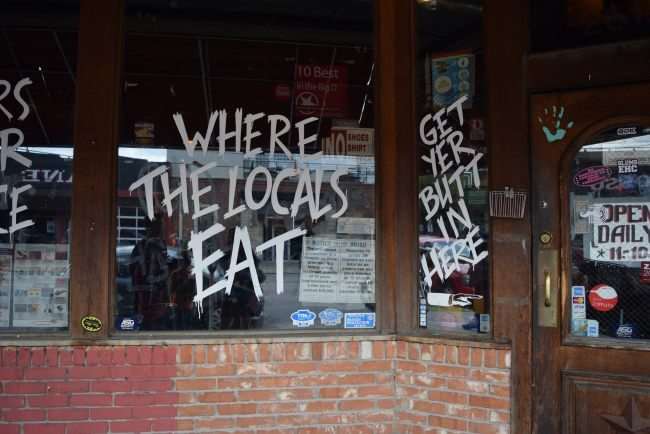 Twisted Root Burger Co. is a local company with restaurants through the Dallas/Fort Worth area. No matter which location you go, you'll love the food. It's been voted the city's best burger many times. One bite and you'll know why! In a recent trip to Dallas, we stopped off at the Twisted Root Burger Co. in Deep Ellum just outside Downtown.

We always have a great time when we go to here. The staff is great and they create a fun environment for their guests. Instead of calling customer numbers when your food is ready, you are given a tag with a movie character on it. On this trip I was "Edward Cullen" (vampire from Twilight movies, if case you didn't know who that was).

One of the owners, Quincy, shown above, was calling out orders at the pick up line. He gave every ticket its own unique flare. When our food was up, he calls "Team Jacob… oh… I mean Edward. There were other characters from films like the Big Lebowski, Boogie Nights, Star Wars. It was fun trying to guess all the characters from their references and then the movies associated with them.
The food, oh the food!
Burgers don't get any better than this. I've had several of their burgers and this time I ordered something new, the Spicy Goat Burger and French fries. It's a beef patty with goat cheese, bacon, and chipotle sauce. Oh my! It was good.

We grab plenty of house made pickles too and dove write in. The kids and the buddy each had something different, but they devoured their food before I could get pictures.

At Twisted Root, if you want to get adventurous you can with exotic game burgers. Depending on location, you can order your burger with elk, rabbit, kangaroo, bison, and other types of meat. I've tried everything but the kangaroo. In addition to great food, Twisted Root serves up great drinks. With a full bar and amazing "Adult Milkshakes", you can unwind after a long day or just have a beer with your burger. It's up to you.
The atmosphere is laid back and fun. Be ready for a flash trivia question and you could win a root beer float. During our visit Quincy, one of the owners, had a real stumper. The question was "Which state has had the most professional NFL quarterbacks in history?"

Thanks to a passerby who gave me the answer, I won the that bad boy. This is me enjoying my Root Beer Float in the car. Do you know the answer?
Whenever you find yourself in the Dallas area craving a juicy burger, head to Twisted Root Burger Co. you won't be disappointed.
This article is made possible thanks to a gift card provided by Twisted Root Burger Co. All opinions, as always, are my own.