Want to eat better this month? A healthy meal plan will help! This meal planner is full of healthy, real food dinner recipes for you to try.
Each month I share a printable healthy meal plan full of delicious, real food meal ideas. My goal is to inspire and empower you to plan real food meals for you and your family. You can follow this meal plan to the letter, but don't feel like you need to make everything on this meal plan. Instead, you can use it for inspiration and choose a few meals you want to try each week. See what you like and add them to your monthly rotation.
If you are new to meal planning or would like a few helpful tips, I recommend reading Meal Planning 101. I share tips and strategies that have helped me plan out our clean eating meal plans.
Healthy Meal Plan Week 1
Stuffed Acorn Squash from Raising Generation Nourished, Brussel Sprouts Salad
Veggie Crunch Salad, Lemon Pepper Shrimp Scampi from Cooking Light
Shredded Turkey Pineapple Relish Cornbread Casserole from ALDI, Roasted green beans, Veggie Crunch Salad
Scrambled eggs with mushrooms, tomatoes, zucchini, and avocado. Sliced fruit
Cheeseburger Soup, Grilled Cheese Sandwich on whole wheat bread, Sliced fruit
Appetizer Night – Meat and Cheese Platter, Spinach Dip with Veggies
Meatballs, Roasted Cauliflower, Tomato Chutney, Roasted Brussel Sprouts
Healthy Meal Plan Week 2
Chicken & Veggie Kabobs, Broccoli with Cranberry Salad, Pineapple
Steamed broccoli, Teriyaki Chicken Lettuce Wraps from Rachel Ray
Vegetarian Enchiladas, Cilantro Rice, Black Beans, Guacamole
Cinnamon Apple Oatmeal, Sliced fruit
Green Salad with Carrot Ginger Dressing, Miso Soup with Tofu, Edamame
Thai Peanut Chicken Pizza with a Cauliflower Crust, Pickled Carrots & Cucumbers
Roasted Vegetables with quinoa, Feta, and bacon from Simplify Live Love
Healthy Meal Plan Week 3
Paprika Chicken with Black Eye Peas, Green Salad
Salmon Cakes from Whole Food Real Families, Spinach Salad, Cinnamon Roasted Sweet Potatoes & Cranberries from Little Bit of
Ground Beef Taco Salad
Vegetable Frittata, Celery, Walnut, Apple Salad
Orange Chicken and Snow Pea Stir Fry from Epicurious, Brussel Sprout Salad, Orange Slices
Danish Salmon Sandwiches, Cheese Platter
Turkey and Rice Soup, Flatbread with pesto and Mozzarella
Healthy Meal Plan Week 4
Macaroni and Cheese, Baked Tomatoes, Sirloin Steak with Herbed Butter
Huevos Ranchero from Jamie Oliver, Roasted Corn, Black Beans, Sliced Avocados
Dutch Hutspot – Mashed Potatoes with kale and smoked sausage, honey carrots, house salad
Clam Chowder, Kale Waldorf Salad
Christmas Dinner – Baked Ham, Green Beans, Honey Carrots, Berry Salad
Ham and Brie Paninis, Tomato Bisque from Taste of Home
Want more family friendly, healthy menu plans?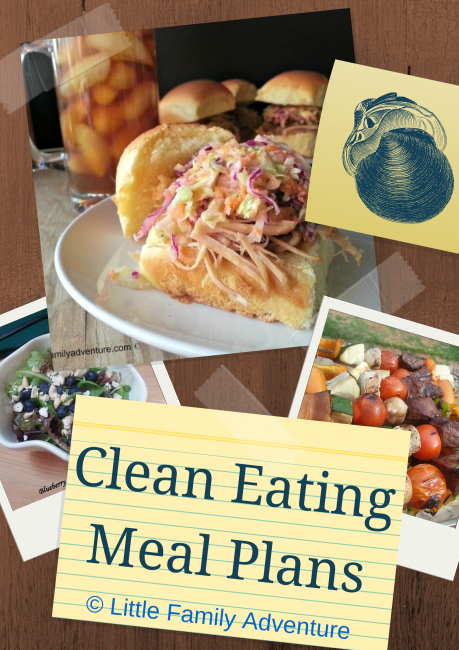 Looking for healthier, clean eating meal ideas?
I save all of our meal planning ideas and real food meal plans in one place. Click the image above to get inspired our other family friendly healthy meal plans.
SaveSave
SaveSave