A secret ingredient makes this Delicious Greek Bread with Kalamata Olives the MUST have appetizer for holiday parties.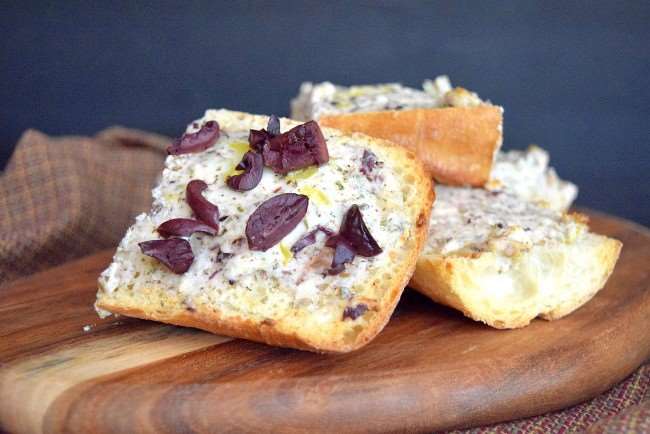 It's time for entertaining and holiday celebrations with family and friends. I love getting together with everyone during the holidays. This time of year, we go to more parties than during the rest of the year combined. Between the cookie swaps, Ugly sweater nights, gift exchanges, dinner with friends, and holiday parties, the next few weeks are filled with fun events. A big part of these events is the holiday party food. When I need to bring anything to a holiday party, I bring this Greek Bread with Kalamata Olives. It is a hit no matter where we go.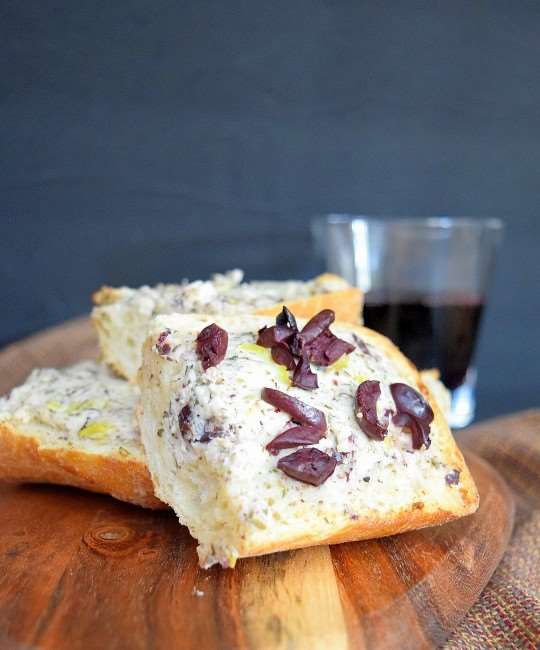 When attending a party, I never show up empty handed. If the host/hostess doesn't request a special item, I'll bring a bottle of wine and this Greek Bread with Kalamata Olives. When we throw a holiday party, I will often serve this alongside other items. This bread recipe is really simple and it allows me to spend more time with people and less time in the kitchen. The best memories I have of Christmas parties are the ones where I didn't slave away in the kitchen, but rather laughed with friends.
I mentioned that there is a secret ingredient in this bread. It's the combination of the Kalamata Olives and Peperoncino Peppers. These mild peppers, when added to the Kalamata Olives and Feta cheese, take this simple bread to amazing heights. The flavor of the olives and tang of the peppers make this bread fly off the plate. You'll always leave the party with an empty plate when you bring this appetizer.
The ingredients for this recipe are really simple. I like to use these Kalamata olives from Mezzetta. A family owner company since 1935, Mezzetta is committed to bringing their customers the highest quality foods available.
When you have picky eaters, hide the peppers by chopping them up really well and add them to the spread. That way, the pickiest of eaters wouldn't know they are in there. They'll just know that this is the BEST food they've had this year. If you don't have picky eaters, then add additional garnishes like more olives, green onions, or more peppers, as shown above. Make this recipe for your next holiday event and everyone will agree!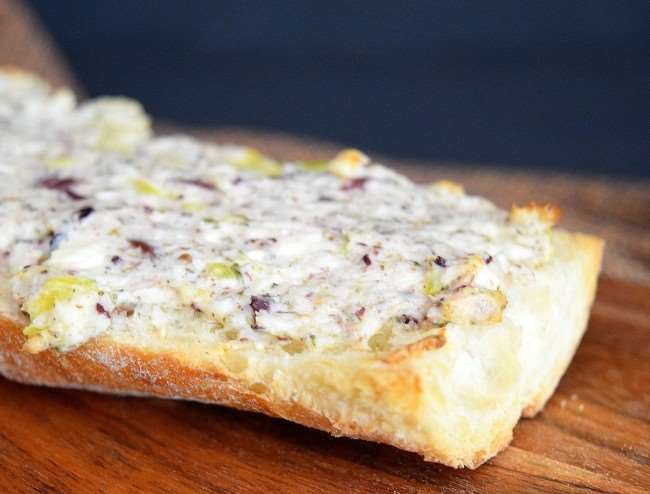 Yield: 18
Delicious Greek Bread with Kalamata Olives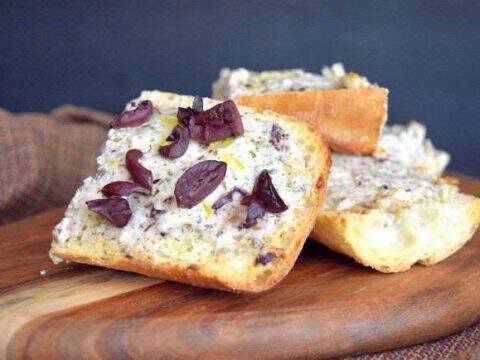 A secret ingredient makes this Delicious Greek Bread with Kalamata Olives the MUST have appetizer for parties.
Ingredients
Greek Bread with Kalamata Olives
1 Baguette, sliced in half lengthwise
8oz cream cheese, softened
4oz feta cheese, crumbled
3 Tablespoons Greek Seasoning
3 Tablespoons chopped Peperoncino peppers
1/4 cupMezzettaKalamata Olives, chopped
Garnish (optional): Additional Peperoncino pepper slices, chopped Kalamata olives, and chopped green onions.
Greek Seasoning
1 1/2 teaspoon dried oregano
1 teaspoon dried thyme
1/2 teaspoon dried basil
1/2 teaspoon dried parsley
1/2 teaspoon dried marjoram
1/2 teaspoon onion powder
1/4 teaspoon garlic powder
1/8 teaspoon ground black pepper
Instructions
Greek Bread with Kalamata Olives
Preheat oven to 350 F.
In a stand mixing bowl, combine cream cheese, feta cheese, Greek seasoning, and Peperoncino peppers. Beat until well combined.
Add chopped Kalamata olives, just until combined.
Spread cream cheese mixture evenly over sliced baguette halves. Garnish with additional items, if desired.
Place on a baking sheet and bake for 12-15 minutes, or until edges are lightly browned.
Remove bread from oven and allow to cool slightly. Cut into slices and serve.
Greek Seasoning
Combine ingredients together. Makes about 3 tablespoons.
Nutrition Information:
Serving Size:
1
Amount Per Serving:
Calories:

1235
Total Fat:

95g
Saturated Fat:

54g
Cholesterol:

269mg
Sodium:

2553mg
Carbohydrates:

42g
Sugar:

9g
Protein:

39g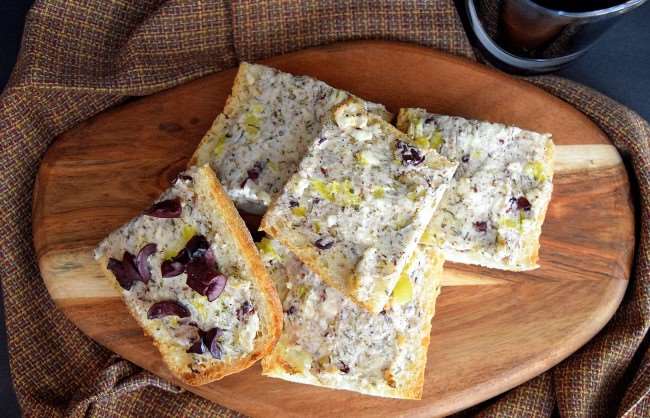 What's your favorite holiday memory? Share it with us below in the comments.