Are you looking to discover the magic behind Disney Parks in Florida? Ever wonder about the story behind the parks? Then you must pick up a copy of the Hidden Magic of Walt Disney World by Susan Veness. This isn't your typical Disney vacation guide. It goes behind the magic and shares overlooked details, little known facts, and tidbits of Disney history that show how Disney creates magic in Walt Disney World in Florida.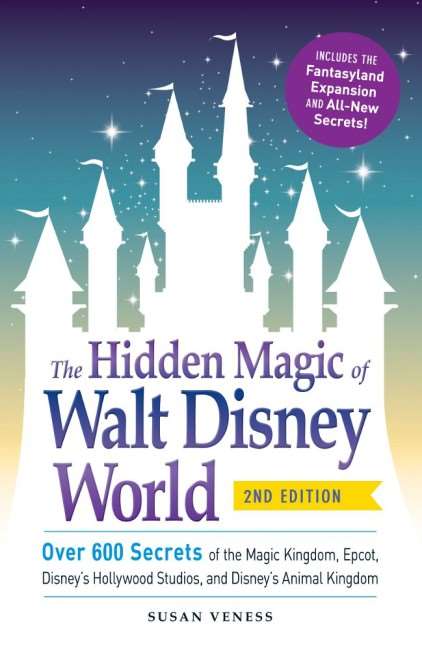 If you follow my blog and Facebook page regularly, you'll know that I am a huge Disney fan. When asked to review The Hidden Magic of Walt Disney World, 2nd Edition, by Susan Veness, I gladly accepted the task. I grew up with Disney cartoons and visiting Disneyland in California. Now, as a parent, my family vacationing at Walt Disney World in Florida whenever we can. We find that there is something magical about parks. From the immersive experience, friendly staff, and attention to detail, WDW is just a great experience for our family. This book encourages you take a minute and discover the special touches that often go unnoticed. These overlooked elements add to the magic and make Walt Disney Park a world class experience.
This book isn't your typical travel guide to Walt Disney World. Instead of focusing on the rides and attractions, it focuses on over looked details and back stories to the magic behind the scenes. It's the small details that contribute to Disney's overall experience. Whether you are a Disney veteran or a first timer, this book allows you to look at the parks with new fresh eyes to see what many others have missed. It allows you to see the parks as more than just a collection of rides and attractions.
This book is a fun read for anyone who loves Disney or will be traveling to Walt Disney World. The book is easy to navigate with chapters divided by park; Magic Kingdom, EPCOT, Animal Kingdom, and Disney's Hollywood Studios. Each chapter is filled with hidden secrets to look for around the park, historical facts, and insight to how Imagineers created the parks' immersive experience. Special "Imagine That" and "Fascinating Facts" sections feature information from the author, former Disney Cast Members, and others which provide wonderful insight and information.
One of my favorite rides in the Haunted Mansion. One of the Fascinating Facts I enjoyed reading referred to that ride. The theme song to "Grim Grinning Ghosts" and the voice to one of the signing busts was Thurl Ravenscroft. You may not know his name, but you know his voice. He was the voice of Kellogg's Frosted Flakes cereal mascot Tony the Tiger and he and he sang the song "You're a Mean One Mr. Grinch" in the original TV series in 1966. At Disney you can hear him in other rides and attractions as well.
For your next trip to WDW, bring along a copy of the Hidden Magic of Walt Disney World and experience the park in a whole new light. It will open your eyes to hidden gems, special touches, and little known historical facts on the parks and the atmosphere of magic is creates.
I was provided with a complimentary copy of this book for this review. All opinions expressed are my own. This article may contain affiliate links to programs I participate it. See here for my
full disclosure statement
.
SaveSave