We just got back from a trip to Disney World and our first ever Disney Cruise as part of the Disney Social Media Moms Celebration. I was thrilled to be invited back again this year. If you are wondering what Disney Social Media Moms Celebration is, it's an invite only event for bloggers and social media influencers. It's a special mix of family time, special media events, and special Disney magic just for attendees and their families.
I promise that this isn't just about the event. We received sneak peaks at upcoming events, attractions, and more that I just can't keep to myself. I'll be sharing more in upcoming weeks, but let you show you this best of……
Port Orleans Riverside Resort
Imagine strolling along a river banks of a southern plantation estate. That's the atmosphere you get at this resort. After just being in Louisiana, it was as if I was transported back to a plantation.
I love how Disney recreates that feeling with the landscaping, architecture, entertainment, and more. Resort buildings are fashioned after southern style plantation homes and rustic southern lodges. You may as well me back in the south because that is what it feels like. Food transports you too. The Riverside Mill Food Court offers muffulettas, Po' Boys, and other more standard fare. There were a few times, we strolled down the river to the French Quarter section for gumbo and beignets. Best thing if you can't actually be in New Orleans.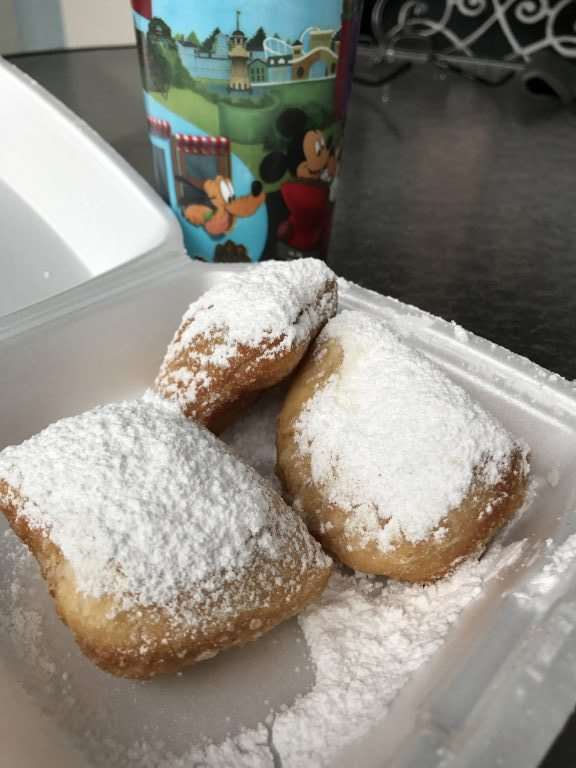 All of this year's attendees stayed in the Magnolia Bend section of the resort. The grounds were just beautiful. We arrived a few days early to head into the parks. But if we wanted to just hang out at the resort, there was plenty to do. At the center of the resort, there was a family friendly pool and water slide, fishing pole if we were so inclined, and so much more.
Animal Kingdom
I really like Animal Kingdom, but often visit only if we have time. The rides and shows I like can be experienced in a few hours and the lack of evening entertainment doesn't make me want to stay late. Until now that is!
The Rivers of Light
The Rivers of Light night time show is finally coming to Animal Kingdom. It was set to debut last year, but was postponed. Celebration attendees and our families were treated to the show. You are going to love Rivers of Light. But don't take my word for it. Take a look for yourself.
Kilimanjaro Safari
In addition to this new nighttime spectacular, you'll find reimagined areas, entertainment, and more that provide "extra magic". On a future trip, I plan to take the Wild Africa Trek now that the kids are old enough.
Can't You Feel the Love Tonight?
Ride Kilimanjaro Safari at sunset for a new view of the savanna.

Or sample food from new restaurants like Tiffins which is fantastic by the way.
The World of Avator
James Cameron's epic movie, Avatar is coming to life very soon. Disney Imagineers are putting the finishing touches to bring the world of Pandora to life at Disney's Animal Kingdom.
Set to open May 27th, this new section of the park will transport guests to this new world.
Here is a sneak peak at what a section of the area will look like. You can be sure we'll head back to Florida to tour this new world.
Magic Kingdom
When you think of Disney World, you imagine Magic Kingdom and walking up Main Street to Cinderella's Castle. We love to get up early and arrive at park opening to ride our favorite rides like Haunted Mansion and the Seven Dwarfs Mine Ride.
Before every Disney trip, we make our FastPass+ reservations for 3 rides/events each day. With the Disney SMMC event, we got an addition 10 per person on Tuesday and Wednesday. So that went we could ride more and have more fun.
New Fireworks Show coming to Magic Kingdom
Wishes has always been one of my favorite fireworks shows. It tells the story of wishes coming true. You haven't really seen it's beauty until you've seen it from atop the Contemporary Resort.

Wishes do come true at Disney World and the new "Happily Ever After" fireworks show will debut May 12th. It will combine more fireworks, lasers, castle projections, and lights. It will feature new movies like Moana and classics too.
Sponsor Showcase
The Disney Social Media Moms Celebration has terrific partners like Joffrey's Coffee & Tea, American Tourister, Alamo, Hanes, and GoGoSqueez. Their hosted events, swag, and support help make this event spectacular.
Each of these sponsors help our family go on many adventures. From healthy snacks and coffee to comfortable clothes, travel gear, and rental cars, these companies provide products we love and support.
Social Media Shopping Challenge
Any trip to Disney World won't be complete without a shopping excursion to Disney Springs. It's been newly redesigned and reimagineered for guests. It is filled with some of the best restaurants, shops, and entertainment anywhere. We were challenged to show our Disney Side and illustrate our day on Instagram. I often joke that Disney World is the only vacation destination that I put on 10 pounds at and am happy about it, but that isn't too far from the truth. Take a look.
We had lunch at Florida Homecoming Kitchen that serves fantastic comfort food like fried chicken and hummingbird cake.
1st Time on a Disney Cruise
This year the Disney Social Media Moms Celebration was a little different from the one I attended in 2016. We spent a few days at Disney World in Orlando and then headed to Castaway Cay, Disney's private island in the Bahamas, aboard the Disney Wonder. This was the first time the kids and I had ever been on a cruise. My husband, Read, had been on a ship before when he was in the military. But it was nothing like a Disney Cruise!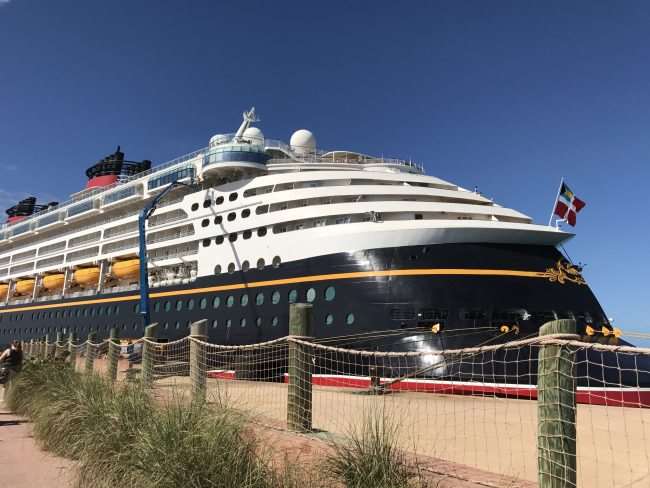 A 3 night cruise just wasn't enough time for me. I want to go back again and again to cruise the high seas. Between Pirate Night, a trip to Senses Spa for a massage, nightly entertainment, and amazing food, there just isn't enough time here to tell you all about it. All I will say, is you NEED to try this.
Being my first cruise, I wasn't sure what exactly to expect, but I loved it. It just went by too fast! Between event sessions where we learned about upcoming movies and events, keeping up with the kids, and planning activities, the cruise was jam packed!
Castaway Cay
There is nothing quite like sitting on a Caribbean beach in February. I grabbed a beach chair and soaked up as much sun as possible on our day ashore. It was amazing to dig my toes in the sand and just relax.
The kids went snorkeling and saw turtles, stingrays and fish. Brody climbed a tree and grabbed himself a coconut. But I'll save all that for the next story.
There was so much that happened during this event that I just can't list it all here. Stay tuned for more about the cruise, parks, and more.