The best recipes are those that can be made ANYWHERE! This easy taco soup recipe with ranch dressing is one of our favorite go-to's because it can be made at the campsite or at home in a Dutch oven.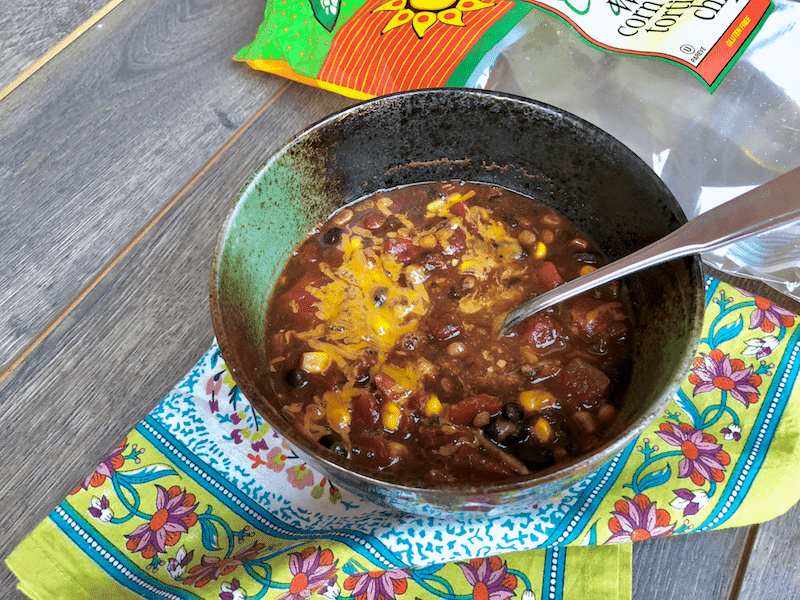 Disclosure: This article contains affiliate links. Purchase through our affiliate links and we receive a small commission without any extra expense to you!
Easy Taco Soup
This easy taco soup recipe is a "dump and cook" kind of a meal. I call it that because you literally dump a few key ingredients, stir, cover, and cook over medium heat. When everything is cooked through, then it is ready. That's why this super easy camping meal is a family favorite.
Pin this recipe for later…..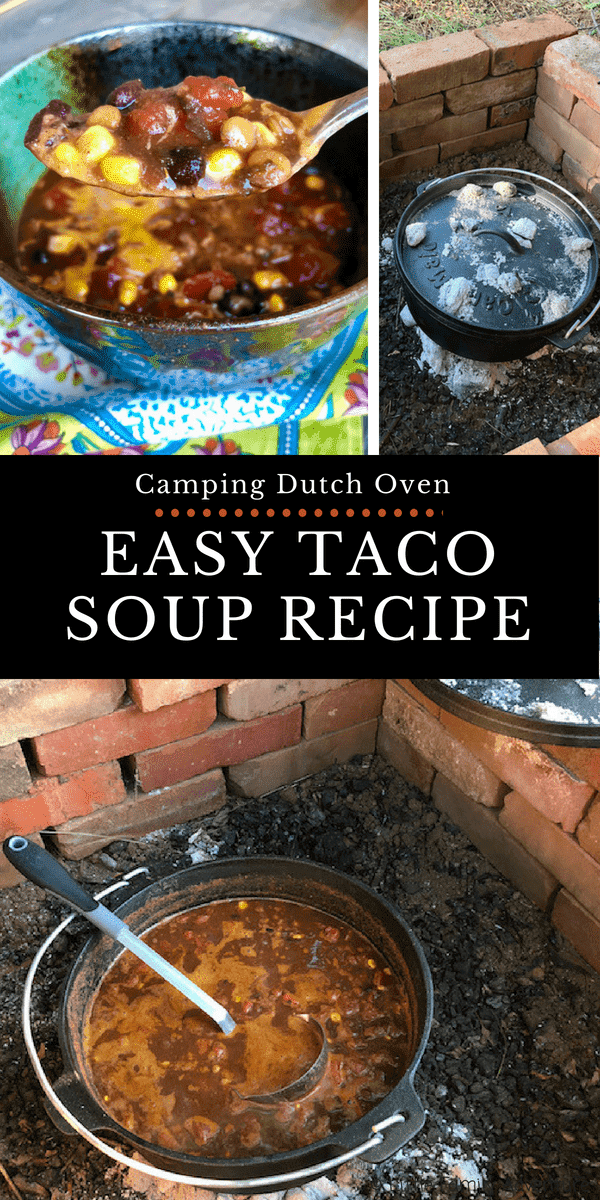 You can find other delicious camping recipes on our Camping Recipes Pinterest board. If you aren't already following us there, go take a look and fix that.
Taco Soup Secret Ingredient
I will let you in on my secret to why this campfire recipe is SOOOOO good. I make this easy taco soup recipe with ranch dressing mix/seasoning. Adding that dressing mix makes all the difference. Now, I make my own mix and make it without powdered milk or buttermilk powder. If I'm making a dairy based salad dressing or a dip, I'll add this seasoning to sour cream or plain yogurt. If I go vegan with it, then I'll add it to a vegan yogurt. So I don't see a need to add the powder to the mix. Plus without it, I can use it for other recipes like roasted new potatoes, toasted croutons, and more. Let me give you my ranch dressing seasoning, plus my Taco Seasoning. You'll have enough for this taco soup plus a little extra.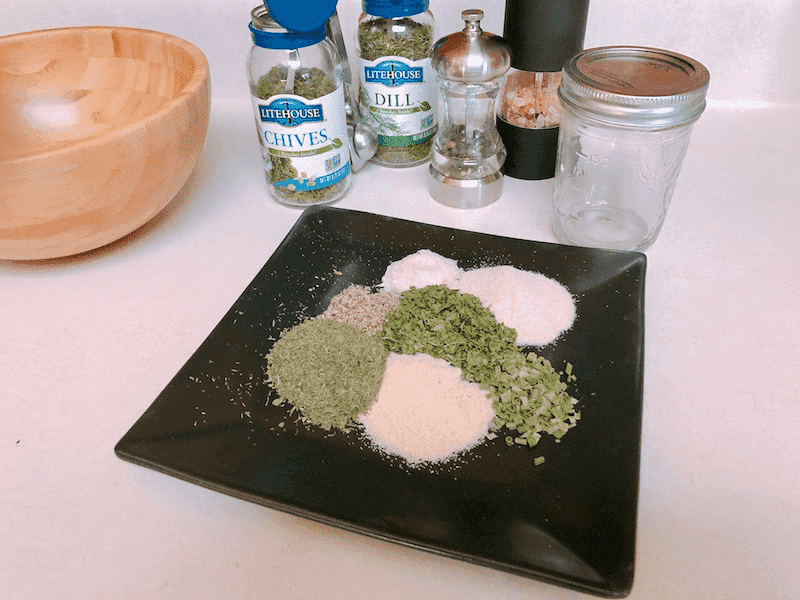 Ranch Dressing Mix
2 tablespoons dried parsley
1 tablespoon dried dill
1 tablespoon chives
2 teaspoons garlic powder
2 teaspoons onion powder
1 teaspoon ground pepper
1 teaspoon salt
Combine all ingredients together and store in an air-tight container.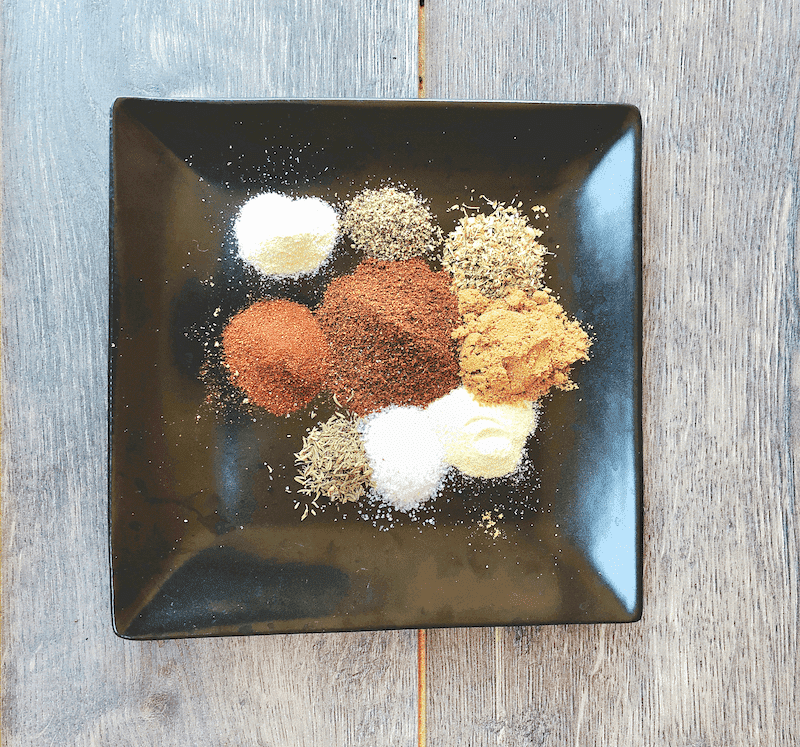 Taco Seasoning
3 tablespoons chili powder
1 1/2 tablespoons ground cumin
1 tablespoon garlic powder
1 tablespoon onion powder
1 1/2 teaspoon paprika
1 teaspoon dried cilantro
1 teaspoon sea salt
Combine all ingredients together and store in an air-tight container.

Plant Based Camp Cooking
After taking the One Meal a Day Food Challenge, I started incorporating more vegan/plant based recipes in our meal rotation. The challenge was pretty simple with asking participants to switch one meal a day to be vegan or full plant based. That challenge transferred over into our camp cooking too. So, I added more vegan food camping recipes and meal ideas for when we are outdoors.
Protein is essential for sustained energy when you are outdoors. That's one reason why most camping recipes are so meat heavy. But you can get plant based protein easily, even when camping. One of the easiest meat/plant based substitutions for me was lentils for ground beef. Cooked brown lentils adds texture that you would get from cooked ground beef. It's close enough that my kids didn't notice the substitution. Plus we all actually liked this vegan version better than the ground beef recipe. The lentils and black beans added high amounts of protein too, so you stay full.
Note: If you would rather add meat back in, you can omit the lentils and water from the recipe or just add in 1-1.5 pounds of lean ground beef.

Cooking in an outdoor Dutch Oven
For this taco soup recipe, I use a 12" CampMaid cast iron Dutch Oven with a 6 quart capacity. The full recipe makes 12 pints or 24 cups, so it can easily feed two families or a small group of hungry campers. Another great Dutch oven is this Egg Roll in a Bowl.
SPECIAL – As an affiliate with CampMaid, I can offer you a special discount code that will save 20% on your CampMaid Dutch Oven system. Visit www.campmaid.com and use code NICKY to save 20%.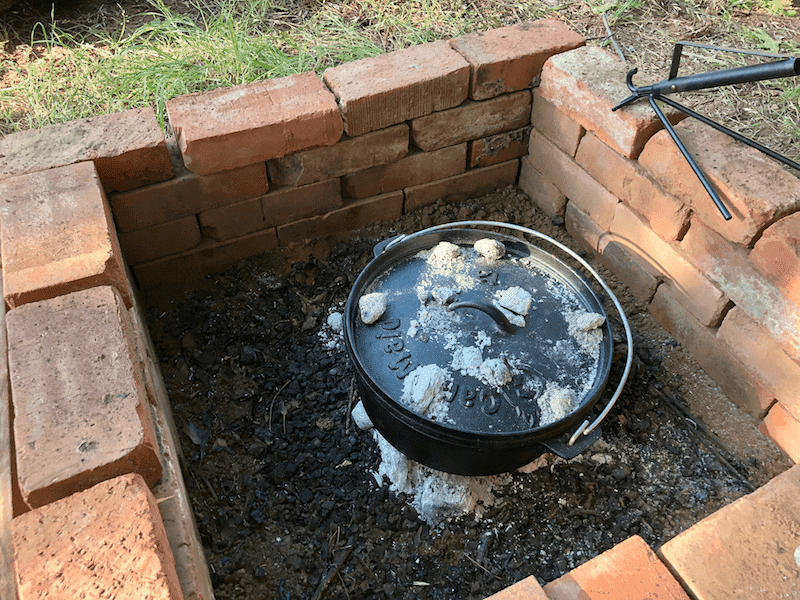 You'll be cooking this soup over medium (350 degree) heat. So I'll use 25 charcoal briquettes; 17 on the bottom and 8 on top. Most recipes call for the briquettes to have more on top than on the bottom, but with stews I like this configuration. Cook time will be about 40 minutes, but can vary depending on weather conditions.
Cooking on Stovetop at Home
If you are creating this taco soup at home, you can you an enameled Dutch Oven or a large stock pot. Combine everything and cook over medium heat. Cook time is 40 minutes or until lentils are cooked through.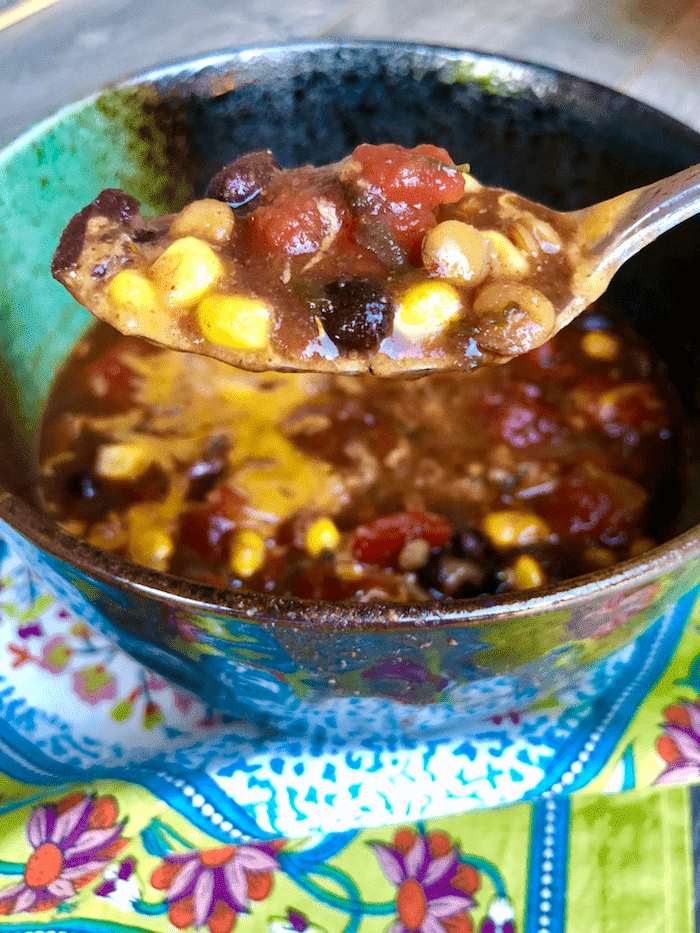 Yield: 6 quarts, 12 servings
Easy Taco Soup Recipe with Ranch Dressing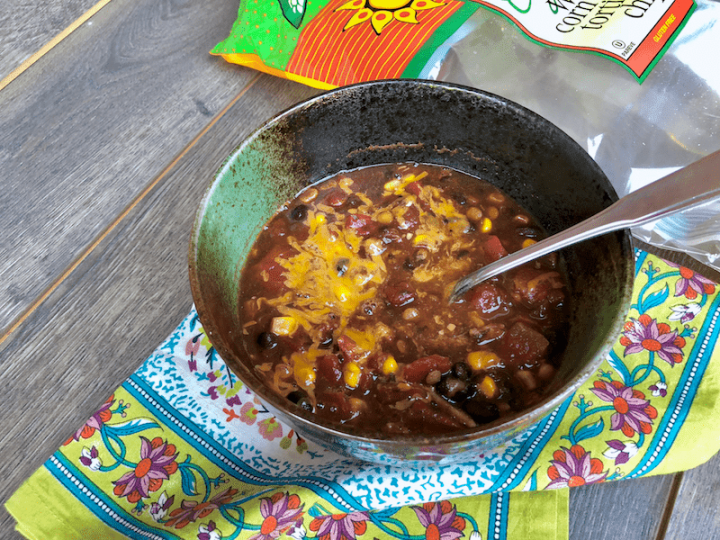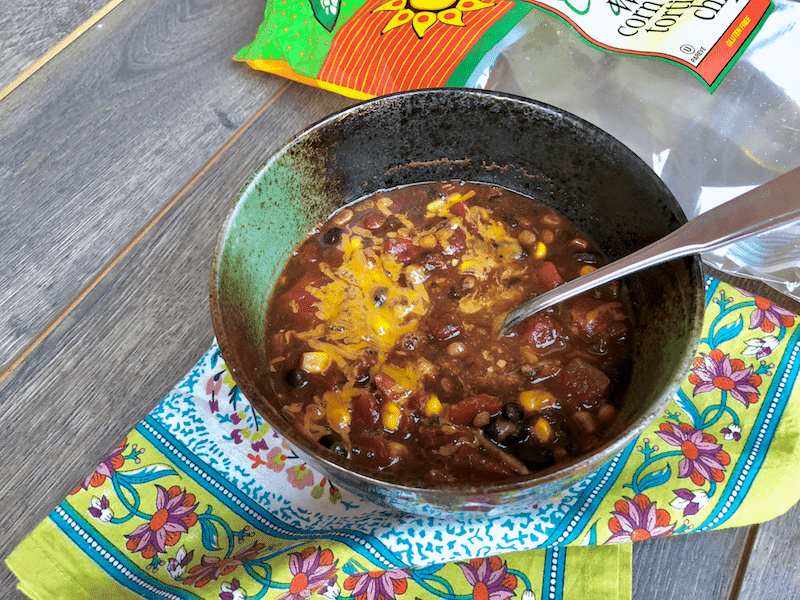 Ingredients
2 - 28 ounce cans of Diced Tomatoes
3 cups Corn Kernels (frozen, fresh, or drained cans)
4 cups Black Beans
1 cup Dry Brown Lentils
24 ounces of water
2 tablespoons Tomato Paste
3 tablespoons Taco Seasoning
2 tablespoons Ranch Dressing Powder
2 cups, Corn tortilla chips (crushed or whole)
1 cup Shredded Cheese (or vegan cheese counterpart)
Instructions
Cooking with Charcoal Briquettes
Prepare 30 charcoal briquettes.
Combine the diced tomatoes through ranch dressing powder in a 12" cast iron Dutch oven.
Stir until well combined. Cover.
Once briquettes are ready to use, place 17 in a small area no wider than your Dutch Oven.
Place Dutch Oven on top and place an addition 8 briquettes around the lid.
Cook soup for 40 minutes, stirring occasionally. Note: Be careful to not get ashes into the soup when lifting the lid.
Soup is ready once the lentils are cooked through.
Serve with crushed tortilla chips ad shredded cheese or vegan cheese, if using.
Cooking on the Stovetop
Combine the diced tomatoes through ranch dressing powder in a 12" cast iron Dutch oven.
Stir until well combined. Cover.
Cook for 40 minutes, stir occasionally
Soup is ready when lentils are cooked.
Serve with crushed tortilla chips ad shredded cheese or vegan cheese, if using.
Notes
Make this easy taco soup at home or cooked while camping. Directions take you step by step through both cooking styles.
Nutrition Information:
Yield:
12
Serving Size:
1
Amount Per Serving:
Calories:

240
Total Fat:

7g
Saturated Fat:

2g
Trans Fat:

0g
Unsaturated Fat:

4g
Cholesterol:

10mg
Sodium:

468mg
Carbohydrates:

36g
Fiber:

10g
Sugar:

7g
Protein:

12g
This taco soup recipe with ranch dressing is super easy and will surely be a favorite on your next camping trip.
If you liked this easy taco soup recipe with tranch dressing, you may also like these other recipes:
SaveSave
SaveSave