Welcome to Little Family Adventure!
I'm so glad you are here. You are looking for ways to eat healthier, real food on a budget. Right?
Like you, I want to feed my family healthier foods and stay on budget. Recently readers asked "What you should buy for clean eating at Aldi?" So I decided to share a few tips on how I shop at Aldi and how you can too!
I'm here to share tips on how you can eat healthier, real food on a budget with ALDI. ALDI is a national grocery chain that makes healthy eating easier and allows you to keep more money in your wallet.
If you have never been to ALDI before, we have a few tips that will help you save time and make the most out of shopping there.
If you have been to ALDI before, you know how much they can save you. But we have something for you too to help add more real food to your diet.
But before I share these tips, there are a few things you should know about real food….
Clean Eating at ALDI
Let talk more about what real food or clean eating is and learn how you can eat real food on a budget with ALDI.
What is Real Food?
The best way to explain what real food is this; Real foods are the foods your great grandparents simply called food.
Real food is ….
Fresh fruits and vegetables
Whole grains, beans, and legumes
Lean proteins
Dairy
Real food is NOT ……
Processed convenience food
Genetically modified food
Artificial
CLEAN EATING FACT or FICTION
Healthy eating is expensive – FICTION
It can actually be cheaper to eat a real food diet as compared to a diet with convenience and over-processed foods. One of the ways I stay on my budget is by shopping for basic groceries staples at ALDI. I can get real food (both fresh and frozen) for much less than other stores and so can you. You can learn about Simple Smart Shopping at ALDI here.
Get 2 of our MOST repinned recipes that are budget friendly! ($1.20 per serving)
Healthy cooking takes a lot of time – FICTION
Cooking with healthy, real foods can be VERY easy and doesn't have to take a lot of time. The slow cooker is my BFF during busy week nights and cooler weather. I'll share recipes for 3 meals with you that cost under $18. These family friendly meals cost a little over $1 a serving!
Shopping at ALDI is a little different than a traditional grocery store. Before you go there, here are a few things you need to know.
Bring a quarter for the shopping cart.

The carts are all hooked together and you need to insert a quarter to get a cart. At the end of your trip, you place your cart back in the rack and get your quarter back.

Bring your own shopping bags.

If you forget, you can empty boxes in the store or Aldi will sell you paper bags for 5 cents and plastic bags for 10 cents.

Most of the products in ALDI stores are their store brand

. They believe in their products so much that they offer a double back guarantee on all their private brand products.

Selection is limited.

For example: instead of offering 10 brands for peanut butter they offer their brand with smooth and crunchy versions, plus an organic version. That's it. Less selection means a smaller store which results in the ability to shop in less time.

This picture shows several organic fruits and vegetables offered at ALDI. Their everyday low prices are hard to beat.
Real Food is affordable. Get our 2 most repinned recipes & see what readers like you are loving!
Related: Find more deals on produce delivered to your door with Farmbox Direct and Imperfect Foods.
What You Should Buy for Clean Eating at ALDI
ALDI's everyday low prices on healthy food can't be beat. You can buy many of your food staples there at a significant savings.
Here is a list of real food groceries I shop for at ALDI all the time.
Fresh and frozen Fruit and Vegetables
Canned tomatoes, tomato paste, and pasta sauce (organic available)
Dried Beans, rice, and whole wheat pasta
Dark German chocolate
Organic peanut butter
Organic Honey
Block cheeses
Organic yogurt
Organic milk, almond and coconut milk
Oatmeal
100% whole wheat bread
Tortillas (corn and flour)
Eggs, $1.50 large dozen
Spices
Olive oil
Lean ground turkey and organic ground beef $6.99 a pound (that is cheaper than anywhere else in town for me)
Whole Chicken
Nuts: Walnuts, almonds, and pistachios
You can eat healthy, real food on a budget.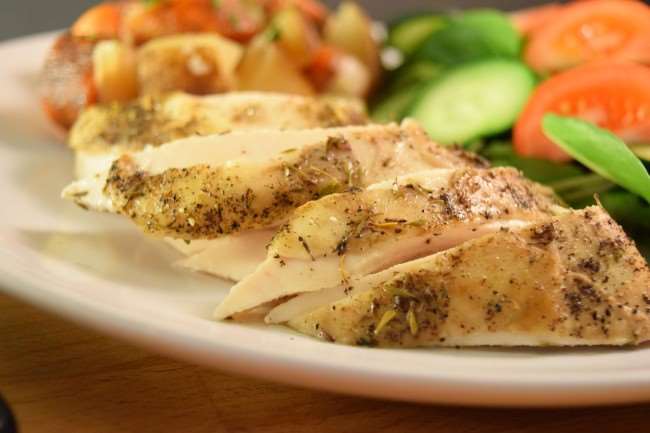 At ALDI, I can create 2 family-friendly dinners, plus a lunch for a family of 5 for just under $18. That is just over $1 a meal! The picture above is one of the meals; Lemon Thyme Crockpot Chicken and Root Vegetables. The second recipe is for Chicken and Vegetable Soup which makes dinner plus a luncg later in the week.
Get the printable versions of these budget friendly recipes here.
Eat Healthier on a Budget
For those of you who have never set foot in an Aldi before, I really hope this will inspire you to give it a try. After you do, you totally have to come back and tell me how it goes!!
I hope this helps you get some perspective that healthy eating doesn't have to empty your wallet! It is quite possible to eat healthy and save money at the same time. Shopping at ALDI for healthy real foods is one way I make it work for my family. It can work in yours too!
This article is not sponsored or endorsed in any way with ALDI. This is just something I wanted to do to hopefully start a conversation about more affordable grocery shopping, and share with you some of the reasons I really like shopping at Aldi!
Do you shop at Aldi? How has shopping at Aldi helped you eat healthier or save you money?