Want to send the kids back to school with the "right stuff" in their lunch box? We have a list for that! These back to school essentials have everything you need for the kids' favorite subject – LUNCH! I've included my family's go-to lunch favorites which are filled with eco-friendly options for taking their lunch to school; lunch box or bag, bento box, storage containers, reusable bags, etc.
As a mom, I want to ensure that my kids are eating healthy at school. The best way to do that is to pack their lunch ourselves. I'm fortunate that my kids are all pretty adventurous.
They will eat everything from last night's leftovers to fruit salad or Chicken Shawarma with pita and hummus. You can find more healthy lunch ideas on our Pinterest recipe board.
These year, these are the eco-friendly products we are using for school lunches. There is everything from the lunch box to reusable metal straws. I find that by using reusable products, I save money over time and reduce the amount of waste that goes into the trash. I've included affiliate links below. Purchase through our affiliate links and we receive a small commission without any extra expense to you! All of the items below are ones we current have and use. Some have been provided for review purposes. All opinions are mine.
For one stop shopping, you can visit our Amazon Back to School List.
Lunch Box or Bag

Lunch Box from SoYoung $34.95
There are few lunch boxes on the market that can be thrown into the washer. This linen lunch box is one of them. My daughter loves this design because it's a little more grown up for her last year of middle school. Designs range from this one from Pixopop to flowers and animals. This bag/box has a removable insert that insulates your food. The insert is PVC, phthalate, lead and BPA free.

Whether you find sloths to be mega cool or would prefer a solid lunch bag, Bentology has 21 prints in 3 different lunch bag styles. My youngest picked this sleeve design out. Each lunch bag is free of phthalates, BPA, PVC, and lead.

Freezable Classic Lunch Box from PackIt $19.99
Someone finally made a lunch box and ice pack in one. This upright bag has a freezable gel liner in the walls that keeps food cold for up to 10 hours. You fold it up, pop it in the freezer overnight, and in the morning it's ready to go. It easily carries a meal or bento box, snack, and a 12oz water bottle.

PlanetBox Carry Bag $28.95
This carry bag is specially designed for the Planetbox Rover (shown below), a stainless steel bento style lunch box. The bag is safe, non-toxic, and made with recycled materials which are free from lead, PVC, phthalates, or BPAs. Exterior pouches can hold a water bottle and utensils or snack. Comes in a variety of colors and when you buy this and the Planetbox Rover together, you can save money.
Bento Lunch Box Sets

Stainless Steel Lunch Box from PlanetBox
The PlanetBox Rover Box is great for older children and adults. This stainless steel lunch box for kids is the Cadillac of school bento lunch kits. The bento box design makes packing a real food lunch easy. It features individual food compartments and 2 resealable metal containers for wet foods like dip and yogurt. This lunch box holds 4.5 cups of food, so it's a great size is for both children and adults who enjoy smaller portion sizes. Buy this bento box together with the carry bag and hip magnets and save on Amazon.

Bento Set from Bentology $12.99
Bento box style set with 5 individually sealed containers. 5 food groups = 5 containers. This makes it easy to create a well balanced meal that kids can create themselves. Each of the containers is free of phthalates, BPA, PVC, and lead. Available in three colors; blue, pink, and blue.

This plastic bento kit holds five 1/2 cup portions (total 2.5 cups) and is perfect for children under age 8. It's leakproof and seals with just one lid. The removable tray comes in a variety of designs and is really easy to clean. I love how fun this kit is. It makes lunch fun and several of the trays show kids what to pack in their lunch; vegetables grains, proteins, dairy, etc.
Hot Lunch Containers
Most bento boxes and school lunch containers aren't designed to keep food hot. So when you want to enjoy a hot meal from home, an insulated container is essential. My kids enjoy everything from homemade gumbo to chicken soup in an insulated container. Here is the one we use most often.

Stainless Steel Food Jar from Thermos $24.99
Thermos has been around for years and makes quality containers that keep food hot or cold. My favorite insulated container is a 16oz food jar because it fits a variety of foods and feeds a variety of appetites.
Eco-Friendly Storage Options
Using reusable pouches and containers is a greener, eco-friendly alternative to plastic storage bags, wraps, or single serving containers. Using just 1 reusable bag can save over 500 plastic bags. This small change can have a huge impact on our environment.

Reusable Bags by Lunchskins $6-$24
These reusable bags come in a variety of colors and styles. They can hold everything from a sandwich to grapes with ease. They are BPA free and can easily be cleaned by hand or in the dishwasher.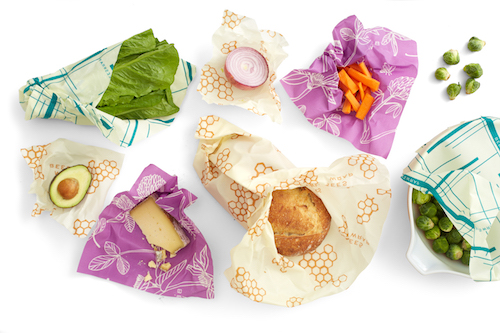 Reusable Food Wrap from Bee's Wrap $11-$42
Swap out plastic/cling wrap for this reusable organic cotton cloth impregnated with beeswax. It's a natural alternative for food storage. You place a cloth over a bowl or food and seal with the warmth of your hand. Wash in cold water and reuse. Genius!!! I recommend the Variety Pack that comes with 7 sizes for everything from bread to small fruit.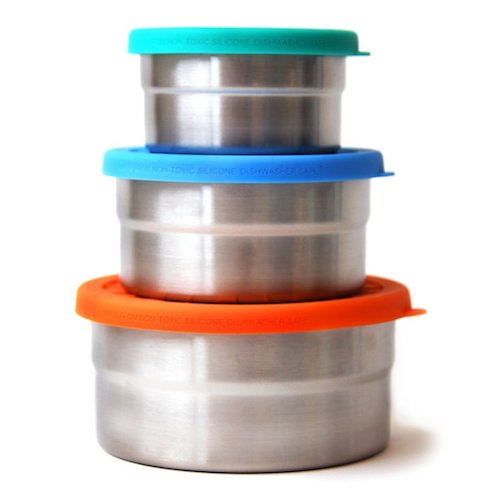 Stainless steel is a safer option for food storage. These containers are made with 304 stainless steel and a silicone lid. Each is free of BPAs, BPS, and phthalates. Both the cup and lid are dishwasher safe. Together this set will hold 5 cups of food. Find this and other ECOlunchbox products here too.

Silicone Food Bag from Stasher $11-$25
Replace disposable plastic bags with these reusable ones made with food safe silicone. You can use them to store sandwiches, sliced fruit and veggies, snacks, etc. But you can also use them at home to cook in (sous vide) or make an omelet in a bag. They come in a range of colors/designs and 3 sizes: 4.5"/10oz, 7"/15oz, and 10"/half gallon.
Water Bottles for Back to School
Kids Limited Edition Bottles from HydroFlask
These bright 12oz bottles are great for back to school. Stainless steel double insulated walls keep drinks cold for up to 24 hours. BPA-Free and Phthalate-Free. Built in lid loop/finger hold makes it easy to clip to a backpack or lunch bag with a carabiner. Designed for kids with the smaller size, Silicone Flex Boot to add drop protection, easy to clean Straw Lid, and a choice of 4 color combinations. Each bottle comes with a sticker designed by artist Megan Myers from Bend, Oregon. Our favorites are the Chameleon and the Frog. $29.95 Free Shipping on 2+ bottles!
Insulated Water Bottle from Klean Kanteen $24.95
12 oz water bottle keeps ice up to 40 hours and hot drinks hot up to 12 hours.
It's a refillable 8oz juice box. This is a greener alternative to disposable juice pouches or boxes. Fill it with 100% juice or water for your child.
Cutlery

A compact green option to plastic cutlery. This is made from sustainable bamboo. It's machine washable and obviously reusable. $5.99

Stainless Steel flatware set from Kisswill $9.69
This 7 piece set comes with chopsticks (ribbed for noodles), fork, spoons, knife, 2 straws, a straw brush, and a storage bag. For school remove the knife.
Reusable Straws from Klean Kanteen $9.99
Ditch plastic straws forever with this set of four stainless steel straws. Each steel straw is topped with a flexible silicone tip. A cleaning brush is also included.