Fall is the best time for family outdoor adventures. Get out and starting exploring today.
Fall Outdoor Gear for Families
I have teamed up with a few of my favorite companies to bring you this essential fall outdoor gear guide for families. Some companies have supplied us with new products to test out. I have personally tested everything here and use it regularly. You are getting my honest opinions, as always.
Go out and enjoy the great outdoors anywhere from your own backyard to camping at one of the National Parks. No matter where you go, just do it together and have fun!
Safety First
When getting outdoors with kids, safety is a BIG concern. With kids, anything can and usually does happen. So it is best to be prepared.
First Aid Kit
A first aid kit is essential for any family adventure. I like to keep one kit in the car at all times and another one in my backpack. Both bags are identical and usually include:
Assortment of bandaids
Antibacterial towelettes/wipes
Moleskin for blisters
Pain reliever (Adult & children's versions)
Green Goo 100% All Natural First Aid Salve $7-$24

This is great for everything; bug bites, bee stings, itch relief, cold sores, blisters, cuts/scrapes, poison ivy, and even slows down the bleeding in an emergency!
This has replaced other products I used to carry like Neosporin, Benadryl spray, etc. I like that this one salve does it all and it helps to lighten the weight I carry in my hiking pack.
Its powerful blend of organic herbs fights infection while reducing pain and inflammation for children, adults, and even pets.
Skin Protection
Just like summer, you need to protect your skin in the fall. You want to have a good SPF sun block/screen and a bug repellant. Chemical laden products, especially DEET, aren't something I use for my family. Instead I look for organic and all natural skin care products.
I am currently loving Dr. Fedorenko True Organic skin care products. They have a Bug Stick, Sun Stick, and Skin Stick that are 100% natural, with certified organic butters and essential oils, no chemicals or DEET, plus are paraben and phthalate free.
All the sticks are easy to apply and the blend of essentials oils smells really good. $11-$19
Be Prepared
Dress in Layers
A fall morning can start off brisk and damp, then finish with a warm evening. Dressing in layers ensures that you are prepared for the range of temperatures and weather conditions.
Pants or Shorts
Before any hike, outing, or camping trip, always check the weather and pack accordingly. Here in Oklahoma, fall weather is all over the place. So I like to weather a pair of convertible pants from Mountain Hardwear. They easily go from shorts to pants and are good for fall outings.
Shirt(s)
I love the shirts from Life is Good for many reasons. Their tees and hoodies are comfortable and really well made. But their mission, above all else, is fantastic.
"Life is not Perfect. Life is Not Easy. LIFE IS GOOD."

I love their spirit of optimism that is evident in their clothing. They use creative, uplifting sayings on their clothing that is fun to wear. They also donate 10% of their net profits to kids in need.
Hat
Being outdoors without the right protection, can do a number on the tops of your ears and back of the neck. I'm partial to a baseball hat when I go outdoors, but that isn't always the best choice for a hike. Choice a hat that will shield those sensitive areas fro the sun or remember the sunscreen.
Comfortable Shoes
There is a shoe for every sport and occasion for good reason. Each is designed with a specific purpose in mind. For hiking, you want a comfortable shoe that provides support and traction on the trail.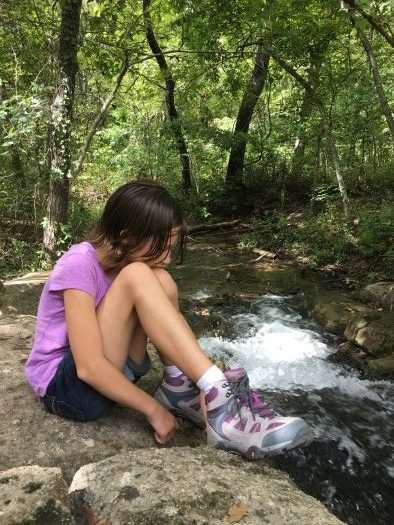 We all really like the hikers from Hi-Tec. They are lightweight, provide excellent support, are really well made, and provide fantastic traction. For the kids, I like that they have Big Fit, a 2 sole system that extends the shoes wear/use as their foot grows. Learn more on their website or find on Amazon. Watch for a full review very soon.
Backpack for Hikes
It pays to be prepared while outdoors. I like to keep an assortment of snacks and plenty of water in my backpack when we go out. I have a Kelty daypack that I've had for years that goes everywhere. When the hunger monster strikes, you should have snacks on hand to help tame it. Try one of these homemade snacks. They are healthy and pack well for travel.
Sleeping Under The Stars
Weekend camping trips are perfect for the fall. Leave after the kids are out of school on Friday and head to a nearby area to camp until Sunday. It's a short weekend trip that will recharge you and give you something to look forward to all week.
Sleeping Bag
When you are camping in the fall, you want a sleeping bag that is versatile with the changing temperatures. Look for a bag that will keep you warm at night.
Kelty Tru.Comfort 20 sleeping bag
I really like my new bag with its 2-layer blanket system. I can unzip it and use the blanket for nights that get down to 40-50 degrees or I can zip it up and use this mummy bag in temperatures as low as 20 degrees. The ThermaPro™ Insulation keeps me warm and it's REALLY comfortable. The bag is oversized and fits a full sized pillow. They are available in women's, men's and children's versions. MSRP $79 -$119
Tent or Hammock with Tarp
Hammock
A hammock is a lightweight option for camping or hiking. You can set up almost anywhere you have 2 trees or vertical supports. I really like taking a hammock when we hike. It comes in handy when you want to rest or even take a nap on the trail.
We have a DoubleNest Hammock and Atlas Straps from Eagles Nest Outfitters. It holds up to 400lbs, so it's large enough to hold me AND the kids. We have often put it up outdoors and read a book, taken a nap while at the lake, and set it up in the backyard. (Amazon)
Cooking Outdoors
When camping or hiking, sometime you want a small, all inclusive cooking system to cook/heat up food or make a cup of coffee/hot cocoa.
GSI Outdoors Pinnacle Dualist Complete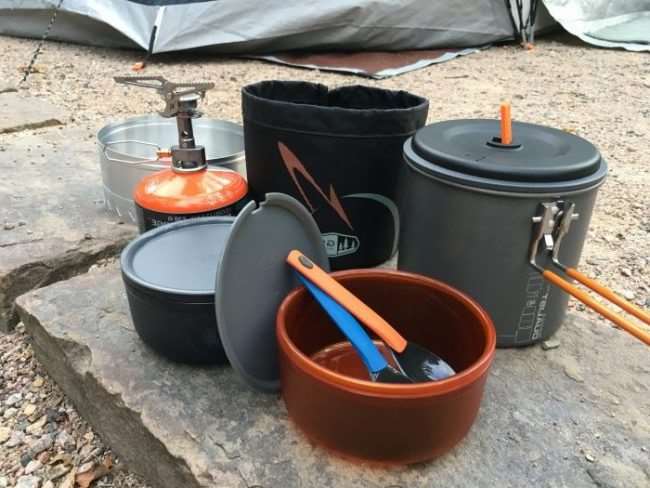 This is a lightweight cooking system that does just that. It includes a high output stove, integrated windscreen, 1.8L cooking pot, insulated mugs, bowls, and spoons. The system is meant for 2 people, but I love it's size and how it stores so compactly. We find that it works in almost any weather condition and it quickly bringing the pot to boil (3 minutes). MSRP $109 GSI Outdoors or Amazon
Stasher Bags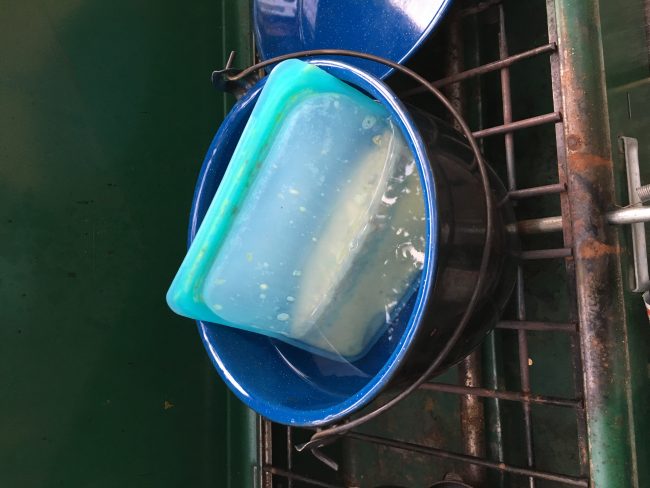 We are reducing the amount of plastic we use and are loving these Stasher Bags. They are food safe silicone bags that you can use to store items in and cook with. We have been making boil in bag omelettes while camping as well as hitting up soup and other dishes. Watch for a full review of these bags very soon. MSRP $11
Do you have any other recommendations for to add to this fall gear guide for outdoor families?
Other great gear we love: