With the end of the year comes all the excitement of 2017. What's on your family travel agenda for the New Year? In our family, we plan way ahead for traveling–sometimes up to 3 years ahead if we need to save up for it–but usually we do our planning for the year in December. We talk about our ongoing lists of places we'd like to go, talk about how we'll budget for it, prioritize our trips and figure out how to fit them in around school and other obligations. With all the traveling we've done as a family of five, today I'm sharing 7 Family Travel Organizing Tips. Use these while you're planning ahead for next year!
Use planning checklists
If you travel often, you'll find it helpful to use planning and packing checklists. We traveled so many times this year that I typed up simple lists for my three kids so they could pack themselves, and now they can do it independently. I also use checklists to help me prep my home before we leave and to prep my home business for the time I'll be gone. Depending on your itinerary, you may have other lists as well, such as packing a day pack for hiking.
Loosen the itinerary
It took a number of trips for us to figure out "how" we travel. But now we know: our family succeeds with a balance of sightseeing/go-go-go activity with downtime where we can read, play board games, or just zone out. Think about the best parts of your family travel–what worked and went well? How can you incorporate more of that into your next trip? With kids, you should expect the unexpected. We rarely have a vacation where all five of us stay healthy the whole time, so make sure your itinerary has room for some schedule changes.
Pack light
One of the best organizing tips I can share is also one that many find difficult to do–pack light! Here's an easy printable packing list. Think back to your past few trips: did you really wear all the shoes you packed? All the clothes? For most family trips, it is smarter to pack less clothing and plan to do laundry. Even with kids packing their own luggage, there's no need to duplicate toiletries or other items that can be shared. With entertainment items, plan to pack less and share, or set a limit on how many items each person can bring. I like to read a lot on vacations, so I was finally won over to the Kindle. Now, instead of packing 5+ big library books, I carry a simple device that fits in my purse.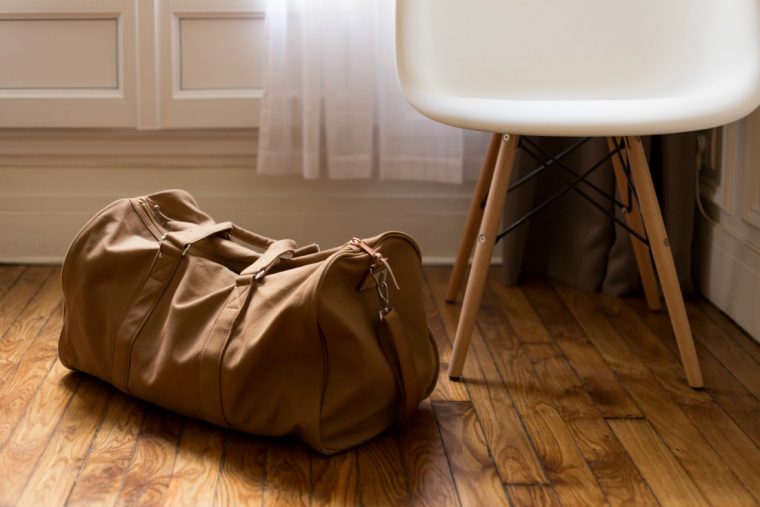 Take just one bag
More than just packing light, try to travel with just one bag per person. You'll save yourself the hassle of checking multiple bags, paying fees to check bags, and the possibility of luggage being lost by airlines. While this may sound difficult with kids, it is possible. Traveling with babies or toddlers? You can probably rent a crib, pack & play, and other gear at your destination. Aim for one bag per person so you will have less to keep track of.
Give everything a place
An important tenet of organizing is "A place for everything, and everything in its place." At home, that means the keys are always put in the same spot so you can find them again, dirty clothes go into the laundry basket, and so on. With family travel, create routines that follow the same structure. Where do you keep the hotel key cards when you leave and when you return to the room? Where should kids put their wet swimsuits or their dirty clothes? Just like with packing, including the family in these tasks and chores takes the pressure off one parent having to do it all while teaching important skills for future travel. It also helps for repacking for the trip home and making sure you haven't forgotten anything!
Organize paperwork
We're all used to doing everything digitally now, but it's still worth having paper copies of important documents. On our big summer trip across five national parks this summer, we did not have the internet most of the time (!). I was so thankful that I had brought a road atlas and printouts of our hotel reservations and other tickets. If you're traveling abroad, be sure to have copies of your passport and visa(s) as well.
Think post-trip
I always budget for grocery delivery and schedule it to arrive early on our first morning back home after a trip. We're all tired, there's plenty of laundry to do, and it saves both time and stress to have groceries show up so we can get back on track. It can also be helpful to schedule a recovery day, especially when you're traveling with young kids. Don't plan a full day of activities and appointments; just plan on getting back on the family routine.
As your family travels more and your kids get older, you may be able to change some of your travel planning accordingly. I love that my kids are old enough to pack themselves now–it really lessens my pre-vacation stress! Think about your family travels over the past few years. What are your family travel organizing tips?