Today we begin week 1 of our 2015 Food Challenge – "New Food of the Week Challenge" with the green leafy vegetable kale. Kale is a rockstar when it comes to nutrition. It's packed with nutrients and is easy to cook. This week I'm challenging you to add kale to your diet in some way.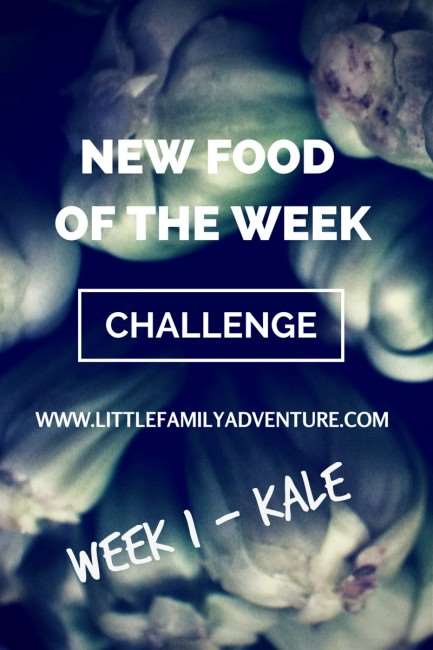 Kale is one of the healthiest vegetables around.  It is a great source of vitamin B6, dietary fiber, calcium, potassium, vitamin E, vitamin B2, iron, magnesium, vitamin B1 ,omega-3 fatty acids phosphorus, protein, folate, and niacin. It has the following health benefits:
Helps lower cholesterol
Lowers the risk for several kinds of cancer
Provides comprehensive support for the body's detoxification system.
Antioxidant and Anti-inflammatory
How to Select and Store
The two most common types of kale are Curly Kale and Lacianto or Dinosaur Kale. Both have similar flavors and textures. The only difference is appearance. When selecting kale, look for firm, deeply colored leaves with moist hardy stems. The leaves should look fresh,  not wilted, and be free from signs of browning, yellowing, and small holes. Kale with smaller-sized leaves will be more tender and have a more mild flavor than those with larger leaves. Kale is available throughout the year, but it is at its peak, from the middle of winter through the beginning of spring.
To store, place kale in a plastic storage bag removing as much of the air from the bag as possible. Store in the refrigerator where it will keep for 5 days. The longer it is stored, the more bitter its flavor becomes. Do not wash kale before storing because exposure to water encourages spoiling.
Tips for Preparing Kale
Rinse kale leaves under cold running water. Separate the stems from the leaves. Chop leaf portions into 1/2″ slices and the stems into 1/4″ lengths for quick and even cooking.
To get the most health benefits from kale, let sit for a minimum of 5 minutes before cooking.
Cooking Kale
Steaming kale for 5 minutes gives you maximum nutrition and flavor. Fill the bottom of a steamer pot with 2 inches of water. While waiting for the water to come to a rapid boil chop greens. Steam for 5 minutes and toss with a favorite vinaigrette.
Kale leaves can also be eaten raw. To maximize the flavor and avoid bitterness in raw kale, remove the stems from the leaves. Cut the leaves into 1/2″ slices and place in a bowl. Add 1-2 tablespoons of dressing or olive oil to the greens and massage with your hand. A gentle massage breaks down the compounds that cause the bitterness. Try this Massaged Kale Salad.
Add kale to recipes that call for spinach or other leafy greens. Soups and stews, especially, are wonderful when kale is added towards the end of the cooking process. Try kale in this Asian Lentil and Kale Stew.
Add kale to green smoothies. Enjoy a green smoothie with kale or other leafy greens. It's best to use smaller, young kale leaves for smoothies and juices to avoid any bitter taste. Adding citrus will really help boost the nutrient value of the smoothie and add a great flavor.
Finding recipes
I have several recipes using kale here on Little Family Adventure.
This week, I'll be sharing recipes using that week's new food, kale in Facebook and  Google Plus. On Friday, look for a recipe round up featuring kale recipes. There is everything from smoothies and drinks to main entrees and salad.
Join the New Food of the Week Challenge
Join the food challenge and share your recipes, tips, and questions each week too. Post your pictures on Instagram and/or Twitter with the hashtag #NewFoodChallenge for all to see. A challenge or adventure is more fun with friends! Please find me on Instagram and Twitter and follow my adventures in 2015.
We are doing this in conjunction with the Real Food Experience 2015. We're getting real about the food we eat to eat healthier and feel better. Get support from people just like you, ask questions, get great recipes, meal plans, and more. Best of all, it's FREE!