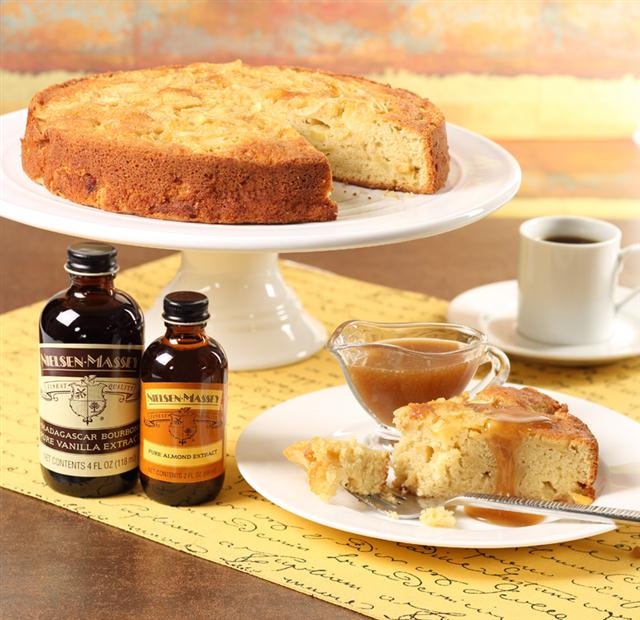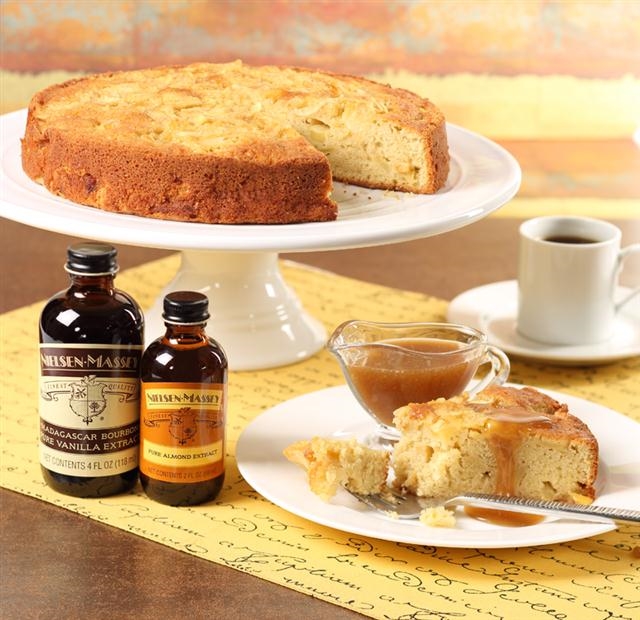 Cooler fall weather signals the beginning of apple picking season. The second week of August is designated as National Apple Week, since it falls at the beginning of the autumn apple picking season. Orchards are just preparing for the flood of families looking to add apple picking to their yearly traditions and fresh apples to their snacking and dessert menus. While prime apple picking season may only last a few months, typically from late August to early November. This year use the first of your apple harvest in this recipe for French Apple Almond Butter Cake with Vanilla Caramel Sauce, below, from Nielsen-Massey Vanillas.
Pairing your fresh apples with the smooth, rich flavors of vanilla is a timeless way to highlight America's favorite fruit in a variety of baked goods. The sweet, mellow notes of Nielsen-Massey Madagascar Bourbon Pure Vanilla Extract and Pure Almond Extract balance with the tart flavor of Fuji apples to create a cake that is rich yet delicate and perfect for everything from entertaining to enjoying with an afternoon cup of coffee.
French Apple Almond Butter Cake

Yield: 8 servings
French Apple Almond Cake with Vanilla Caramel Sauce
Ingredients
Cake
1 cup all-purpose flour
1 teaspoon baking powder
¼ teaspoon ground cinnamon
¼ teaspoon salt
¾ cup (1½ -sticks) unsalted butter
3 medium Fuji apples (about 3 cups, divided)
2 tablespoons firmly packed dark brown sugar (for apple pieces)
1 cup sugar
4 large eggs
1 tablespoon Nielsen-Massey Madagascar Bourbon Pure Vanilla Extract
1 tablespoon apple liqueur
½ teaspoon Nielsen-Massey Pure Almond Extract
Vanilla Caramel Sauce
3 tablespoons butter
3 tablespoons sugar
2 tablespoons firmly packed dark brown sugar
3 tablespoons heavy cream
1 teaspoon Nielsen-Massey Madagascar Bourbon Pure Vanilla Extract
1 teaspoon apple liqueur
Instructions
Cake
Preheat oven to 350°F. Lightly coat a 9-inch light color, non-stick cake pan with cooking spray; line the bottom of the cake pan with a piece of parchment paper; set aside.
In a small bowl, add flour, baking powder, cinnamon and salt, whisk to combine; set aside. In a small saucepan, melt butter; set aside to cool. Peel, core and cut apples into ¼-inch pieces, place in a medium bowl and mix with brown sugar; set aside.
In a large mixing bowl, add butter and sugar. Beat with an electric mixer on medium speed until combined, about 2 minutes. Scrape bowl sides with a rubber spatula as needed. Add eggs one at a time, beating after each addition. Add vanilla extract, apple liqueur and almond extract; beat to combine. Gradually add the dry ingredients beat on low, just until incorporated.
With a rubber spatula, fold in 2 cups of prepared apple pieces into batter; pour batter into baking pan and evenly spread. Place remaining cup of apple pieces over top of cake batter. Bake until done, about 35-40 minutes.
Remove cake from oven and run a knife around sides of cake. Let stand for 10 minutes and turn onto a wire rack; remove parchment and turn onto second wire rack to cool.
Vanilla Caramel Sauce
In a small saucepan over medium heat, add butter, sugar, brown sugar and cream; cook and whisk.
Bring sauce to boil.
Remove from heat add vanilla extract and apple liqueur; stir until combined.
Serve 1 tablespoon warm sauce over each slice of cake.
Tips for Storing Apples
After returning from the apple orchard, farm stand or store, follow these recommendations to store your bounty. If properly stored, some apple varieties can last up to five months, providing you with nutritious fresh fruit well into spring.
Choose tart, thicker-skinned apples, such as Jonathan, Fuji, or Granny Smiths, for storage.
Remove any apples with bruises or soft spots. It is true that "one bad apple will spoil the bunch," so set these apples aside for eating or baking with first.
Place apples in a perforated plastic bag, crate, or cardboard box to allow for air circulation and store between 30 and 35 degrees Fahrenheit. Storing below 30 degrees will cause apples to freeze, while storing above 35 degrees will cause them to ripen too quickly.
Check your supply regularly for soft or spoiled fruit and remove these apples right away.
Looking for more ways to use your stored apples this winter? Visit the Nielsen-Massey website for these recipes:
This recipe and information is provided by Nielsen-Massey Vanillas.