There are so many things to do with kids outside year around (weather permitting). Many of them are FREE! Here are 30 simple outdoor activities for kids you can do in your backyard, your community, or a nearby park.
Some of the activities below have a clickable link to instructions or a printable like the nature scavenger hunt printable. Other activities are ideas that our kids love and will help inspire you to get outside more. In addition to all this, we've also created this printable calendar with 30+ days of outdoor activities for kids.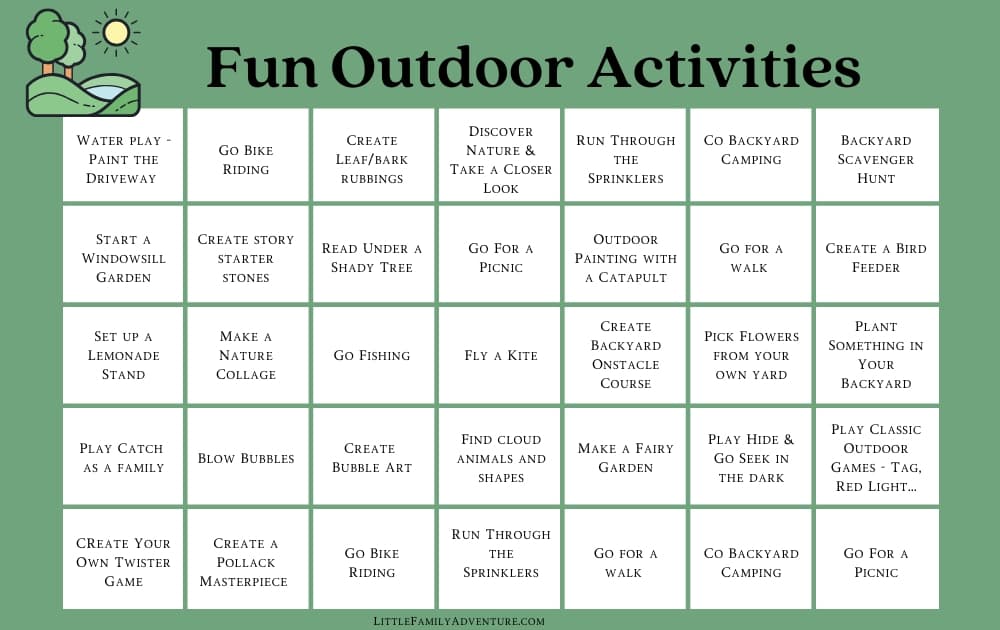 It's great for all ages, so whether you have younger children or teens, the activities will be fun for all! Print this calendar off and use it to inspire you for hours of outdoor play, have fun, and get outside every day.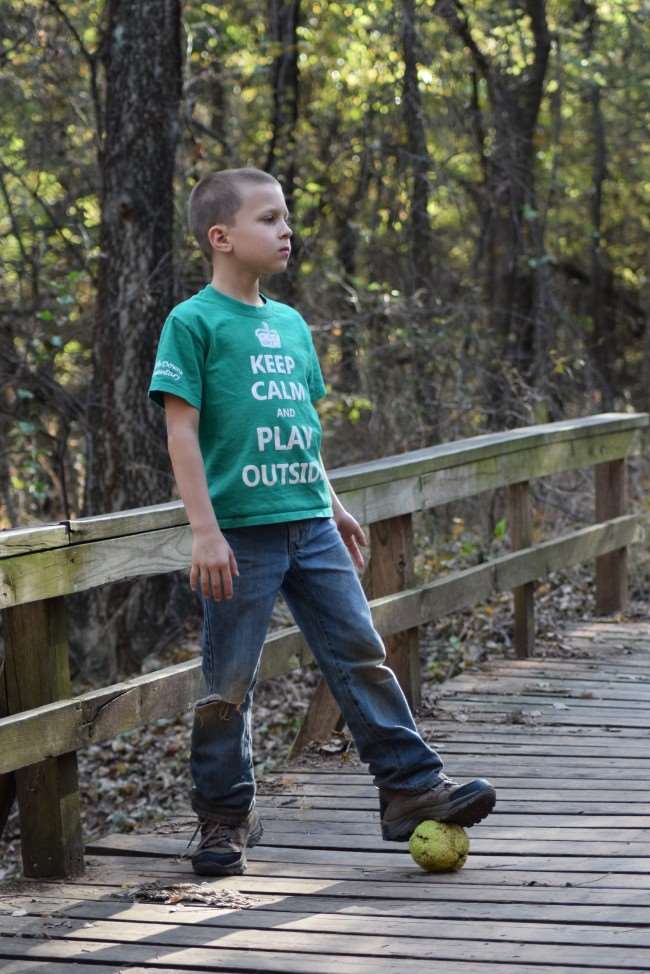 Fun Things to Do Outside With Kids
Paint the driveway with water
Using water guns or paint brushes & water, "paint" the pavement and then watch it evaporate.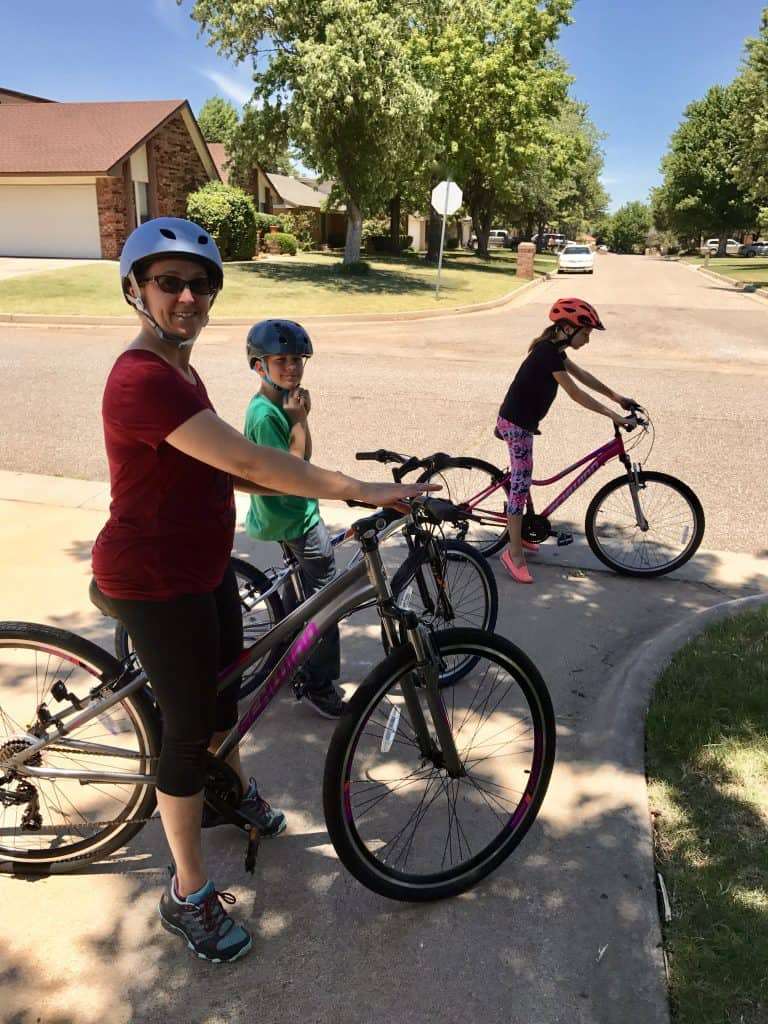 Go bike riding around the neighborhood
If the kids don't know how to ride, it's the perfect opportunity to teach them. We have a bicycle sizing guide here and tips to help you get started.
Create a leaf or bark rubbing
Create your own still life work of art with a crayon or soft pastel leaf rubbing. Get the step by step leaf rubbing tutorial here.
Discover something from nature and take a closer look
Find something in nature that catches your eye and interests you. It could be a bird, insect, flower, or any other object outdoors. Look at it closely; use a magnifying glass if you have one. Draw/sketch what you see and once you get home you can look up more information about it.
Run through the sprinklers
Pin this for later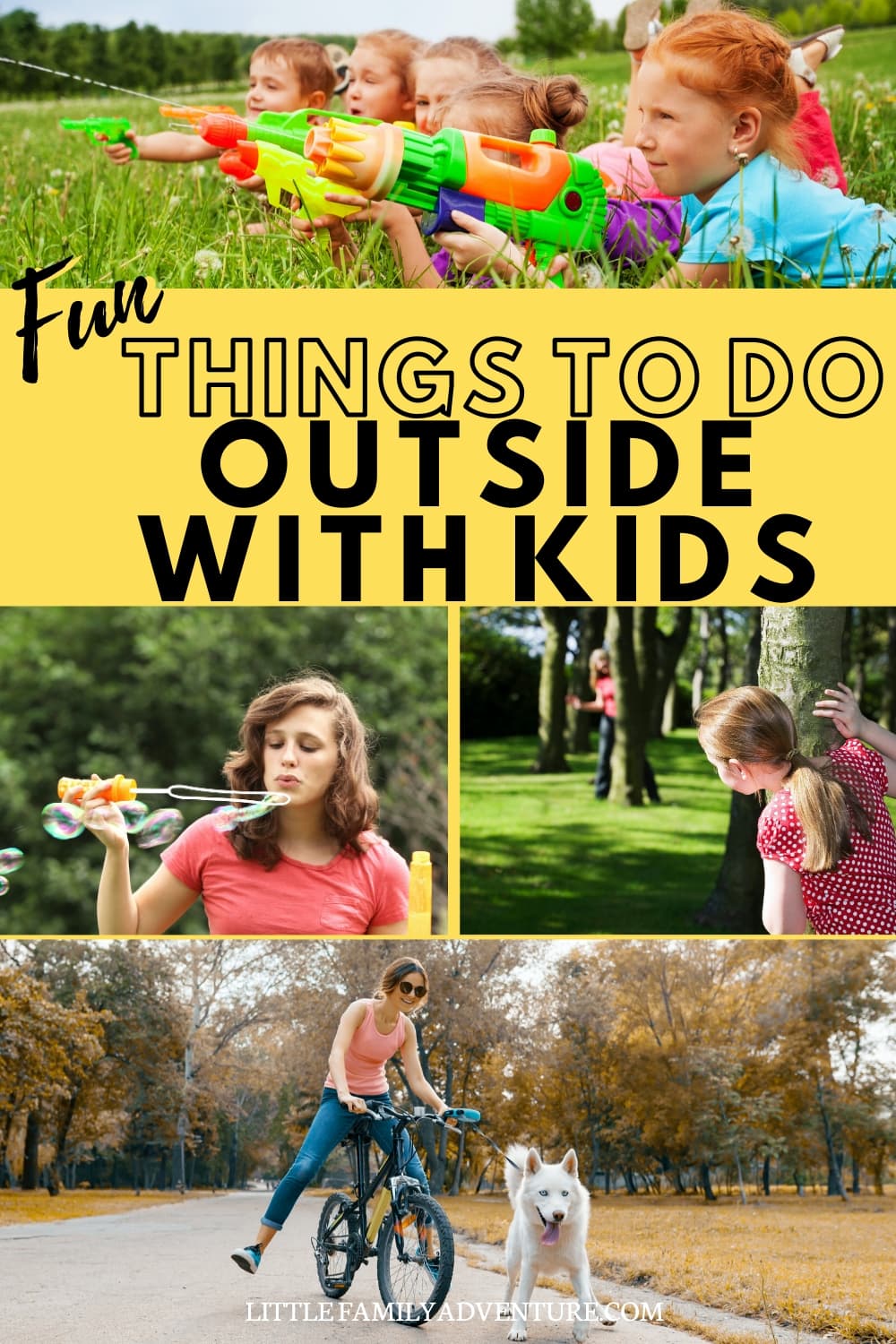 Go camping in the backyard
Camping is a favorite family activity and is always a lot of fun. So set up the tent or hammock in the backyard and camp out under the stars. You can find more fun camping at home activities and ideas here.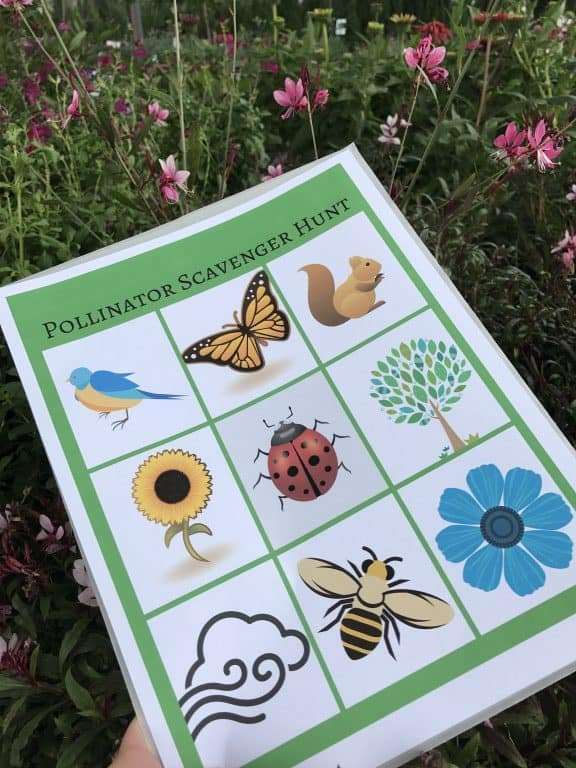 Go on a nature scavenger hunt
Take the game of I Spy to a new level with a scavenger hunt. This one is perfect for the backyard to help spot pollinators; birds, butterflies, bugs, flowers, etc. Get the nature scavenger hunt printable here and find more ideas for pollinator activities here.
Start a windowsill garden with kitchen scrapes.
You can grow carrots, romaine lettuce, celery and more from parts of the plant you usually throw away. Get this garden tutorial to see how to get started.
Collect 12 stones and paint story starters
We all love stories around the campfire. But sometimes you aren't sure where to start. So gather 12 2"-3" stones and clean wash them with soapy water. Then once dry, use acrylic paint to paint images or words that help you tell/start a story.
Read under a shady tree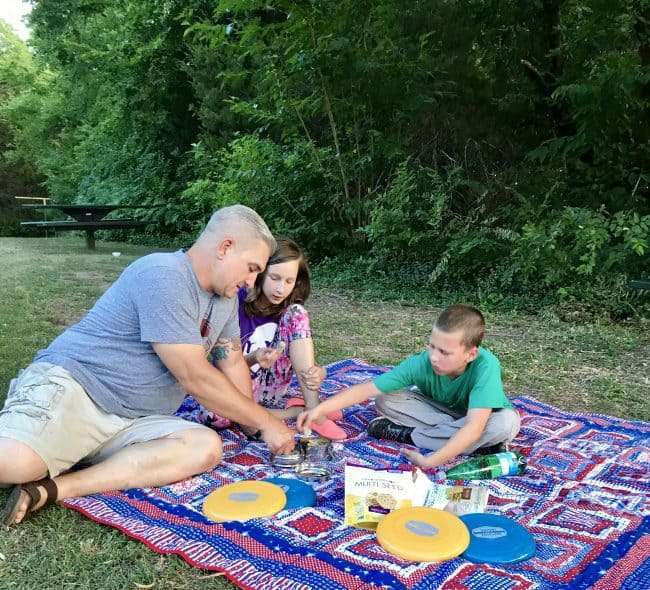 Go for a picnic
Get some snacks together and head out to your favorite outdoor space (backyard works too) and enjoy time with family outside.
Outdoor Painting with a Catapult
Older kids especially will love this art project/outdoor activity that is part science and part art. Use this tutorial from Fun A Day to construct a catapult, tint pompoms, and sling color onto a canvas or butcher paper.
Go for a walk
When looking for fun things to do outdoor with kids, this is definitely the easiest. Grab your shoes and head out the front door. Use your ears to listen to the sounds around you. Use your eyes to spy things around you…. Once you get back home, you can create all you've seen in a nature journal.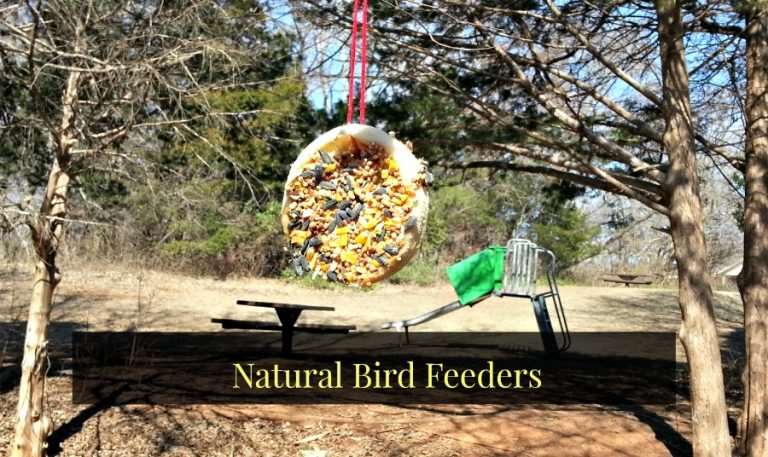 Create a bird feeder and hang it in the backyard
We create a eco-friendly bird feeder with stale bagels, nut butter, and bird seed. Get the DIY bird feeder tutorial here. You can also use toilet paper rolls, a pine cone, or other material too.
Set up a lemonade stand
Let the kids create the lemonade, set up, and create signage. For something different, they can try this recipe for watermelon limeade.
Make a nature collage
Collect leaves, sticks, acorns, etc. Use these materials to create an art collage.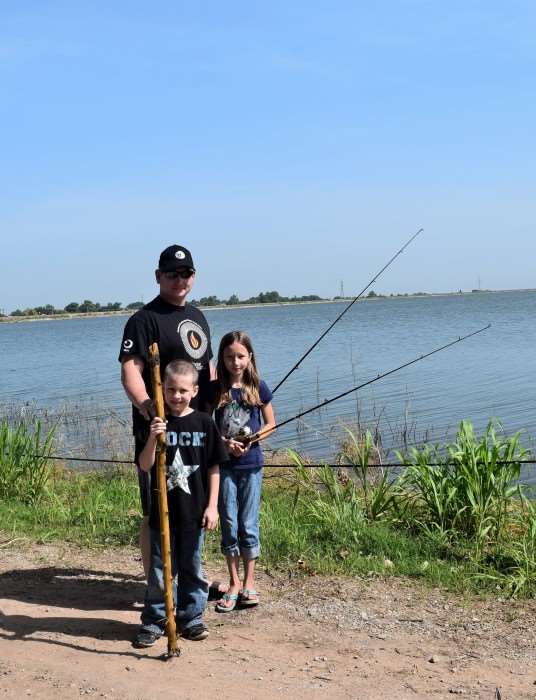 Go fishing
Head to your nearest lake, pond, or river and cast a line. takemefishing.org has some great resources to help you get started learning the basics and finding the best areas where you are.
Let's go fly a kite
That phrase is one of my favorites from Mary Poppins. When was the last time you flew a kite? If you don't have a kite, find one online or use this kite tutorial from Instructables to make your own from a garbage bag.
Wash the family car
Create a backyard obstacle course
Set up obstacles with jump ropes, chalk outlines, boxes, etc. or construct an elaborate Ninja Warrior course in your backyard.
Pick flowers from your own yard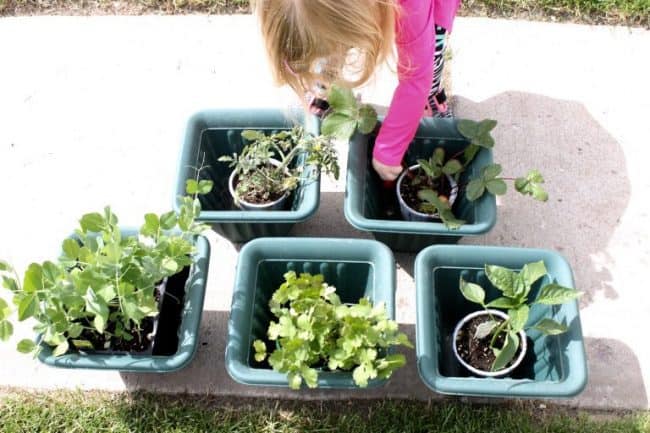 Plant something in the backyard
It's important for children to understand where their food comes from. Growing a garden, even if it's one plant in a container is quite educational. It could be those vegetables you started on the windowsill earlier, seeds, or plants you pick up at the local garden nursery. It's fun to dig in the dirt. Here is a tutorial to grow a pizza container garden.
Play catch as a family
Grab a ball and head out to play catch. If it's hot outside, you can always use water balloons. Just remember to pick up the plastic pieces when you are done.
Blow bubbles
Bubbles are endless outdoor fun! Create your own bubble solution with dish soap, water, and a little sugar. Get the bubble solution recipe here.
Create some bubble art
Art projects like these are fun things to outside with kids. They can get messy, so it's best done outside. This Disney tutorial shows you how to mix a little dish soap, water, and food coloring to create fun works of art.
Find cloud animals
On a partially cloudy day, lay out a blanket on the lawn and look up into the sky. See if you can spot different animal shapes in the clouds.
Make a fairy garden
Using materials found in your yard like twigs, bark, dried flowers, stones, etc., you can create a little fairy garden. This tutorial on theSpruceCrafts.com shows you how.
Play hide and seek in the dark
Hide and go seek is a fun outdoor game. But after the sun goes down, grab flashlights and play.
Play classic outdoor games like tag, red light green light, red river, soccer, etc.
Create your own version of Twister
Using spray paint, create your own version of Twister on the lawn. You can cut out circles from cardboard to help as a template. Use dry, take turns calling out a color and hand/foot.
Create your own Jackson Pollock inspired masterpiece
Using tempura paint, canvas panels, and water guns, squirt paint to create a Pollock inspired work of art. Here is a tutorial on how to create squirt art canvas from Simplify Live Love.