I really like getting outdoors this time of year. The weather is so nice that its easy to be out all day. You'll often find us hiking nearby trails and camping on the weekends. Since the kids all started school, they have grown out of their old hiking boots and were in need of new hikers. I'll never pass up a chance to go shoe shopping, so I could use a new pair too. Luckily, Hi Tec Sports contacted me recently and asked if I'd be interested in reviewing their Hi Tec boots for men, women, and children. hiking boots.
* This article contains affiliate links. Purchase through our affiliate links and we receive a small commission without any extra expense to you!
Hi Tech sent us 5 new pairs of hiking boots to try out. They included:
Finding the Right Pair of Hiking Boots
When I buy hiking boots, I look for shoes that are well made, comfortable, supportive at the arch, and offer good traction. We have been breaking these Hi Tech hikers in and recently took them with camping at the Chickasaw National Recreation Area. I'm sharing my honest thoughts on them here.
For the kids, we have the Altitude Lite i Waterproof Jr. and Hillside Waterproof Jr.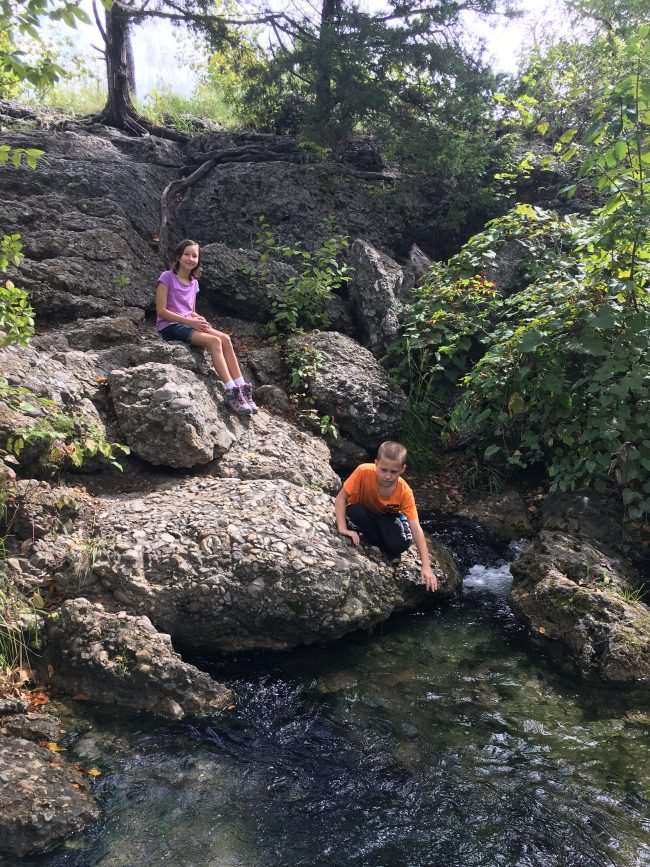 Quality Construction
Just like the adult Hi Tec boots hikers, their kids' hikers are made to last. Both of the Altitute Lite i Jr. and Hillside Jr. have durable suede and mesh uppers. The quality stitching ensures that they will last for a long time and could be passed down again and again.
Both hikers have a rubber toe cap that is stitched on to protect the shoe and the foot from bumps and scraps along the trail. The Hillside Jr. has an additional rubber heel for added protection. Since these are my son's shoes, that's a great thing because he is REALLY rough on his shoes. We joke that he has two speeds, full steam ahead and asleep. SO you can imagine what a boy will get into when he's full of energy.
The price for these Hi Tec Boots are reasonable:
Altitude Lite i Waterproof Jr $64.99
Hillside Waterproof Jr. $54.99.
Plus with Hi Tec's Big Fit System (I'll talk more about this under Comfort & Support) the kids won't be outgrowing these anytime soon.

Comfort & Support
Both of these Ho Tec boots are light weight and the kids could easily wear them all day at the campground and on the trail. During cooler weather, I like the kids to have a taller hikers to protect their ankles. Both pairs of shoes provided excellent support for the ankles and their arches.
The Altitude Lite i Jr. has the special Big-Fit insole system which was new to me. This 2 part insole system (shown above) gives kids' shoes an extra 2-3 months of use. When you get the shoes, you use both soles to create a snugger fit. As your child's foot grows, you take out one of the soles and that gives the foot more room to grow. That's genius! My daughter will be able to wear these for much longer. Note: this system isn't available on all children's hikers, but it is available for many of them from Hi Tec.

Traction
Both hikers have a thick rubber sole that provides excellent grip while hiking. Both feature a multi directional design that offers excellent traction on the trail. The kids found it easy to get up the natural springs and small rock formations at Chickasaw NRA.
Waterproof – Bonus with Kids!
For the kids, especially my youngest son, I really look for waterproof hikers. If there is a puddle or stream anywhere within sight, he'll end up in it at some point, I like that both the kids' hikers are waterproof with a breathable Dri-Tec inner liner. My son did find a creek at Chickasaw NRA and splashed his feet "near" it a few times. The shoes kept their feet dry without getting too hot inside the shoe.
Overall, these are great hikers and are ideal for families with active children. The shoes can keep up with any adventure they can image and they will grow with them through the season.
Those are the Hi Tec Hikers for the younger kids. On the next page, let me tell you about the hikers my husband, oldest son who's a teenager, and I tried out.
Now we've talked about the kids shoes. It's time for the taller people. Just like shoes for the kids, I look for hikers that are well made, comfortable, supportive, and offer good traction.

Hi Tec sent us these to try out:
V-Lite Altitude Pro Lite RGS Waterproof for me
Altitude Lite I Waterproof for my husband
New V-Lite Flash Fast Hike I Waterproof for my teenage son (he's a size 11)
Quality Construction
All three hikers were very well made and they are built to last. I liked that all the shoes have a 60 day comfort guarantee and a 1 year warranty.
My V-Lite Altitude pro lite RGS and my husband's Altitude Lite I were suede and mesh upppers. My son's V-Lite Flash hikers were made with a very durable mesh fabric. So his size 11 shoe was very lightweight.
Just like the children's hikers, all three had a rubber toe cap that was sewn on for extra protection.
These adult hikers are reasonably priced between $89.99 and $159.99. I am confident that they will last for several years.
Comfort and Support
Lightweight hiking boots are really important for us. All three hikers were fairly lightweight. My husband said he'd prefer something even more lightweight, but he felt that his Altitude Lite I supported his feet very well. So he was happy with the trade off.
All three hikers have the Dri-Tec breathable waterproof membrane. They were comfortable and kept our feet dry. I tend to go through at least one pair of socks when I hike, so I liked how much my feet were able to breath while hiking.
Both my husband and son's hikers came with i-shield, which repels water, dirt, and stains, and a Ortholite sock liner to provide anti-odor and anti-microbial protection.
All three hikers provided excellent support at the ankle and arch. Both my hikers and my son's had a special Vibram midsole that supports the natural roll of the foot. At first, I found my hikers a little stiff. After wearing them off and on for a few days, they loosened up and became much more comfortable.
Traction
Just like the children's shoes, the thick rubber soles provided excellent traction on the trails. I liked the slight curve to the back of my sole that helped reduce foot fatigue. With all the rock scrambling we did at Chickasaw NRA, the hikers kept up and allowed us scurry up and down the trails.
Overall, the adult hikers from Hi Tec performed as well as the children's hikers. Wearing them on our last camping trip allowed us to hike on our day and a half trip. We are planning more hiking and camping trips this fall. We look forward to taking these hikers with us on each trip.
If you are looking for new hiking boots for yourself or your family, take a look at Hi Tec. Their quality footwear are perfect for the trail and will help you and your family get outfitted to head outdoors. Find out more on the Hi Tec Website.
Where to Find Hi-Tec Boots
You can find Hi-Tec at most outdoor gear retailers. I found find great deals on their hiking boots on Amazon.
Disclaimer: Hi Tec provided hiking boots for this review. I wasn't compensated and provide my honest opinions with you, as always.