Imagine a duffle bag or packable backpack with integrated organizers to make finding things easier. Last year when we took our 30 day road trip thru 6 national parks and 8 states, this is exactly what we needed. Unfortunately, there wasn't anything I found that had an integrated system so we were forced to rummage through bags and dig to find what we needed. Turns out Gobi Gear has been designing a packable backpack to solve this problem. It is called the Free Spirit Adventure Backpack. They sent a sample to test out and share with you.
Gobi Gear is an Oregon based company known for their stuff sacks and compression bags. They create storage solutions for any family adventure. Their new Free Spirit Adventure Backpack would have been a great solution to the problem I had last summer. It is a super lightweight (14oz) 30L bag.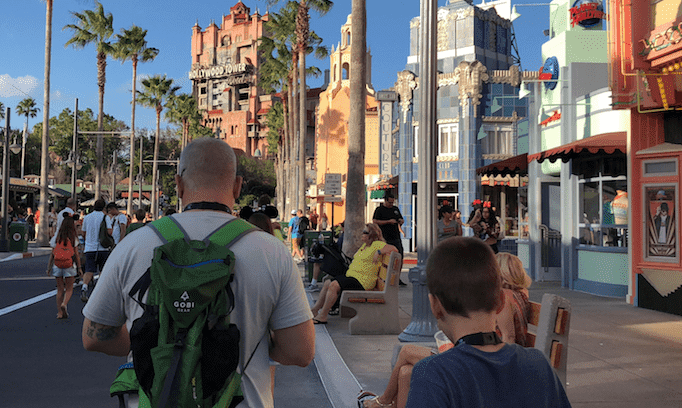 This spring we took it with us to Disney World and aboard the Disney Dream cruise ship to test out. It worked great. Here's why:
Packable Backpack
Whenever we travel, I like to have a packable backpack in the suitcase for when we are touring, hiking with kids, or just down by the pool. This backpack packs up and is stored in its' own zippered pouch. The pouch measures 8″ x 7″ x 7″.
Adjustable organizers
This is the best thing about this bag for me! The bag interior has adjustable dividers to make organization super easy. I really liked that I could roll up my beach towel and insert it into a segment and then add snacks to another, camera to another, etc. I could easily see where everything was and thus I could grab what I needed easily. To pack larger items like coats, I just had to fold the segments out of the way.
If I wanted to use this as your airline carry on, I could easily pack several days worth of clothes and gear for a trip. But I'll be honest, having kids it's more likely to be filled with ALL of their stuff than mine.
Deep Water Pockets
In each side of the backpack are deep pockets for water bottles or other items. When I lean over, bottles or items are secure in the pouch and I don't have to worry about anything falling out. If you prefer a water bladder, there is a bladder pocket in the main compartment and guides for the water hose in the shoulder straps.
Water Resistant Fabric
Made from nylon material, this pack is repels water. So an afternoon Florida rain shower didn't impact the items stored inside. With kids, I can't tell you how many times things have been spilled on my bags. With this one, I don't have to worry.
Easy to Carry
Padded straps and lower back support make this a very comfortable pack. Both my husband who's 5'10" and myself at 5'2" found the bag to be comfortable to wear when it was fun. Adjustable straps across the chest make it a great fit for either of us. I liked that wear the waist strap or could tuck the straps away into the backpack.
Overall this is a great bag for families. Gobi Gear currently has it in presale for $49.99. In may 2018, the price will be $56.99. Delivery is expected in spring 2018.
For all the tech specs, more information, or to order your own, visit the Gobi Gear website.
Disclaimer: I was provided a complimentary Free Spirit Adventure Backpack for review. All opinions are my own.