This post was sponsored, and paid for, by SunTrust. All opinions are my own.


"Looking for Adventure, Will Travel!" That's a motto our family lives by. We are always looking for that next adventure together. We often find them close to home, but we also like to travel to explore new places and try new things. Family travel for us wouldn't be possible unless we had our "Ducks in a Row" as the saying goes and had our financial house in order. April is Financial Literacy Month and I thought this was the perfect time for us to talk about financial confidence; what it means, looks like, and how we can all have it.
What is Financial Confidence?
Confidence is defined as "the feeling or belief that one can rely on someone or something". It also means "a feeling of self-assurance from one's appreciation of one's own abilities or qualities". Applying this to our money, financial confidence is the feeling that one can make and rely on their good financial decisions, have a financial plan for their future, and that you are confident in your own worth to make managing your money a priority. In the past, I wasn't a responsible spender. After college I had student loans and a large amount of credit card debt because I gave into the "wants" and spent more money than I had coming in. For years, we lived paycheck to paycheck because of it. Since them, I have had to learn how to budget, spend wisely, and say no to "wants" that aren't necessary (a task I'm constantly struggling with). But after having a taste for being debt free, I liked it and wanted to maintain that. Unfortunately, fate had other plans for us. Just when I was confident in our future, my husband lost his job and we blow through our savings. Now I mention the example above, not as an example of what financial confidence is, but an example of what motivated me to become financially confident. I am not completely there yet, but I am working hard to get there again and I think many of you reading this have probably been in a similar situation. I started blogging several years ago as a hobby to share recipes. It's since evolved but it wasn't until about three years ago that I took it on full time. My hope was that it could generate some kind of income, at least pay for my groceries. Last fall, I set two goals for my business. One was to create content that would inspire families to get more active together. The second was to provide for my family and allow my husband to quit his full time job, which takes him away from home half of each week, to work alongside me. Last quarter, I met a short term goal that will help me do both of these and it felt really good. It felt GREAT actually! For the first time, I had actually surpassed my husband's income and that had me doing a little happy dance. Not to be cliche, but my ducks started to line up and now we have a goal of July 1 to meet that second goal. That's less than 90 days…. Should be scary, but I'm actually exhilarated!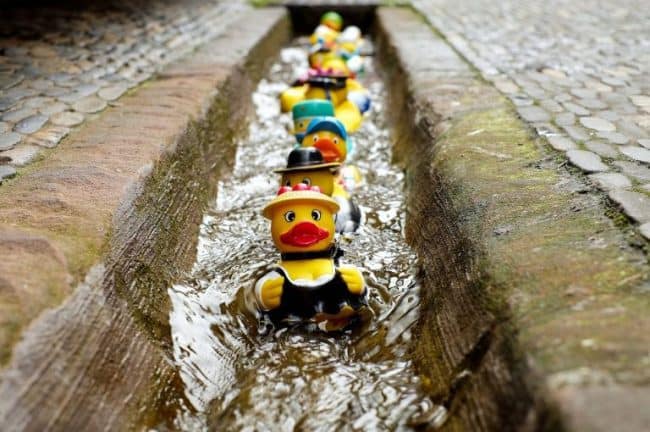 My Financial Confidence
SunTrust found that financial confidence relates to our self-confidence. When we feel good about our money, then we feel good in many other aspects our lives. The fact that we are on task with our financial goals makes me very, very happy. My husband has almost always had a job that took him away from the family. First it was the military and now with his current position, we joke that he's been gone half the time we've been married. But that's actually closer to home than I care to admit. Having the confidence to say "I can provide for my family" is so empowering! Sure the idea of losing his income is scary! It keeps him up at night. But we are pushing past our comfort zone and jumping in with both feet and eyes wide open. We have taking the steps necessary to thrive, a plan to make the transition easier, and a safety net so we never have to experience what happened when he lost his job last time. It's an adventure I'm thrilled to explore and finally have him home more.
Becoming Financially Confident
Confident people inspire confidence in others. As a parent I try to exude financial confidence to my children every day. I think it's extremely important to teach my children to know the value of earning their own money, to be responsible spenders, and have life goals in everything including their financial future. I talk openly with my kids about money because that was something I didn't get growing up. They have witnessed the journey to this point and have had lots of questions. If you are talking to your children or partner about becoming financially confident, I want to share a few tips that have helped our family.
Tips to Becoming Financially Confident
1. Be open and honest about money. Money isn't a dirty word and it needs to be discussed. In a relationship, each person brings their own views on money and finances into the mix. Find a way to be on the same page. 2. Create a budget. Plan out a monthly budget that allocates every penny. This way you know exactly where your money goes and where you can cut things out if necessary. 3. Make saving money automatic. Set up an automatic deposit into your savings account each month. Do what you can afford, but train yourself to not touch the account unless it's an emergency. 4. Set short and long terms goals for your success. A goal not written down is just a wish. Create 3, 6, and 12 month goals on how you will meet your financial goals. Put them where you can see them and work on them. Reward yourself along the way as you accomplish them. 5. Place a priority on financial freedom. This will help you avoid the "wants" and focus on your financial goals. In addition to these tips, head over the SunTrust's website to learn more on how they are helping people take the necessary steps to find their own financial confidence and live the life they want.

At SunTrust Bank their purpose is lighting the way to financial well-being. When you feel confident about your money, you can save for your goals and spend knowingly on what matters most to you.
The onUp Movement is 1 million strong…and growing. onUp is about having the confidence to move forward one smart step at a time.
Join now and start building your financial confidence today.
This is a sponsored conversation written by me on behalf of SunTrust. The opinions and text are all mine.