Yesterday, I was talking to another parent and she remarked, "Your children will eat anything, won't they? My kids are just too picky. They wouldn't eat that!" That got me thinking about what my children eat compared to others and why. Are there things that we do as a family that are different than others? I know that, as a whole, my children love different types of foods. They love sushi, curry, seafood, stir-fries, veggies and more. That's not to say they don't love all-American cuisine like hamburgers and pizza too. Given the choice, they'll choose healthier fare most of the time.
Here are a few things we do that may help you and your kids to eat healthier and make better food choices.
Get Children Involved in What They Eat
We go to the farmers market and grocery store together. The kids help pick out the foods we eat. Each week, they take turns picking out a new vegetable or fruit to try. Once home, the kids help prep and cook. These tasks are age appropriate. I believe that if they have an investment, they are more likely to try & eat it.
Have a Child Friendly Garden
This goes along with the Farm to Table above. We have our own backyard garden. The kids help pick out what is grown and help tend the garden. My children love the radishes and carrots they grow. My youngest is thrilled about growing pumpkins this summer. Having a garden goes along with my investment belief. They have invested time and hard work in their garden. They don't want to waste that investment and are excited to eat what they grow.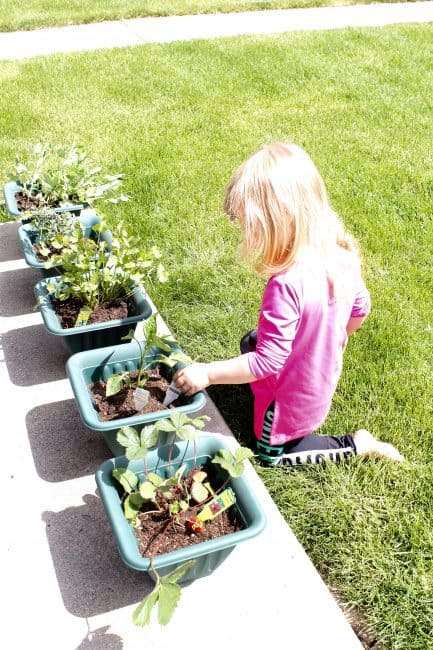 Teach and Model Healthy Eating Habits
Children should be learning about healthy eating at home. Lord knows, they aren't getting it in school. I educate my children that real, whole foods are better than anything in a box. At the market or grocery store, they learn how to read labels, pick ripe produce, identify healthy foods, etc. At home, they learn how to prep and cook meals. We eat meals together without the television or other distractions. They learn that meals are to be enjoyed, not rushed through.
Try Everything on Your Plate
My mother instilled a love to try new things in both my brother and I. From a very early age, we were eating escargot (snails), endive, rabbit, roasted quail, rhubarb and other things American eaters may find too weird or exotic. We had to try everything on our plate. The same is true in my house. My children have to eat one bite of everything on their plate. If they don't like it that's fine, but you're not getting anything else. Children's palettes are constantly changing. On average, they can try something 6 or 7 times before they like it. So we introduce foods several times, even if they don't like them at first.
Everyone Eats the Same Thing
This Isn't Burger King, You Can't Have it Your Way
What I cook is what we're having. There are no separate meals for adults and kids. Making separate meals is a recipe for disaster. I don't know about you, but I don't have that kind of time. Please note that I do make modifications for spicy foods. My two youngest don't like spicy, so I will make mild versions and then add extra heat to individual servings for anyone who wants it.
Kids Eat Healthy By Following Your Example
So there are some of the ways we approach healthy eating in our house. There are so many way to get adults and kids to eat healthy. We abide my a clean eating, real food diet. We eat whole vegetables, fruits, grains, grass-fed beef, organic chickens, etc. We don't do the over-processed, convenience food-like products. The biggest change you can make in the way your children eat is in the way YOU cook. "You are what you eat!" If you want your children to eat healthy, you have to provide them with healthy foods and options.
I'd love to hear from you! How do you instill healthy eating habits in your family?