This holiday season we have put together a great collection of STEM activities for kids, toys, and books. This gift guide for kids is all about making learning fun for all ages. Instead of an app or electronic, we've found fun hands-on gift ideas that will get kids engaged, learning, and most importantly having fun!
UPDATE** We are giving away a Little Passports Discovery Kit 3 month subscription to one lucky reader. Contest ends 11/26/16. More information below.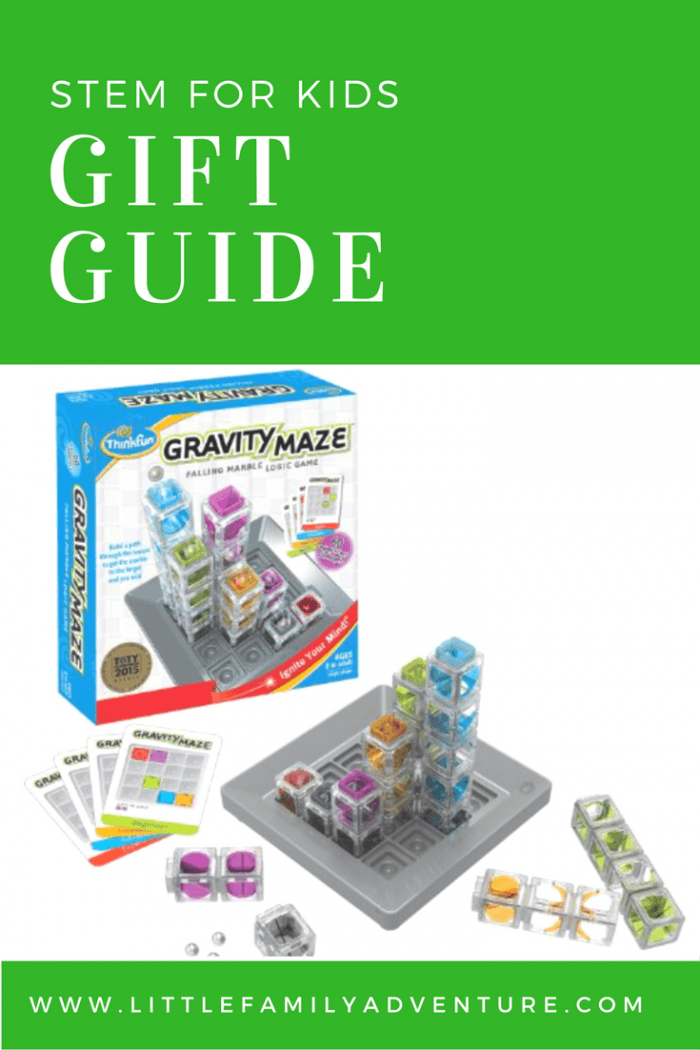 STEM Activities for Kids
STEM focuses on science, technology, engineering, and math. These toys focus on those areas through creativity, critical thinking, encouraging developmental skills, math reasoning, and more.
Note: This blog contains affiliate links, which means I may get commissions from products purchased. I'll only recommend and share products that I use and love myself. There is no additional cost to you as a buyer!
BUILDING SETS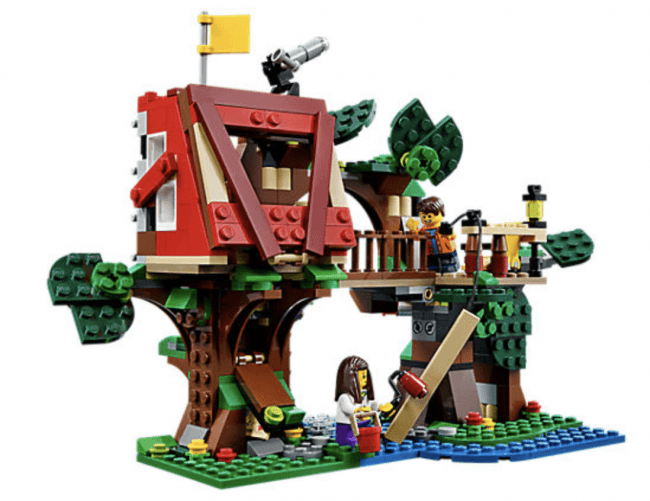 LEGO Creator Treehouse Adventures Set
When you can't get out to go camping, create a treehouse with this 3 in 1 LEGO creator set. Create a double treehouse or one large, more detailed treehouse. Set includes over 360 pieces with 2 mini-figures.
Ages 7+
$34.99 Amazon.com ($26.19)

Lux The Principled Block from Lux Box
No imagination is too great for Lux Blox! Lux Blox gives innovators both young and old the freedom to build stable structures that flex, twist, bend, turn, curve, and move thanks to Lux's unique snap and lock hinge system. Nothing is off-limits, from biological organisms to industrial machines or architecture.
Ages 6+
Starts at $29.99  luxbox.com or Amazon.com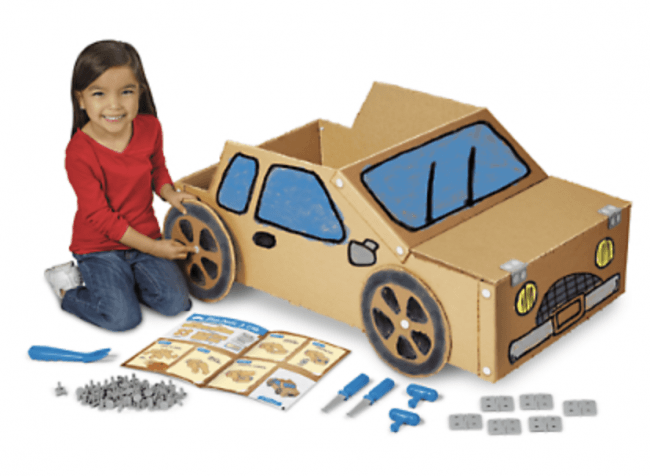 Cardboard Creator Tool Kit from Lakeshore Learning
Kids love boxes, often more than the toy that comes in them. This tool kit comes packed with kid-safe tools and reusable hardware so they can transform ordinary cardboard into anything they can imagine. Just follow the step-by-step guid or design your own creation. Cardboard not included.
Ages 4+
$24.99 LakeshoreLearning.com
LEARNING MADE FUN TOYS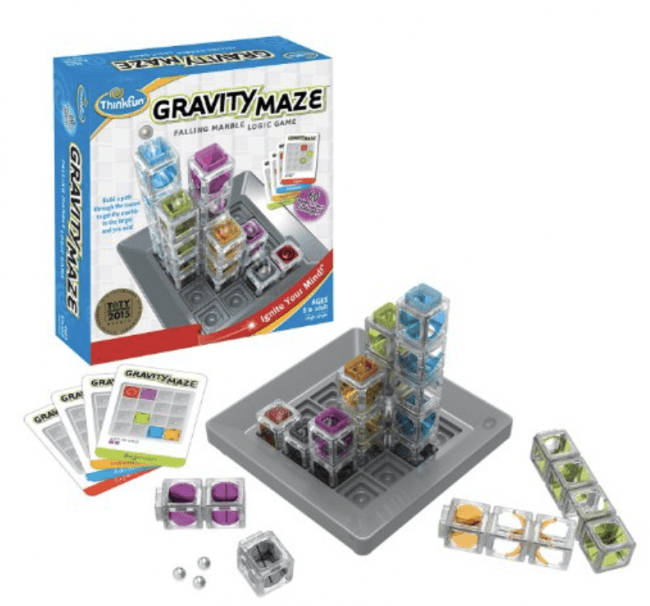 Gravity Maze
Put your thinking cap on and have fun with this falling marble maze. Challenge yourself or the other team to build a path for the marble to reach its target. Great game to develop planning and spatial reasoning skills. Can be single player game or multiplayer.
Ages 8+
$21.95 Amazon 

Top Secret Mirror Cubes from Lakeshore Learning
Be a math wizard and spy all in one. Connect these 12 mirror and space cubes into different arrangements.  You'll become a little spy while looking around corners, see behind you, peer over walls, and more.
Ages 3-6
$29.99 LakeshoreLearning.com
FlingSet by Marbles: Brain Workshop
The Flingset™ is a game, set and match made in heaven that has no limit.  Each Flingset™ has 8 FlingOns that are bendy, flingable fidget magnets. You can launch them as darts, connect them to form structures, bend into different shapes, or use to create your own games. It's endless fun and games!
Ages 14+
$34.99 marblesthebrainstore.com
PLAYMOBIL Advent Calendar 'Pirate Treasure Island' Playset
Count down the 24 days to Christmas with a special bit of Playmobil. Children can use this pirate themed advent calendar as a fun way to count done the days.  Makes a great gift for the holidays.
Ages 4+
$24.99 Amazon.com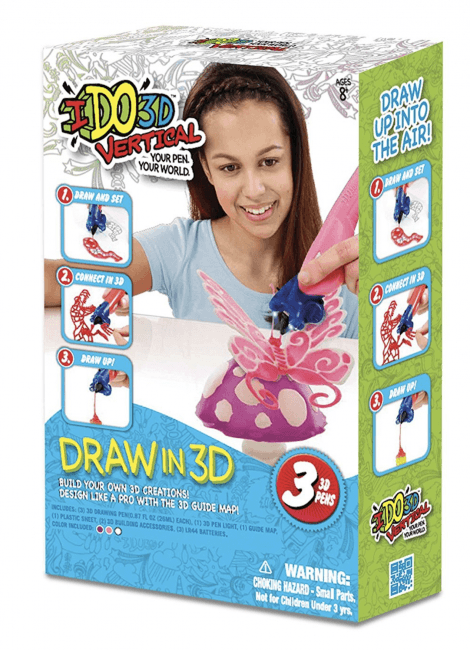 IDo3D Vertical Pen Set
Now kids can draw and create in 3D with this pen set. Each kit comes with a variety of colored pens that can be used to create anything they imagine.
Ages 8+
$19.99 Amazon.com
SUBSCRIPTION KITS
Everyone loves getting mail. A subscription box is the gift that keeps giving. Choose monthly, 6 month, and 12 month plans to be delivered for endless fun. It will keep the kids engaged, learning, and having fun.
Star Spangled Science
Make science fun one month at a time with these fun hands-on science kits delivered to your door!!! Ignite the spark of science and creativity in your child with a subscription to the Spangler Science Club. Each kit features STEM experiences that teach the real science behind the fun experiments.
Ages 7 to 14.
Starts at $9.99 a month stevespanglerscience.com

Science Expeditions from Little Passports
Each month Science Expeditions delivers real world, STEM-related kits directly to your door. With each new science kit, kids focus on a different scientific theme that allows them to dive into the subject for hands on learning. Explore topics like magnetism, forensics, rockets, and more.
Ages 9+.
Available in 1, 6, & 12 month options and starting at $17.95 per month. LittlePassports.com
SAVE $20 on any 12 month subscription Use Code THANKS20
Little Passports World Edition
Get ready to explore the world with Sam, Sofia, and Little Passports. Each month, children receive a new kit from Sam & Sofia that shares their adventures in a new country. Children can travel along with maps, photos, fun souvenirs, activity sheets, stickers, and online resources.
Ages 6-10. USA Edition also available.
Available in 1, 6, & 12 month options and starting at $11.95 per month.  LittlePassports.com
LITTLE PASSPORTS GIVEAWAY
We are giving away a 3  month subscription to Little Passports to one lucky reader. Winner can choose between the World Edition, US Edition, or Science Expeditions. Contest ends 11/26/16. Open to US Residents only.
Green Kid Crafts' Discovery Boxes
These discovery boxes pack in a lot of fun and learning for kids. Developed by teachers, crafty moms and STEAM experts to celebrate creativity, thinking, questioning, and inquiry.  Kids have fun with science experiments, extension activities, and a 20+ page themed Green Kid Activity Guide.
Ages 3-10
Starts at $9.99 GreenKidCrafts.com

BOOKS
LEGO Christmas Ornaments Book $16.84
Bring out the LEGOS and create holiday ornaments. Book offers clear, step-by-step instructions for 15 charming ornaments ranging from globe ornaments to a gingerbread house.
STEAM Kids: 50+ Science / Technology / Engineering / Art / Math Hands-On Projects for Kids $22.49
Created by an MIT engineer, award winning educators, designers, and homeschooling experts, STEAM Kids will inspire your children to to question, design, test, reason, and play!
The Big Book of Makerspace Projects: Inspiring Makers to Experiment, Create, and Learn $9.99
Easy-to-follow guide with dozens of low-cost projects that will help kids develop with the skills necessary to dream up and build your own creations.